Harvesters volunteer in community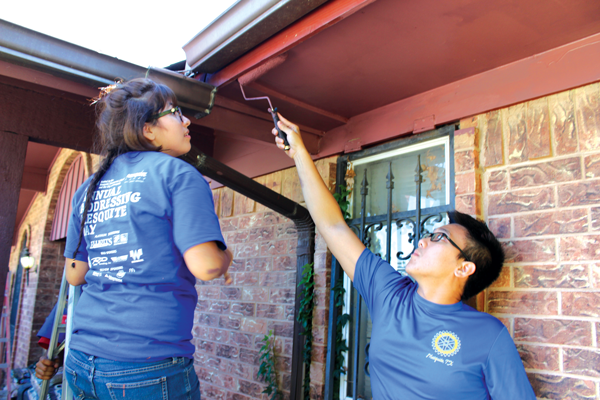 By Andrea Carrizales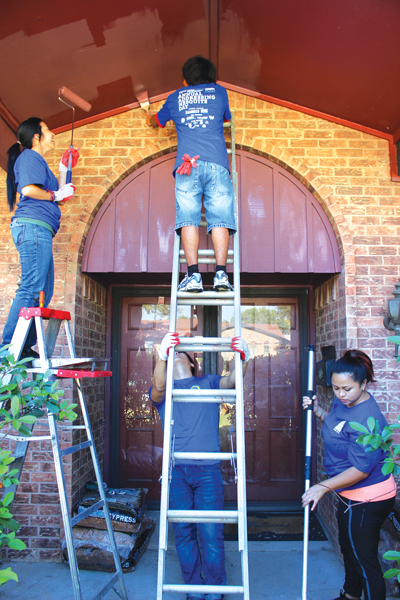 Many volunteers and local organizations came together Oct. 10 to do minor exterior home repairs for Addressing Mesquite Day.
Dating back to 2005, Addressing Mesquite Day began as a joint effort between the Mesquite Ministerial Alliance and the city to "address" citizens who were unable to take care of their property due to age, disability or financial impairment.
"It was a way to show love and at the same time help the community and our neighborhoods," Mesquite councilman Bruce Archer said.
Archer said the volunteers were like an "army" as they trimmed trees, painted house, performed yard work and removed debris.
"It sets our city apart in terms of setting an example for neighbors, looking out for neighbors and helping each other," Archer said.
The honors organization Phi Theta Kappa partnered with the Hispanic Forum of Mesquite for the event.
This year, the HFM had 33 volunteers. President Rachel Lopez said that this was due to the high involvement of their partner groups, the Divine Mercy of Our Lord Catholic Church and Phi Theta Kappa.
"It was very moving because community involvement is very dear to my heart," she said. "I just felt so proud to know that so many students, so many young adults were interested in giving back to the community."
The volunteers did yard work — from picking up litter to cutting tree branches and cleaning the fence — on disabled veteran Sammy Colgrove's home.
"These were chores he could not do and could not afford to pay someone else to do," Lopez said.
Phi Theta Kappa members and sisters Jana and Casie Burdge were among the volunteers.
"It was really fun to put on the gardening gloves and the goggles, use the hedge clipper," psychology major Jana Burdge said. "We helped clean up the yard and I got hit with a tree branch, but it was fun." She said that her favorite part about small kindness could liven up someone's day.
"He was talking about how he has retired twice from the city and how he wants to take his RV that he hasn't driven and go cross country," she said.
Both sisters said the camaraderie and welcoming environment made them want to participate again.
Alma Leal, a criminal justice major, said she enjoyed volunteering in the event. Apart from meeting new people and making friends, she said that the purpose of Addressing Mesquite Day opened her eyes to a different sector of the population.
The Eastfield Rotaract Club brought 12 volunteers who painted the exterior of the house and cleaned up the backyard of a different homeowner. They partnered with its sponsoring organization, the Rotary Club of Mesquite.
In 2013, the city repaired its 500th house. Through the influx of volunteers and support from the community, the event surpassed its goal of helping 100 houses by an additional three this year. In total, Addressing Mesquite Day has cleaned and repaired 703 homes.
Lauren Rose, management analyst for the city and coordinator of Addressing Mesquite Day, said that the event has grown by "leaps and bounds" and that "continued growth and continued involvement" are its central goals.
Archer, who graduated from Eastfield in 1994, said he was excited about the students' involvement in the event.
"It gives our nation and our community tremendous hope," Archer said. "There's so much apathy in this nation across the board — old and young. When we see young people taking ownership of their community and wanting to serve and make a difference, it's a good sign for where we'll go in the future."