Police, community relationships strained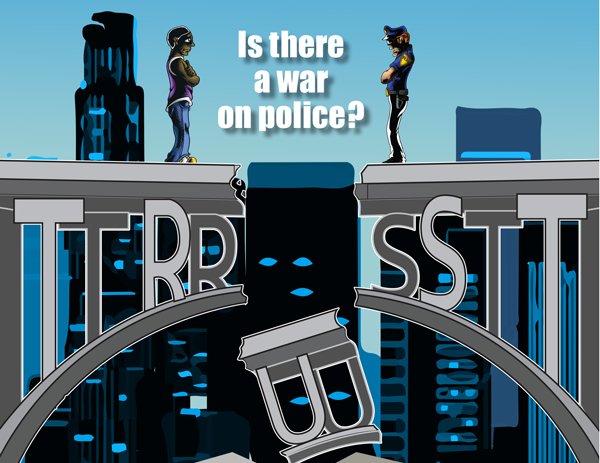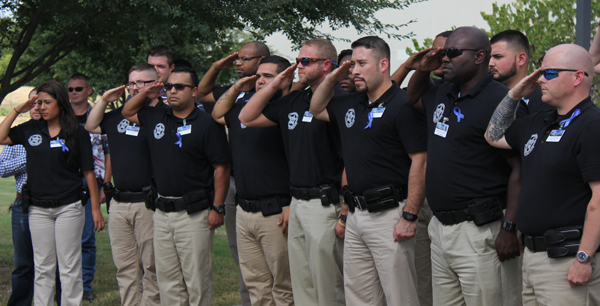 By Parker Ward and Andrea Carrizales
Eastfield Police Academy Cadet Josh Palma understands dangerous situations. He began his career in public service as a firefighter and is now looking to expand into a career in law enforcement.
He is entering police work at a tumultuous time. A rift exists in the country. On one side, citizens rally against officers accused of excessive violence. On the other, law enforcement defends itself against what they perceive as a war on police.
Palma doesn't see it that way.
"In the end, I don't think it's a whole lot of us versus them," Palma said. "There is a lot of sup- port for officers. At the end of the day, I think they understand that we have their best interests at heart."
The seeds of distrust go back several years. The police-related deaths of African-Americans — Michael Brown in Ferguson, Missouri; Eric Garner in New York City; Tamir Rice in Cleveland, Ohio; and Freddie Gray in Baltimore, Maryland — gained national attention from the Black Lives Matter movement.
Supporters of law enforcement point to the unprovoked fatal attacks on officers — Deputy Darren Goforth in Houston and officers Wenjian Liu and Rafael Ramos in New York City — as evidence of an open season on police. They responded by launching the Blue Lives Matter and Back the Blue campaigns.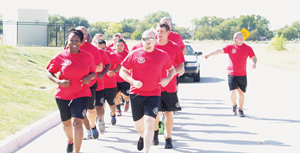 After the death of Goforth, 58 percent of people in a Rasmussen Reports poll said they believe that there is a war on police.
Police deaths in 2015 are expected to in- crease by 9 percent from 2014 but have de- clined since 2011, according to the National Law Enforcement Officers Memorial Fund.
The situation is a far cry from the post-9/11 days when police, firefighters and emergency medical technicians were universally treated as heroes.
Strained relationships between officers and civilians are the stem of these issues, Eastfield Criminal Justice Coordinator Patrick Patter- son said. Mending them will not be easy due to the violence caused by both sides, but it can be done, he said.
"There is still a long way to go," Patterson said.
"The police need to work on some things, and even from there the public needs to work on some things. We have both sides here that need some serious dialogue, education and un- derstanding, but that starts with the police."
Elisa Jimenez, a social work major, says that if the conflict between the police and society is to be fixed, education about stereotypes and job duties is necessary.
"A good solution would be having everybody to be educated about the stereotypes that are in the black community and about cops," she said.
She said that the media has had a great im- pact on the issue.
"You don't see the minorities. You don't hear stories about them doing good things, or you don't hear stories about good cops," Jimenez said. "You hear the cop shot this person, you see all the bad stuff. And that's what people see, and that's what people think and that's why we are all prejudiced. Very rarely do you see some- thing good."
Jorden Wells, a fashion design major, said that social media has influenced many opinions on police actions.
"I feel like it's a positive and a negative thing because it gets the subject out more," Wells said. "But a lot of people just take a little bit of what the media says and run with it. And then say, 'This is what I'm going to believe,' without actu- ally knowing the facts of a situation."
In response to negative comments from ci- vilians on social media, the police force has not demonstrated an effective handle on criticism, according to Patterson.
"The police officers don't want to admit it, but they are trained to never down their own," Patterson said. "We never discredit our own in front of the media. A lot of this stems from the fact that the police are slow to work on them- selves within their departments. You have too much defending going on."
There is still evidence of this defensive be- havior. Milwaukee County Sheriff David Clarke blamed Goforth's death on the Black Lives Mat- ter movement and President Obama.
"President Obama has breathed life into this ugly movement," Clarke told Fox News. "It is time now for good, law-abiding Americans to rise up like they did in Houston around that Chevron station, an outpouring. But it can't just be symbolic. We now have to counter this slime, this filth coming out of these cop-haters."
However, supporters of the movement be- lieve that Black Lives Matter is not racist and that acts like Goforth's murder are isolated inci- dents not supported by the group.
"It's amazing to me that black people and their allies affirming that Black Lives Matter is somehow celebrating murder," movement lead- er Johnetta "Netta" Elzie told ThinkProgress. "Nothing about us affirming our own lives has anything to do with embracing and celebrating the murder of police officers.
"We came out of our houses because we were tired of seeing police officers hurt, harm and murder black bodies with impunity, not because we want to see any police officer killed."
Eastfield student Alex Hernandez says that the debate should not revolve around race. "Instead of being a separatist group just fo- cusing on African-Americans, there should be a new thing that focuses on the whole population," he said.
"These groups are good because they are confronting the issue, but at the same time they give a message of Black Lives Matter. But what about Asians or Latinos? There should be a group that is concerned for everybody, the whole population."
To Patterson, the only thing that matters is who has suffered from the actions of others.
"I side with those who have been wronged, not those who are wrong," Patterson said. "It doesn't matter what race."