Immigration tops list of presidential election issues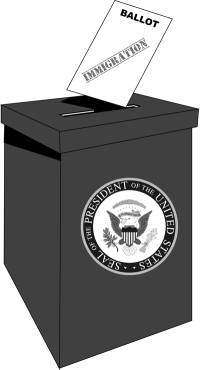 By Juanita Hernandez
Editor's note: This is the first in a series of stories exploring issues in the 2016 presidential election.
Immigration has emerged as the dominant domestic-policy campaign issue for candidates seeking the presidency in 2016.
Republican candidate Donald Trump has attracted attention for his call to refuse citizenship to babies born in the U.S. to non-citizens.
He has promised, if he is elected, to fight to revoke their citizenship and deport anyone living illegally in the country.
Louisiana Gov. Bobby Jindal also opposes automatic citizenship for these children, dubbed anchor babies by opponents who say their parents use the children's births in an attempt to stay in the U.S.
"It goes against the 14th Amendment," said Eastfield's League of United Latin American Citizens President Herlinda Resendiz. "By (Trump) fighting for this, it's clear that he doesn't know his amendments."
The 14th Amendment grants citizenship to all people born or naturalized in the United States.
Opponents say "anchor babies" unfairly help their undocumented parents benefit from government programs such as food stamps and Medicaid and improve their chances of obtaining legal status.
"My father is Mexican and my mother is white," freshman Sendi Cardoza said. "They got married in Mexico, and he waited to enter the U.S. legally. "Sure it wasn't easy or cheap, but they did things the right way. And if my parents were able to do so, I feel like everyone else should be able to do the same."
According to the Center for Immigration Studies, nearly 300,000 children are born to undocumented parents in the United States every year. After age 21, children born in the United States may petition for their non-citizen parents to obtain legal status.
History professor Kat Reguero, adviser to the college's LULAC club, said she worries such attitudes about immigration will also harm those under the Deferred Action for Childhood
Arrivals program, which allows children brought into the country before turning 16 to apply for legal status.
"With people like Trump out there gaining support, it is very scary," Reguero said. "He is trying to not only take away things that we have already gotten, but stop us from going forward."
Democratic candidates Hillary Clinton and Bernie Sanders both support immigration reform that would create a pathway to citizenship for undocumented residents.
Other Republican candidates oppose Trump's plan to deport 11 million immigrants, but most place border security as a high priority.
Sen. Marco Rubio of Florida has distanced himself from a bipartisan immigration-reform bill that he co-authored in 2013.
Sen. Ted Cruz of Texas, Gov. Chris Christie of New Jersey and businesswoman Carly Fiorina oppose a pathway to citizenship.
Former Arkansas governor Mike Huckabee has backed legislation that would allow children brought into the country by family members to attain citizenship but has promised to secure the border.
Sen. Rand Paul of Kentucky and Sen. Lindsey Graham of South Carolina place border security as a higher priority than reform plans.
Retired neurosurgeon Ben Carson advocates allowing immigrants already living in the U.S. to enroll in a "guest worker" program.
Former Florida Gov. Jeb Bush has proposed reform that stops short of legal status for people in the country illegally.
Ohio Gov. John Kasick has said he would consider a pathway to citizenship but does not like the idea.
Former New York Gov. George Pataki has proposed legal residency for immigrants after 200 hours of service.