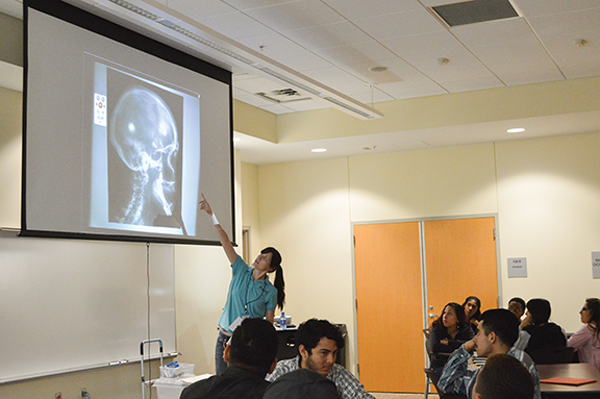 By Juanita Hernandez
If you were handed a patient's vital signs data and X-rays, could you make a diagnosis?
Students at the Pleasant Grove campus were taught to evaluate such data about hypothetical patients as well as themselves during a presentation Sept. 30 by the Perot Museum of Nature and Science.
Lead naturalist educator Jessie Crowley, who has worked for the museum for more than three years writing the biology curriculums and working with the museum's animal collection, gave the presentation Diagnosis: The Body in Question, which teaches the importance of listening to our bodies and understanding vital signs.
Before starting the class, Crowley figures out the student's comprehension level on health topics.
"Besides waiting a long time, what else happens at an emergency room?" she asks.
In an emergency room, patients usually wait, a nurse takes their vital signs and then they wait again.
Crowley said that vital signs help nurses determine whether patient need to be seen immediately or if they can wait.
Crowley then placed the 24 students in groups of four, supplying each with a clear plastic box. The boxes contained stethoscopes, blood pressure cuffs and forehead thermometers.
Crowley set her phone timer to 15 seconds and instructed the students to count the number of breaths they take. She then added another 15 seconds and asked students to count their pulse on their wrists or necks.
The purpose is to familiarize the students with what is considered normal and what should be of concern. Many people do not understand how these functions work or how to read them, Crowley said.
The class is then taken into a deeper level of experimentation. Each group receives a hypothetical patient file. Crowley tasks the students to diagnose the patient using vital signs and X-rays.
"I think it is very important for us to know what's going on with our bodies at all times," freshman Alexia Jimenez said. "I don't think people understand how beautiful and important our bodies are. I think things like this … open our minds."
Although the class consisted of only one health major, all of the students appeared engaged and participated in the class. Crowley moved through the room and answered questions.
"She was explaining everything with such detail … She didn't just assume we knew everything because we are college students," freshman Imelda Diaz said. "If Jessie were to teach a class, I would take it."
A medical education can take many years, but Crowley said that volunteering can help students decide if they should pursue health as a career. Prior to deciding on a health education path, Crowley said she wanted to become a veterinarian. Volunteering helped her decide.
"I think that volunteering your time is a great way to start," she said. "It gives you a step above people that don't