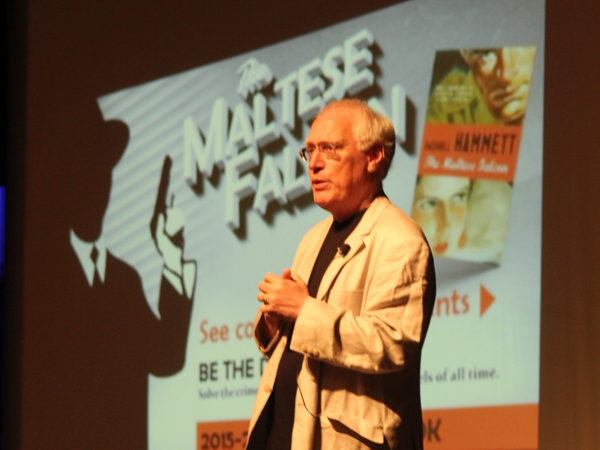 By Victor Martinez and James Hartley
In the 1929 novel "The Maltese Falcon," the Eastfield common book for 2015, author Dashiell Hammett created an iconic, hard-boiled detective with Sam Spade, who was later immortalized on film by Humphrey Bogart.
But no detective outshines Sir Arthur Conan Doyle's Sherlock Holmes when it comes to name recognition and pop-culture exposure.
According to Holmes expert Leslie S. Klinger, who recently visited the campus as a part of the common book activities, Doyle created an international sensation and ignited a genre when the first novel featuring the character and sidekick Dr. John Watson, "A Study in Scarlet," appeared in Beeton's Christmas Annual in 1887.
"It was Harry Potter on steroids," he said. "It was immensely popular."
Klinger spoke twice Sept. 29 to audiences of more than 100 students, faculty and staff.
Readers in the late 1880s were rabid for criminal stories, Klinger said. People followed real-life crime and regularly read publications about executions.
Holmes, a London-based "consulting detective" with abilities that sometimes seemed superhuman, caught the imagination of the masses. The character used logic and forensic science and adopted numerous disguises to solve his mysteries.
Holmes and Watson have remained popular over the decades through various incarnations.
Recent additions include two movies starring Robert Downey Jr. and Jude Law, a BBC television series with Benedict Cumberbatch, a CBS television show with a female Watson and the 2015 film "Mr. Holmes," featuring Sir Ian McKellen as the aging detective grappling with an unsolved case and his unreliable memory.
"Every adaptation seems to focus on a different aspect of Holmes and Watson," Klinger said.
Klinger, who served as an adviser on the film "Sherlock Holmes: A Game of Shadows," talked about the extensive history of the Holmes stories and the many theories surrounding the detective. One theory suggests that the original stories were written by a Dr. Watson and published under the name of Arthur Conan Doyle because Doyle was a recognized name.
"One question that I usually get … somewhere in the presentation is whether Sherlock Holmes is real or a fictional character," Klinger said. "The answer is yes."
Doyle said that Holmes was inspired by Joseph Bell, a surgeon at the Royal Infirmary of Edinburgh for whom he had worked as a clerk.