Trump supporters pack Dallas arena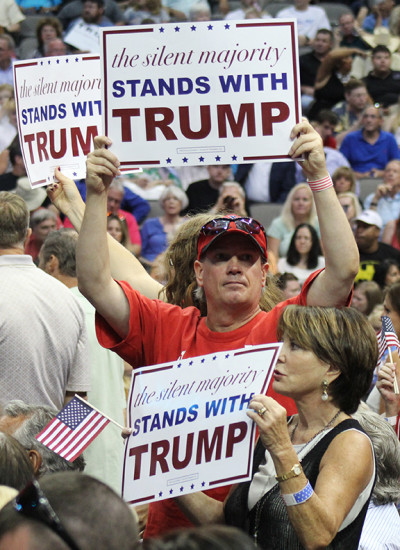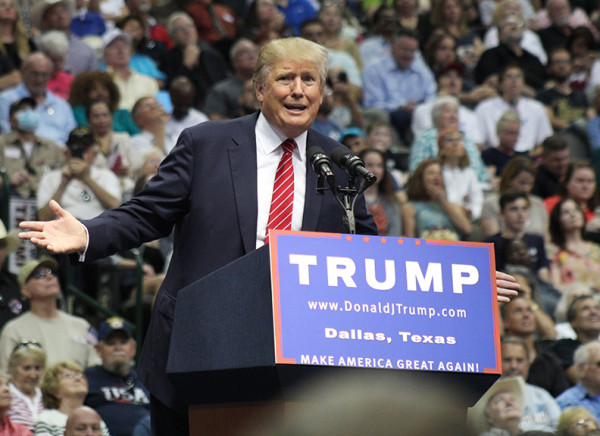 By Mayra Rosales-Montoya
Thousands gathered in Dallas at the American Airlines Center on Sept. 14 to watch Republican presidential candidate Donald Trump do what he does best — put on a show starring himself.
The audience, mostly white and middle-aged or older, responded like a high school football game crowd when Trump took the stage for his presidential rally. One woman wore a dress and shoes decorated with Trump's face.
"We are killing it in the polls, " Trump said.
For the first 45 minutes of his speech, Trump focused on himself, touching on topics such as his hair — "Do you see the shine in my hair?" he asked — and the success of his reality television show "The Apprentice."
NBC and Trump recently settled legal issues related to his removal from the show for making negative comments about Mexican immigrants. Former California Gov. Arnold Schwarzenegger will assume Trump's role when the show returns in 2016.
At the Dallas event, Trump again called immigrants murderers and gang members, saying other countries "sent them here because they're smarter [than the United States]. It's disgusting. We are a dumping ground.
"Families are being decimated," he said, pausing for the cheering crowd. "So many are murdered by illegal immigrants. We have to stop illegal immigrants. We have to build a wall."
Trump promised to "make America great again," but failed to outline specifics for his plans to lower taxes and punish companies who take their business overseas.
He bounced from idea to idea, bringing up "anchor babies," "nuclear global warming" and U.S. prisoners in Iran. He vowed to solve the issues with a single plan.
"I know the toughest guys," he said. "I know the smartest guys. If we partnered with China, we would win."
A handful of younger people dotted the audience. Many were from small towns outside of Dallas.
JD Stephens, an 18-year-old student from Comanche High School in Oklahoma, said he had always wanted to see a presidential rally.
"My grandpa saw Kennedy, so really I'm excited to be here," he said.
Supporters tended to cite Trump's personality and attitude rather than specific policies when asked why they support him.
"I like that he's going to make America great again and I like his winning mentality," said Ajee Montes, 21-year-old student at Southern Methodist University.
Doug Crylie, 17, of Denton said: "I just like how flamboyant he is. I figure a millionaire should know how to fix up the country."
As the crowd left the arena, some clashed verbally with protestors, shouting "We don't want you here; go back home" and "leave my country."
No violence was reported.