SGA, students deliberate gun-free zones at Eastfield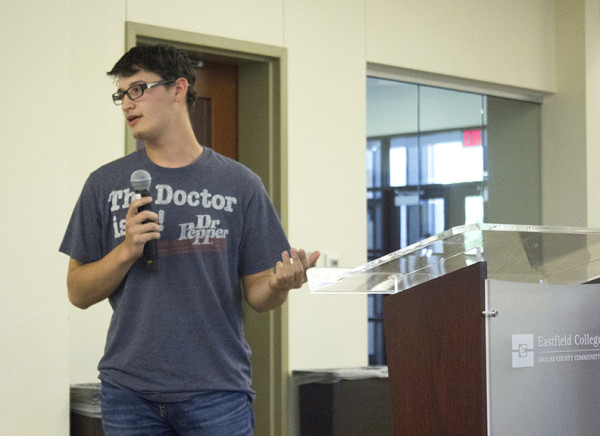 By James Hartley
With the bill allowing owners of concealed handgun licenses to carry a concealed gun on campus, the Student Government Association held a forum to discuss specific gun-free zones.
A majority of 15 students and faculty in attendance agreed that the C-building should be chosen as the college's gun-free zone due to the large number of people in the Pit on a daily basis. The legislation does not allow for the entire campus to be designated as gun-free.
"If someone came in to hurt the school, what is the first building they come in to? The main building is C," said student Cory Baxter.
SGA plans to deliver the collected student input to the administration. K-building is expected to be a gunfree zone because of the daycare.
"I'm sure everyone knows how important of a topic it is for you to understand," Dean of Social Sciences Mike Walker said. "Part of the job of the college is to put you in situations where you can understand why something like this [campus carry] matters to you."
The opinions on the bill were split, but having been signed by Gov. Greg Abbott early this summer, it is clear that it will be going into effect in fall of 2017 for two-year colleges like Eastfield and fall 2016 for four-year universities.
"I'm just for educated gun carriers to be allowed to have guns," student Vanessa Weseman said. "I want more education on this subject." Student Joshua Martinez disagreed.
"I don't want to know there are guns, I come to school to learn," he said.