Retired charter professor dies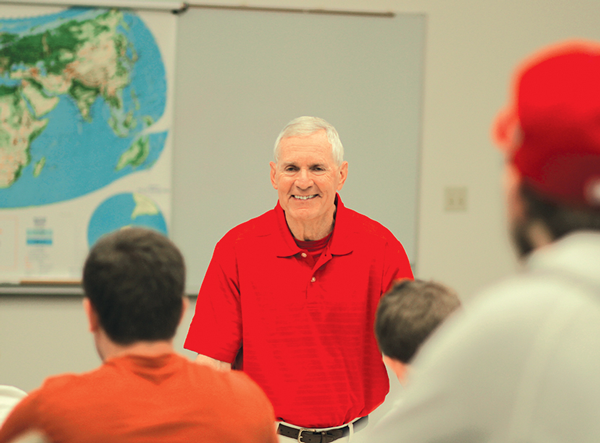 By J. Gomez
Retired charter faculty member Bob Sharp, known for his personal approach to teaching, died of a heart attack July 24 in Spokane, Washington. He was 72.


Sharp's humor and affability created bonds with students and colleagues. His classes were known to have large numbers of attendants/students giving credence to his student centered philosophy.
"His commitment and dedication to his students quickly made him much more than a professor," Former Eastfield Student Leader of the Year Daniela Balderas told The Et Cetera when Sharp retired in 2011. "Mr. Sharp is the epitome of what constitutes a servant leader."
In 1987, Sharp received Eastfield's Excellence in Teaching Full Time Faculty award.
"Everything that man did was in regards to the students," history professor Mike Noble said.
Raised in the Pacific Northwest, Sharp felt a connection with the outdoors and staying active, enjoying hobbies such as fishing and hiking. It was through another of Sharp's interests that he shared a friendship with Dean of Social Sciences Mike Walker. Basketball.
Prior to meeting Walker, Sharp met Walker's son.
"He became a friend of my son's, who is a high school basketball coach," Walker said. "He became somewhat of a mentor to the basketball team at Heath High School and Rockwall High School."
After his retirement in 2011, Sharp lived in Heath and visited Spokane yearly, mentoring athletes and coaches at Heath, Rockwall and schools in Spokane such as Whitworth University, Rogers and North Central High Schools.
Sharp's philanthropy went beyond the basketball courts. Noble said Sharp would quite often pay tuition for students who could not afford it. He did so without seeking any recognition.
"He was also somebody who would park across the street from Eastfield and walk because he did not want to take a parking spot, because that's a parking spot a student could have," Noble said.
For 41 years Sharp taught History at Eastfield before he retired on Aug. 31, 2011.
"As a way to try and honor him and make him feel good," History professor Matt Hinckley said, "what I suggested to some of my colleagues at his retirement party, (we had already saw his article, picture on the front page of The Et Cetera), 'Let's get him to autograph it, give him a celebrity send off."
At this prompting Sharp used the opportunity to not just sign the newspaper but to personalize each one with inspiring words for his colleagues, Hinckley said.
Sharp attended Whitworth University in Spokane Washington on a full ride scholarship, earning his bachelor's degree in history. He went on to Purdue University and the University of Denver where he earned a double masters in U.S. and Russian history.
While attending the University of Denver, Sharp met his wife Carol, a native Texan. The two relocated to Texas where Sharp began his Eastfield career.
Sharp was born in July 1943 in Spokane. He is survived by his wife, Carol Voigt Sharp.
Services were held July 30 at Dodd Funeral home in Spokane and Aug. 22 at First Methodist Church in Heath.