Eastfield student takes lead of statewide SGA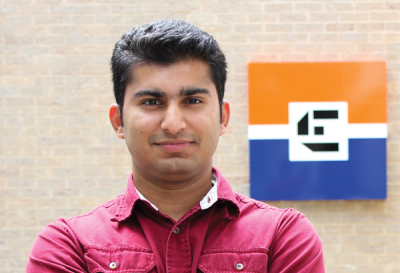 In the spring, international student Rameez Sohail, a global business major, was elected president of the Texas Junior College Student Government Association. The role is a first for Eastfield. Sohail leads an organization that represents the interests of students at 40 schools across the state.
Et Cetera contributor Ana Gallegos talked with Sohail about his involvement in student government.
Q How did you become involved in SGA?
A Let me tell you something about me. I was not born here. Two years ago I came here to the United States as a foreign student. I became part of SGA and different clubs and different organizations. Then (former Student Life Director) Judy Schwartz really encouraged me to go for this position because it's a first time for Eastfield. We have never held a position at the state level. This time we ran successfully, thanks to Danny Lam (the 2015-16 Eastfield SGA president) and his team. Also local President Danny Garcia because he did a lot of campaigning for me.
Q How has being in SGA impacted you?
A It makes me feel proud, but I also get nervous because for a person who wasn't born here, I was born in Pakistan, and isn't familiar with the culture and the surroundings, it's always hard to have an understanding of what's going on in the state of Texas. Especially when you are living with a very diverse group of people and some of the people will not agree with you. You will always have challenges. I have a lot of challenges, but I am ready to face them.
Q What made you join SGA?
A Honestly speaking I wasn't looking on becoming a politician or that I had a vision of becoming president of the Texas Junior College Student Government Association. No, it was nothing like that. I walked into Student Life, and I saw Judy Schwartz … and I said "I'm a part of the math club, how can I be more involved with the college?" I joined SGA my first year without thinking about how hard it would be for someone who couldn't speak English well or how to manage that sort of thing, but you learn from your mistakes and the main goal is just move forward. … So in 2013 I joined SGA, in 2014 I became the student ambassador and in 2015 I ran for president of the state and became the president.
Q How would you describe your experience thus far?
A So far it has been an amazing experience. I always try to make sure I can invite different people to join SGA, because my experience is a great example for others, that's how I can give back.
Q Do you have any goals for this coming year?
A My goal for this year is [to] … encourage more people to be a part of SGA. How do we find out what laws the lawmakers [are] making? SGA provides a platform to figure this out instead of going somewhere else and asking. Everyone has a different perspective. The good thing about SGA is that we're not about Republicans or Democrats; we don't separate one people into two groups. We advocate what's going on, that's the main goal and the main object for anybody that joins SGA. You are an advocate so you try to explain to others what is going on.
Q What are the plans for the future?
A What I'm planning to do is to celebrate Constitution Day. To have a panel that can answer some questions that we have, because it's complicated stuff when it comes to the U.S. Constitution and everyone has a lot of questions. I'm looking forward to inviting [Police Chief] Michael Horak just to make sure that people understand the Second Amendment. In addition, what I'm going to do is, as the president of Texas student government, I will be writing a resolution that we should all celebrate the Constitution and that students have a better understanding and that they can interpret the document. My main goal is to invite as many people as I can. And I'm looking forward to studying global business at UTD.