Dallas same-sex couples rush to alter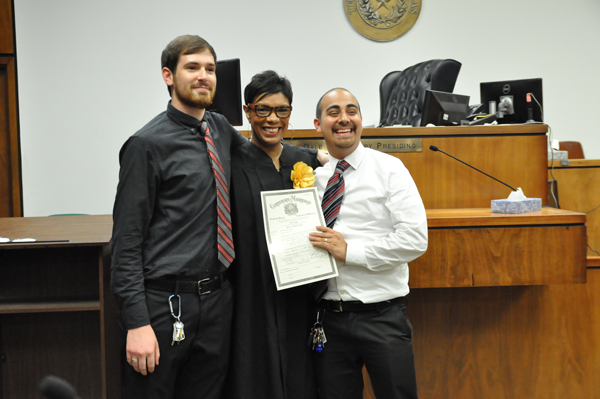 County clerk issues licenses, judges waive waiting period in wake of Supreme Court ruling
By Briana Harmon, James Hartley and Ana Gallegos

Dallas – Same-sex couples descended on the Dallas County Clerk's Office on Friday to obtain marriage licenses, including a couple together for 54 years.
George Harris, 82, and Jack Evans, 85, were the first gay couple married in Dallas County following the Supreme Court's ruling legalizing same-sex marriage nationwide.
The County Clerk's Office extended its hours, and judges waived the traditional 72-hour waiting period for marriages. Couples embraced and shed tears as they left the clerk's office and walked to the George Allen Sr. Courts Building to be married as bells coincidentally rang out from the Old Red Museum, Dallas' original courthouse.
"It's such a beautiful day," said Chelsea Davis, a former Eastfield student whose sister was married Friday.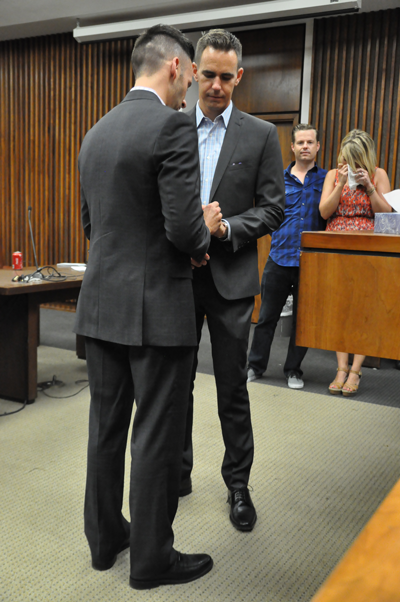 "Everybody down here is all smiles, and the genuine love that was walking into the room to get the licenses was beautiful. I've been in tears all morning. It's beautiful to watch."
Austin and Joshua, who hadn't decided yet on a shared last name, are legally bound by a domestic partnership but were delighted to be legally married.
"We rolled out of bed and we're like, 'Ah, yeah,'" Joshua said.
"We're just excited," Austin said.
Michael Heggie, an Eastfield student, was outside the County Clerk's Office passing out marriage rights pamphlets for the American Civil Liberties Union.
"Marriage shouldn't just be the cool kids club,'' he said. "The Bible was written by a person and I don't know if that person had any idea" of what the future would hold.
Justice Anthony Kennedy, author of previous rulings expanding gay rights, wrote the majority opinion for the Supreme Court.
"No longer may this liberty be denied," Kennedy wrote. "No union is more profound than marriage, for it embodies the highest ideals of love, fidelity, devotion, sacrifice and family. In forming a marital union, two people become something greater than once they were."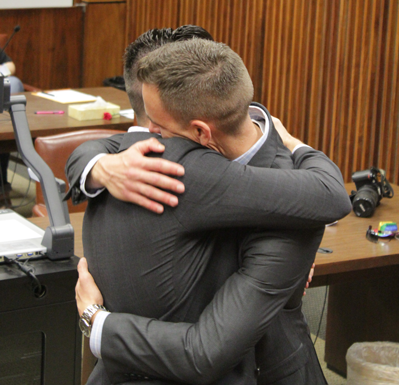 The court's four conservative judges dissented. Chief Justice John Roberts wrote that Constitution says nothing on same-sex marriage and such decisions belong to the people.
"Many people will rejoice at this decision, and I begrudge none their celebration," he wrote. "But for those who believe in a government of laws, not of men, the majority's approach is deeply disheartening."
President Obama, speaking from the White House Rose Garden before heading to Charleston, South Carolina, to deliver the Rev. Clementa Pinckney's eulogy, said the court's decision makes "our union a little more perfect."
"This ruling is a victory for America," he said. "This decision affirms what millions of Americans already believe in their hearts. When all Americans are truly treated as equal, we are more free."
Public opinion has swayed toward gay rights in recent years. A record 61 percent of Americans support same-sex marriage, according to a recent Washington Post-ABC poll.
Texas Gov. Greg Abbott vowed to protect religious freedom in the wake of Friday's ruling.
"The Supreme Court has abandoned its role as an impartial judicial arbiter and has become an unelected nine-member legislature," he wrote in a directive to state agencies. "Five justices on the Supreme Court have imposed on the entire country their personal views on an issue."
He also tweeted: "Marriage was defined by God. No man can redefine it. We will defend our religious liberties."
Republican presidential candidates generally decried the decision. But while some vowed to fight – Wisconsin Gov. Scott Walker suggested a Constitutional amendment to define marriage – others accepted the decision.
"While I strongly disagree with the Supreme Court's decision, their ruling is now the law of the land," former neurosurgeon and Republican Presidential hopeful Ben Carson said.
Former Arkansas Gov. Mike Huckabee, a staunch social conservative, called the ruling a "serious blow to religious liberty."
"I will not acquiesce to an imperial court any more than our Founders acquiesced to an imperial British monarch," Huckabee said. "We must resist and reject judicial tyranny, not retreat."
Kennedy wrote three previous gay rights decisions for the court. Friday's ruling falls on the two-year anniversary of United States v. Windsor, which struck down a federal law denying benefits to married same-sex couples, and the 12-year anniversary of Lawrence v. Texas, which nullified laws criminalizing gay sex.
Sixteen states plus the District of Columbia passed laws legalizing same-sex marriage. In 21 other states, the right was granted by federal court rulings. That left 13, including Texas, affected by the Supreme Court's decision.