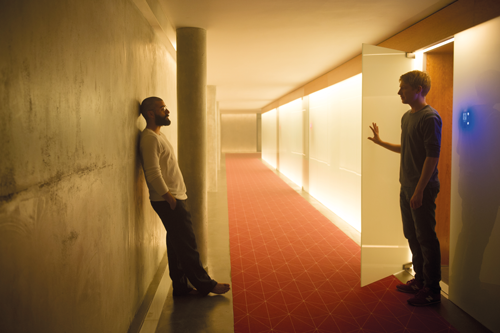 By James Hartley
Writer and director Alex Garland ("28 Days Later"), known for his mind-stretching psychological
thriller dramas, has come out with his latest project, "Ex Machina."
The film focuses on two programmers: Caleb (Domhnall Gleeson, "Harry Potter" and upcoming "Star Wars VII") and Nathan (Oscar Isaac, "A Most Violent Year" and "Star Wars VII") and a cyborg woman named Ava (Alicia Vikander, winner of a Guldbagge, the Swedish version of the Oscars).
Nathan is the creator of Blue Book, the film's equivalent of Google. Caleb wins a contest to meet and work with Nathan. Little does he know that he is going to help him test his latest project: the first true artificial intelligence.
The film starts out somewhat slow but interesting, introducing the two human characters and exploring their personalities before they meet Ava. After Ava is introduced, the film becomes a proper thriller.
The deep characters, brought to life by outstanding acting, bring emotion and a touch of reality to the plot. The flaws and mysterious backgrounds of the characters add depth to the struggle faced by the heroes. Two scenes show these unique personalities, where Caleb tells Nathan that if the experiment succeeds, it will no longer be human history, but rather the history of "gods," which Nathan later twists to say that he is a god because of his creation.
The technical side of the film is exceptional. The amazing special effects of "Ex Machina" are astounding. Even as her robotic insides are still visible, Ava looks lifelike. Thecrisp visual effects are top of the line. Every line flows naturally, contributing to the characters' personalities and the story's depth.
The plot has an amazing major twist that will fool even some of the most experienced moviegoers and film fanatics. There are small hints leading up to the twist but they contradict each other in a calculated way to keep the audience guessing.
Just when it seems like the ending is clear, something changes. The way information is distributed throughout the film keeps everything balanced. Viewers are always learning something new and receive just enough information to hold their interest.
Though there's not much real action, the psychological side will keep moviegoers on the edge of their seats. Scenes such as the multiple incidents where the power in the research facility goes out will be the most intense for some of the audience, while the conversations between Nathan and Caleb might be the most interesting for others.
The movie, however, is not for everyone. Though "Ex Machina" is rated R, its content is nearly deserving of NC-17. Gratuitous frontal nudity is shown multiple times throughout the film and the f-word is casually thrown around in both derogatory and literal contexts. To top it off, pornography is talked about in one scene in a very nonchalant way. These few setbacks really bring down the overall quality.