Life, liberty and the pursuit of brunching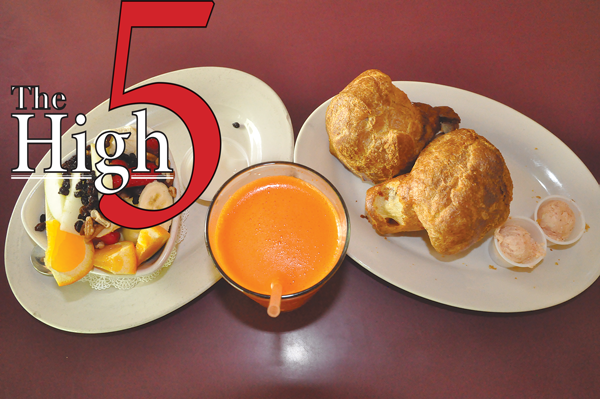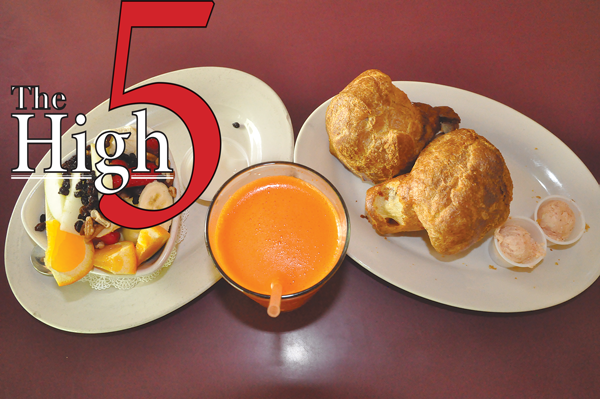 Brunch is the sacred time of the week when you can enjoy classic leisure cocktails like mimosas and bloody marys from a carafe at 9 a.m.
It's also the only time of the week when your mom can't scold you for consuming obnoxious pastries for breakfast.
Finding the best brunch spot can be very overwhelming if not discouraging. The drinks are overpriced, the food loses itself in the wake of a pretentious young chef or your server doesn't know how to juggle the traffic from the hungover crowd.
Nevertheless, I've braved the crowds and taken pilgrimage to the four corners of Dallas in search of the best brunch spots. All you have to do is count your pennies and play a game of rock-paper-scissors to decide which spot to visit first.
➢Cane Rosso
2612 Commerce St.
Dallas 75226
Brunch: 11 a.m.-3 p.m. Saturday and Sunday
Even though Cane Rosso is famous for its no-fuss, fist-swinging Neapolitan pizza, this restaurant's brunch means serious business.
There's a perfect balance of savory and sweet in their 8 dish menu, satisfying both the meat eater and the future diabetic in your brunch entourage.
Try the coffee and donuts, a spin on an old American favorite with an Italian donut called a zeppole dusted with powdered sugar, chocolate, blackberry and espresso sauces ($10).
More of a "if it isn't screaming and moving on my plate then it isn't food" kind of person? Try the hot soppressata and braised pork hash dish served with two over-easy eggs, fonduta-fontina cheese sauce and a crostini ($12).
➢Meddlesome Moth
1621 Oak Lawn Ave.
Dallas 75207
Brunch: 10 a.m.-3 p.m. Sunday
Dubbed one of Dallas's most successful gastropubs, the Meddlesome Moth is anything but meddlesome when it comes to Sunday brunch.
The gastropub has an extensive and eclectic brunch menu, but be prepared to step out of your realm of ideal breakfast foods. The Moth's menu is whimsical with some ironic dish titles.
Brunch staples such as eggs Benedict, oatmeal, granola with yogurt and pancakes are available at the restaurant. However, they're refurbished recipes that will make you rethink staple foods.
The menu item mother and child reunion gives stereotypical comfort food — and your taste buds — a swift kick in the tookus: fried chicken breast, homestead grits, poached hen eggs and a jalapeño gravy ($14).
If a sugar coma sounds more enticing, give the badass bacon waffle a whirl: Webster City bacon, spiced cream, pecans and Vermont maple syrup or moonshine ganache atop a waffle that would surely win the Leslie Knope seal of approval ($12).
If you're over 21, you can enter the wonderful world of Moth brunch cocktails. Try the Rum Also Rises — an $8 homage to Ernest Hemingway — the Meddlesome Margarita with basil, lime and muddled jalapeno ($6) or, if you're a traditionalist, mimosas, sangria and bloody marys are still an option ($5-$7 per glass and $12-$15 per carafe).
➢Dream Café
2800 Routh St. No. 170
Dallas 75201
Brunch: 7 a.m.-3 p.m. Saturday and Sun- day
Don't spite the Dream Café for its Uptown address. The restaurant is opened bright and early on Saturdays and Sundays to serve truly delicious and frill-free brunch foods.
One of the Dream Café staples is its house-made popover served with decadent strawberry butter ($2.50).
The New Yorker, a favorite among the brunch crowd, is a toasted bagel topped with herbed cream cheese, scrambled eggs, sliced tomatoes, Norwegian lox, capers and red onion ($13).
The Dream Café offers a variety of omelets, pancakes, breakfast combos, and healthy options such as oatmeal, fruit, fresh pressed juices and gluten-free foods. All chicken and milk is local and hormone-free.
➢Toulouse Café and Bar
3314 Knox St.
Dallas 75205
Brunch: 9 a.m.-4 p.m. Saturday and Sunday
Located in the Highland Park district on a block glittering with high-end shops and stores is Toulouse Café and Bar. The restaurant is steeped in authentic French culture and does not disappoint with its culinary endeavors.
While the restaurant is located in a notoriously rich part of town, patrons will not find themselves selling their firstborn to satisfy the check. The food doesn't taste like overpriced, Americanized, butchered French cuisine, nor does it taste like "bargain" brunch.
The brunch menu offers only a handful of dishes, which contain simple ingredients that pack a punch, following the true French style of "less is more."
Regardless of your views on vegetarian dishes, the omelette provencale ($12.50) filled with ratatouille vegetables, sautéed spinach and goat cheese is a popular order. Another is the orange French toast ($9.95) topped with powdered sugar, mixed berries, mascarpone cheese and maple syrup. Last, the classic New Orleans-style beignets — fried French pastries similar to donut holes — with cappuccino sauce is a flavorful and casual dish ($7.95).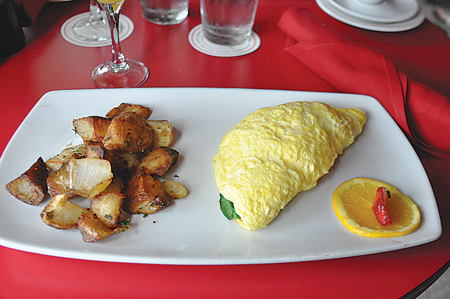 ➢Buzzbrews
4334 Lemmon Ave.
Dallas 75219
Brunch: 24 hours every day
Ever had a craving for brunch foods after a severe case of the Mondays? If so, I'm sure you've devised a plan to open a 24-hour brunch café. Too bad that Buzzbrews beat you to it five locations ago. Rather than wallow in despair, take a trip to any of the Buzzbrews locations around Dallas. Buzzbrews serves French, American, Greek and southwestern foods for breakfast, brunch, lunch and dinner. Anything you can think up is already on the menu.
One menu item, the Mile High ($9.29), won Best Workout Fuel from D Magazine. While the ingredients sound sinful, this dish is perfect for gym rats and couch potatoes alike. Atop a slice of griddle toast are two vegetarian sausages, two scrambled egg whites, chopped walnuts and powdered sugar with Vermont maple syrup, making the Mile High a dish you won't want to miss.
— Compiled by Courtney Schwing