Student uses club to recycle good deeds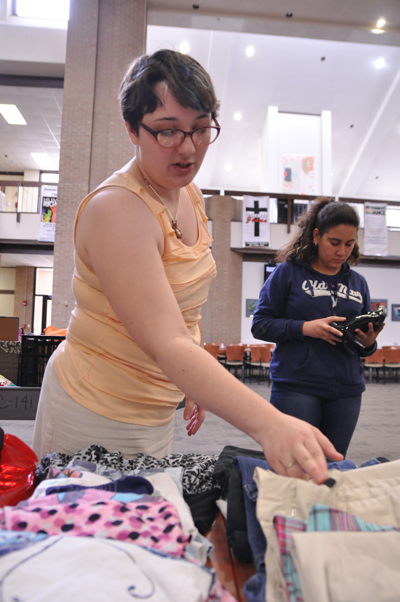 By Braulio Tellez
Connie Cogan is a rich woman. She doesn't have millions of dollars or a brand new car. Her fortune comes in the form of goodwill and giving.
She is the founder and president of the Student Trade Union, a new club that acts as a trading post on campus. Cogan and her best friend, Tanell Manus, are the only official members, with recruits slowly making their way toward official membership.
Cogan sets up her makeshift trade stand in the middle of the college's very own Grand Central Station: The Pit. A stream of students, faculty and staff flows through the common grounds daily.
The only day the Pit is close to empty is on Fridays, the same day Cogan runs the trade union.
"I'd like to be able to do this more often, but I don't have a car so I get rides from my dad. And the only days I have a ride to school are Tuesdays, Thursdays and Fridays," Cogan said. "It would be nice if I could have other people run the table when I'm not here, but the only two people in the club right now are Tanell and I."
Cogan's tradeables are stuffed into trash bags in a corner of the Student Life office, waiting each week to be hauled out on a plastic cart and, hopefully, into someone else's hands.
Many of the things Cogan and Manus put on the table are items from previous weeks, donations from friends and family and things from their own closets.
"I did a closet scavenger hunt," Manus said. "I live with my sister and I went through her closet because I know she has a bunch of clothes she doesn't even use. Next thing I know, I have a trash bag full of clothes."
Although most of the items on the table are clothes, the trade union welcomes anything students want to exchange.
Among the piles of jeans, roughly folded blouses and rows of basketball shoes, students can find books, homemade jewelry, pens, gift cards, Christmas ornaments, playing cards, baby thermometers and briefcases. There are a pair of silver rings Cogan's father found working maintenance in an evicted apartment.
"I don't care what you trade in, as long as it's fair," Cogan said. "I only have two rules: no money and no 'pencil for a car' trades."
Cogan's inspiration for the club is an accumulation of generosity she has received from the community and the need to help others.
Police Chief Michael Horak, the club's adviser, recalls meeting Cogan for the first time. He found her in the hall distressed and asked if she needed any help. Cogan told Horak she was hungry and hadn't eaten the night before. She fed her four kids and had no more food for herself.
Horak welcomed her into his office and gave her a packet of instant Ramen. Cogan was thankful for the kind gesture and told herself she could do the same thing.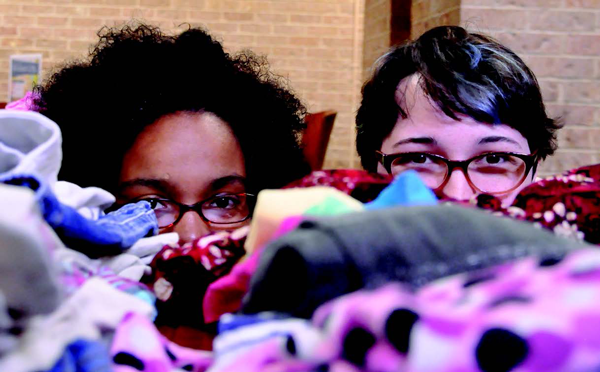 Soon after starting the club, she had a student approach her about a pair of black Air Jordans at the trade station. His shoes were worn out but he had nothing to trade. Cogan let him have the shoes and told him to come back if he needed anything else.
"I've been poor," Cogan said. "I know what that's like to look down at your shoes and literally see your own feet."
Horak is proud of what Cogan has done with the club and realizes the importance it has on the campus.
"In the short time I've known Connie and heard about her difficult times, she appears to be genuine and wants to help others knowing the challenging times many of our students endure," Horak said. "The club is a positive way for students to get assistance and at the same time, assist others."
Everything is there to be bartered. All she needs is momentum and more community interaction.
"I'd like to see at the end of every trade club three-fourths of stuff gone and traded for three-fourths of new stuff," Cogan said. "I want poor students to be able to have nice things. Or if you have so many of one thing, you should be able to trade it to somebody who needs it."