Twerking continues to spark conversation: Everybody's doing it … or at least talking about it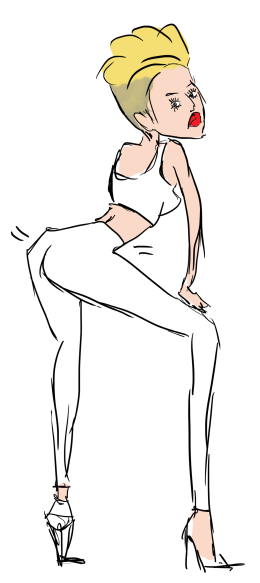 By Gerenecia Foster, Reporter
Type the word twerk into the search box on YouTube and 4 million videos appear. It seems everyone is twerking these days.
There are girls and women of all ages with arched backs, hands on their knees and bouncing booties in homemade videos. There are how-to-twerk tutorials and twerk teams. And there are self-recorded videos from high-profile celebrities likeBeyoncé. Even men are doing it.
But critics want to put a halt to the twerk movement.
Schools have lashed out against the controversial dance craze. In May, 31 students at a San Francisco high school were suspended after a twerk video filmed on campus went viral. The students' records were eventually expunged after their parents took legal action.
In August, twerking was back in the news when rapper Juicy J tweeted that he would be "giving out $50K scholarships to the best chick that can twerk."
Then two weeks ago, late night host Jimmy Kimmel shocked the cyber world with a prank twerk video on YouTube titled "Worst Twerk Fail Ever." In it, a woman attempts to twerk, falls backwards and knocks over a candle, causing her pants to catch on fire. It attracted more than nine million views in one week.
The Oxford Dictionary Online added to the pandemonium by adding the word twerk to its latest update. It is defined as "dance to popular music in a sexually provocative manner involving thrusting hip movements and a low, squatting stance."
But nothing got people talking about twerking more than Miley Cyrus' raunchy performance at the MTV Video Music Awards on Aug. 25. Many viewers were shocked to see the former Disney star bent over in front of older male artist Robin Thicke, gyrating her hips. It quickly became the topic of conversation and was the lead story on CNN.com
"I thought it was kind of inappropriate, considering she used to be Disney Channel's Hannah Montana," student Portia Hambright said.
Cyrus isn't the first artist to dance provocatively on stage. However, her performance was deemed inappropriate because of her popularity among her young fans.
Dance instructor Danielle Georgiou said no one thinks twice when stars like Shakira and Rihanna dance sexy because they have maintained one persona throughout their careers.
"Miley is trying to change her image, so that's why we're talking about her," she said. "But we had this conversation about Madonna in the '80s with her 'Like a Virgin.' That was shocking at that time."
While controversy swirled around Cyrus, her dance partner escaped any significant scrutiny over his own provocative performance.
Physical therapy major Richard Swinton believes women shouldn't be viewed critically when twerking,  especially if men are dancing with or behind them.
"That's kind of like a double standard," he said.
Despite the recent controversy surrounding Cyrus' performance, twerking is far from new. The term was coined in the 1990s New Orleans bounce music scene when DJ Jubilee recorded his song "Do the Jubilee All." Since then, it has been mentioned in dozens of popular dance songs, including Beyoncé's "Check On It," Ying Yang Twins' "Whistle While You Twurk," and French Montana's "Pop That."
Twerking arose from the traditional West African dance "Mapouka," which literally translates as "the butt dance." It was performed at religious and celebratory ceremonies, but was later forbidden in the Ivory Coast because it was considered too vulgar. But once it was introduced in the United States, it took the dance scene by storm.
"We've seen it in hip-hop, rap and R&B videos for decades," Georgiou said. "It's only now getting a lot of attention because of the way it's being screened. But I don't think that it's anything for us to be frightened by at all."
Because of its sexually suggestive nature, some wonder if the dance is appropriate for children.
"It depends on what ages," engineering major Eric Edwards said "If my daughter was too young, I probably wouldn't want her doing that."
Speech instructor Courtney Brazile said "twerking is open to interpretation," and he can see why parents might be concerned if they saw their child posting twerking videos online.
"I think that it is the parents' role to engage in meaningful communication with his or her child to help the child make better decisions about what they post and different things that they participate in," he said.
Others, like psychology major  Maria Garcia, argue thattwerking is inappropriate because it sexualizes women.
"Women are not just used for sexual pleasures or the sexual needs of seeing them do something that way," she said. "Women are much more than that."
Georgiou said twerking is a sensual dance, and she doesn't see anything wrong with it.
"It's provocative," she said. "But it's not degrading or disgusting at all. It is literally the movement of your hips and pelvis in a circular motion. That's all that twerking is."
Though not opposed to twerking as a dance or a form of expression, Brazile cautions students to think about how they present themselves publicly.
"Just be cognitive and aware of some of the consequences when you display certain dance moves," he said.