Reps expect campus carry to pass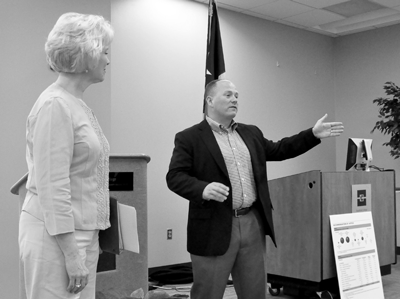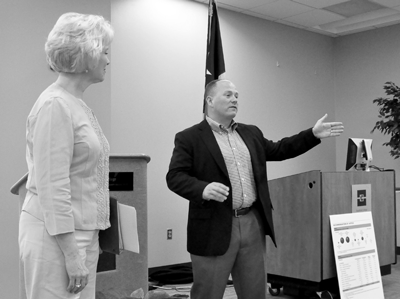 By James Hartley
Two state House members who represent areas near Eastfield predict that the campus carry bill will become law this year.
Reps. Cindy Burkett (R-Sunnyvale) and Kenneth Sheets (R-Dallas) talked about gun bills, texting while driving, college tuition and other issues at an Eastfield town hall forum March 28.
The Campus Carry Bill, Senate Bill 11, would allow people with concealed weapons licenses to bring guns onto public college campuses such as Eastfield. Private colleges and universities could opt out.
"We have a right to defend ourselves," Sheets said. "And one of the scariest things you hear about, for women in particular, one of the scariest positions for women to be in is walking to their car after class at night."
Sheets made a point to mention that licensed carriers would also be permitted to carry at the Texas Capitol.
Sheets and Burkett both favor the bill for campus carry.
Another bill that Sheets and Burkett expect to pass would allow concealed handgun license holders to carry their handguns in holsters. The bill would not allow for open carry on college campuses.
The bill addresses a major concern held by many in law enforcement: safety requirements for holsters that prevent "some yahoo," as Sheets said, from grabbing a gun out of another person's holster. The law requires for a "one-point holster," according to Sheets.
This would require holsters to have safety latches.
"It's what our police officers use," Sheets said, "except they usually have two- or three-point holsters."
The more points on a holster, the more latches and security measures.
Participants asked about the proposed ban on texting and driving, which is currently headed to the Senate after being passed by the House.
One audience member asked, "Shouldn't texting and driving be covered on reckless driving?" Burkett confirmed that texting and driving would be covered under distracted driving, though not necessarily reckless driving.
"Y'all remember when safety bill laws were first put into effect," Burkett said. "I remember thinking, 'it doesn't affect anyone but me.' … I've had people on the flipside say if your insurance isn't sufficient or you lose control of your car, that impacts other people."
Burkett and Sheets both voiced support for the bill.
The representatives also covered tuition for international students, saying there were no known plans to change tuition costs barring those that apply to the DREAM Act, which is "controversial" according to Sheets.
The Uber car-for-hire service, toll roads, daylight saving time were also discussed.