Q&A: Eastfield alum steps into new role as dance instructor
First-generation student and Eastfield alum Alondra Puentes returned to campus as Eastfield's newest dance instructor. She'll soon guest-star in this year's spring concert on May 4.
Puentes obtained her Bachelor of Arts in Dance Studies from Texas Woman's University and will be graduating from Saint Mary's College this June with her Master of Fine Arts in Dance. She hopes to share the knowledge and skills she learned with her students.
Puentes sat down with Et Cetera reporter Alexia Munoz to discuss her love for dance and the community at Eastfield. 
Q. What was the biggest takeaway from your experience as a student at Eastfield?
A. Definitely the community that I have experienced here at Eastfield for a long time. Community in the classroom, community building with professors, specifically in the dance program. Community is such a big thing. You really get to know each other. It becomes like family. There's a lot of support not just in the dance department but everywhere here. Even the counselors, advisers and professors I've had are very supportive and help you be successful at whatever associate degree you're doing. That's something that has really stayed with me.
Q. Would you say that's why you returned to Eastfield?
A. Yeah, I can't seem to leave. As funny as that sounds, there's so much community here. There's so much leadership and there's so much support. I think that's something that is hard to find in a lot of places. I believe that people thrive better when they're being supported and they're in a community that really cares for them and wants to see them be successful and helps each other out.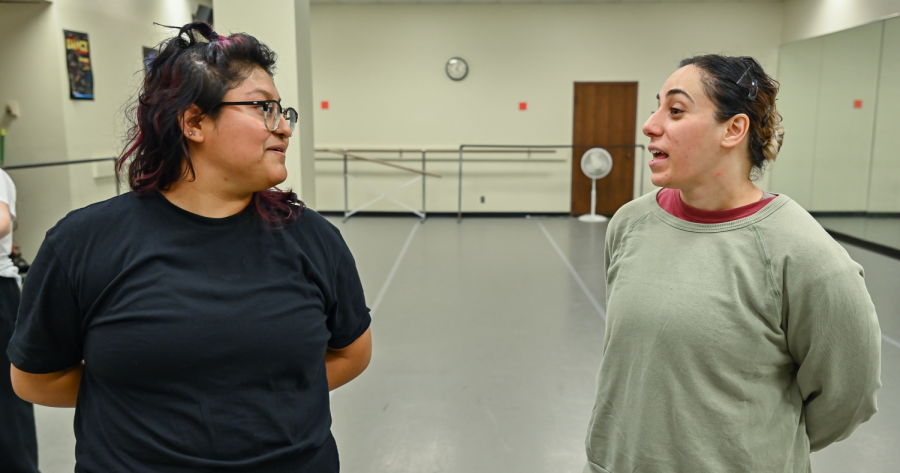 Q. Are you teaching alongside any of your former instructors?
A. I am. I'm teaching with Dr. Danielle Georgiou. … It's just an amazing feeling, I pinch myself. I think it's an opportunity I never expected to receive and I'm very thankful for it and very thankful for her support. She's actually in my class so I'm very thankful for the support that I'm receiving inside the classroom, but also outside of the classroom.
Q. What sparked your passion for dance? Was it always an important part of your life growing up?
A. Yes, dance was always important. It's my first language and it was huge in my household. That's how we expressed our joy. We were always dancing in the kitchen, anywhere. … I think my love of dance really established itself and flourished here at Eastfield because I was here for many years before I transferred to a university. So I really was able to grow and sink into it and develop my skills. It also really helped me understand that it's not just a hobby as others see it, but it's something that I really love and see myself being in for the long run.
Q. How do you feel when you are performing?
A. Nervous at first. When you step onto a stage, you get nerves of being in front of an audience, especially now that we're still in a pandemic, I definitely do think it's nerve-wracking being able to be like, "Oh, there are people in front" and getting used to that feeling again, but there's excitement once the nervousness leaves your body. You hear the music and see the lights shine on stage then there's this feeling of, "Oh, OK. I can perform now. It's everything I worked so hard for." There's so many rehearsals leading up to a performance, and all those rehearsals pay off. There is excitement and love for moving your body and sharing that with an audience. It's definitely beautifu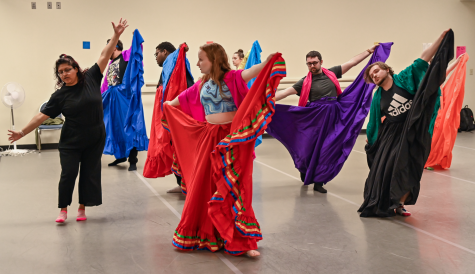 Q. Can you remember your first performance?
A. I was very young and I still lived in Mexico, where I danced a lot of ballet folklorico. I remember being in the common grounds of the elementary school and I believe we were celebrating Dia del Nino, which is Children's Day. That is what the performance was for. The whole school was packed with everyone because there were no classes during this performance. … That's always going to stay with me because that was the first time I really performed for a lot of people.
Q. What body of work are you most proud of?
A. This body was performed last year with some really close friends of mine. It was titled "La Opresion Desde Que Naces Mujer," or "The Oppression Since You Were Born a Woman." That is my proudest work to this day because I was at my most vulnerable with myself, but also with my friends and the people that I was collaborating with. It was also raising awareness for the femicides in Mexico and for the missing and murdering of indigenous women and children across the whole world.
Q. Is there a project you are currently working on?
A. I am currently a guest star here at Eastfield for the dance company … I am working with the company to create a contemporary folklorico dance. It's about rebozos, or scarves or shawls in English.
Q. When is the performance going to be released?
A. It is expected to be ready by May 4 and 5. Those will be the two shows here at Eastfield in the theater.
Q. You are working with the students as well?
A. I'm working with them to collaboratively choreograph this dance and incorporate their ideas. They're always welcome to express how we should incorporate those into the dance.
Q. Is it different performing with your students than it is with your teaching peers?
A. I don't think there's a big difference to me at the moment because [Georgiou] has always set such a great example in collaborating with all of her students. It has always been something that has been very open.
Q. If you weren't teaching dance, what would you be doing?
A. Dance has always been a staple in my life. I always knew that dance was something I wanted to pursue, and I saw myself dancing. But my second love is books. I love reading so I would be a librarian and I would work in a library.
Q. Do you have a favorite book that you want to recommend to everyone?
A. My favorite book is "Jane Eyre". It's a classic. It's gothic but it has so many great elements of feminist ideas.
Q. Earlier you mentioned working alongside your students. How do you like teaching them and helping shape their dance abilities?
A. I feel very honored to be in charge of my students and collaborating with them. My biggest take is teaching them tools that I have learned here at Eastfield, but also in my career and in my studies. I hope that I can transfer everything I have learned to them and that they feel empowered to ask questions, to be in our community and to be vulnerable with me and their classmates.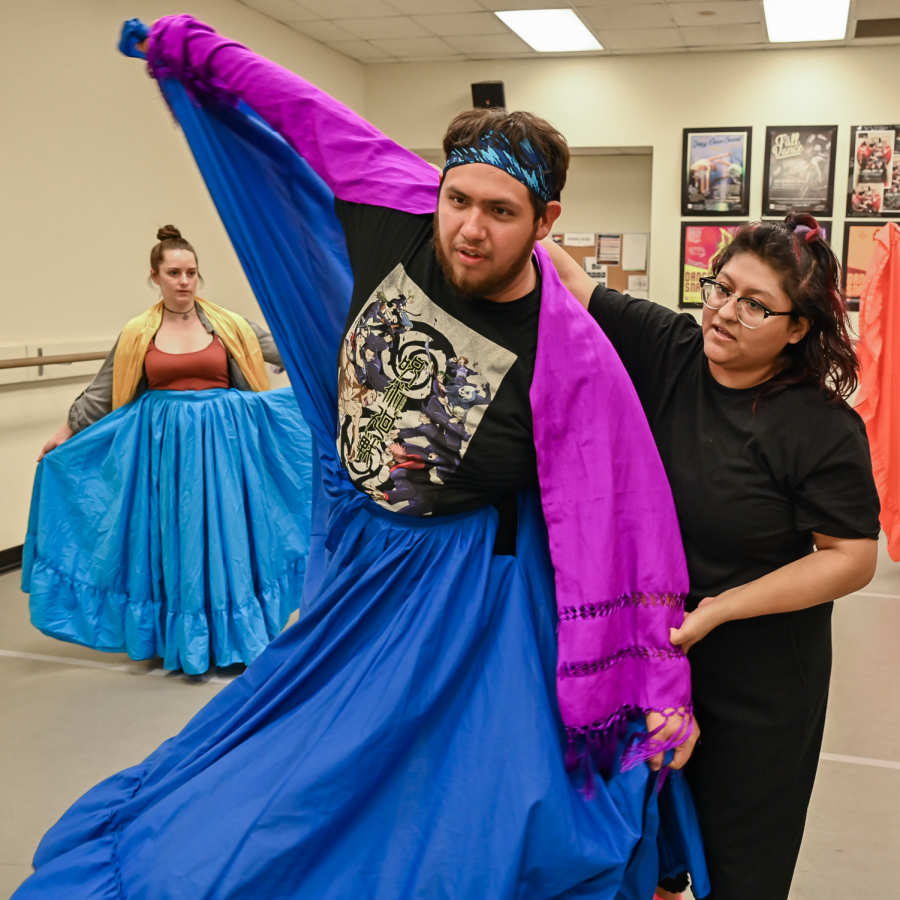 Q. How has your perception of dance changed over time?
A. When I first started here at Eastfield, I knew dance was for the long run but it was never serious for me at the beginning. One, I think it's because I was very young and I was straight out of high school. Second, I was still learning how to balance things so dance was like an [afterthought] for me. It wasn't as important, and I didn't take it as seriously. I think as the semesters went by, the importance of dance in my life really started to establish itself. … I started focusing more on my technique and learning about the history of dance. By the last two years [at Eastfield,] it really made itself constant and it became very clear that this was something that was important enough for me that I wanted to pursue and that I wanted a career in. When I went to Texas Woman's University, I had like six professors. So going from one person to six and then learning so much about what each one of them had to offer really expanded my view of dancing. It just re-established that this was important and that this is what I wanted to do.
Q. Have you ever had to overcome any obstacles to get to this point in your life?
A. I think the main one was being the first generation that has gone to college and having to learn how to be myself in places that are predominantly Eurocentric. But there have been many challenges, like learning how to apply to school and figuring out where could I go for those resources, especially when no one in your family has ever gone through the process nor do they speak the English language. Learning how to sign up for classes and understanding how to budget for education since that's not something that's really broken down to you in school, especially if you're coming from high school to a community college or university. … I definitely think the biggest one for me personally has been believing that I can succeed in academia. Everywhere that I have seen, whether that's on TV or that's in public, the faces of these institutions are very Eurocentric, which is something very hard for people of color to learn – that there is a place for them here in academia and that you can be successful here. There are people that look just like you and that are successful, and you can do it.
Q. Is there anyone in or outside of your community who you haven't had the chance to work with but you really want to?
A. I think someone that I would really love to learn from is Kareli. She is a first-generation Mexican American woman. She resides in Los Angeles and she successfully created her own ballet folklorico company that is now one of the biggest companies nationally.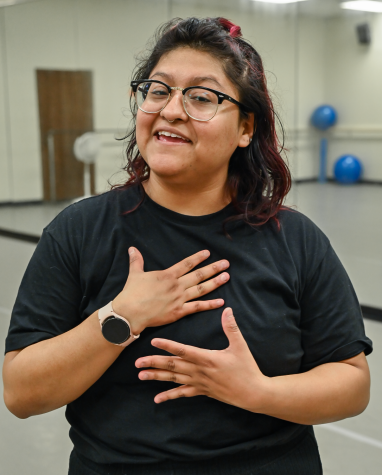 Q. Would you say she's your biggest inspiration? Or do you have someone else in mind?
A. My biggest inspirations are my parents and have always been my parents. I think everything that I do and every decision I make are with them in mind. … But in dance, I'm not sure. I would say the person who has always been a mentor to me, and I'm very lucky that they're my mentor and friend that I can collaborate with, has always been [Georgiou.] That is someone that I deeply love and that I have such an amazing friendship with.
Q. Can you share some of your interests outside of dance?
A. I love to read. I am an avid reader, and I love spending time with pets. I have a cat colony that I take care of in my neighborhood. I currently have 10 stray cats that I'm taking care of and hoping to get them neutered, and if I can get some of them adopted, I want to get them off the streets.  
Q. Is there anything else you'd like to share?
A. I would definitely encourage everyone to come to the Eastfield show. We have eight students that are choreographing, and I think that's amazing. It's also our first concert back in person since the pandemic, so I think it's amazing and it's a wonderful opportunity for everyone in the school to show up and show support.