Artist couple collaborates in H gallery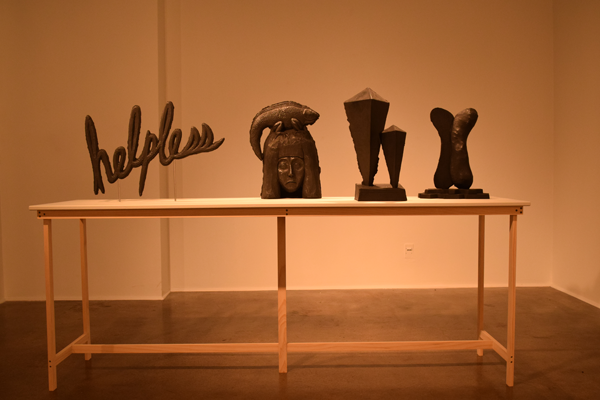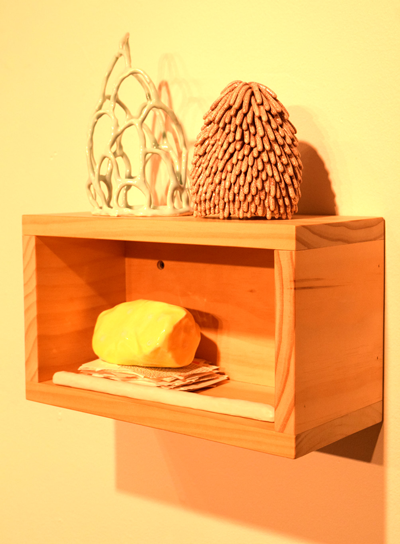 By Braulio Tellez
Artists Linda Lopez and Mathew McConnell's show "Let's Just Say What We Mean" displays the couple's honesty through their artwork.
Lopez and McConnell are based out of Fayetteville, Arkansas. They are married but have never had their work showcased together until now.
Although they have never shared a space, the artists say that they had no trouble putting the show together for Eastfield's H Gallery.
"It happened organically," McConnell said. "We know each others work very well, so it was easy for us to know which pieces we wanted to bring. We're pretty collaborative in what we do and how we make our decisions. So it just happened over time, little bit by little bit."
Though the couple has never shown together, they do work together.
"You could look at it in two different ways," Lopez said. "We share a studio, so we literally work side by side. But I think you could also look at it in the way that we help each other with our work when one of us needs an extra hand."
Lopez has installed a series of ceramic sculptures from previous works titled "One More" and "From One Pile To Another." The sculptures consist of tubular shapes draped on top of one another. She has also set up what looks to be shelves and has displayed some of these sculptures along with her drawings.
"I have a tendency to work abstractly so I guess it's kind of my filter of the world," she said. "I'm not trying to reference anything particular with the abstract kind of organic shapes, but just trying to create an object and have it feel the way I see it."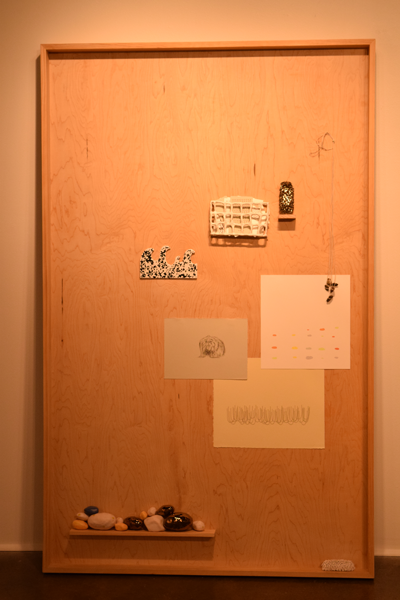 McConnell's sculptures are selected works from a series of previous art titled "What It Means To Move." His sculptures are made from earthenware with bone char and graphite. The completely black sculptures are mostly random, obscure shapes. One sculpture is molded to say the words "hopeless" and "hapless."
He has also set up a shelf on the back wall of the gallery that holds rows of stacked cards with different quotes. He said the quotes come from a variety of sources he has collected over the years.
"Some I have written," McConnell said. "Many have been manipulated to a degree that they have little semblance to the original quote."
The piece, "As Ashes or an Overcast Sky: Variations on Gray," McConnell said best describes what the gallery is trying to achieve.
"The viewer in the gallery can take those cards with them," he said. "As soon as you take that card off the shelf, it's out of sequence and also out of context. If anybody takes a card, or five cards or 10, they end up being in some other context immediately and then they have some other meaning for that person other than what I chose them for. They can never say the same thing twice."
Gallery coordinator Iris Bechtol usually installs the work of visiting artists. But for this show, she gave Lopez and McConnell the freedom to set up their work.
"I believe the layout of the works was fairy intuitive, though they likely discussed their plans prior to installing and may have made adjustments," Bechtol said. "That often happens when artists encounter the actual space where they exhibit their artwork."
The show continues through April 24, with a closing reception 6-8 p.m. April 23 during the Literary & Fine Arts Festival.