Dallas jazz group performs at Eastfield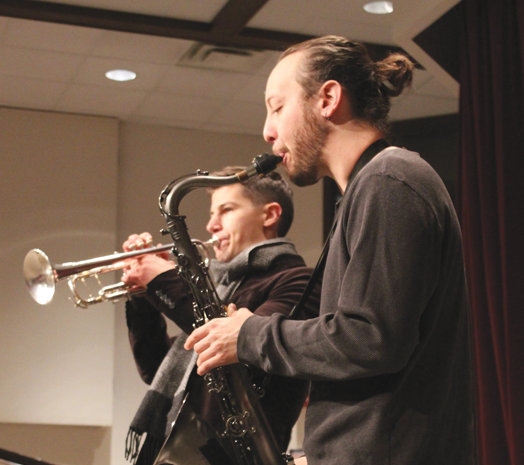 By J. Gomez
The seasoned Jazz band "The Funky Knuckles" performed Feb. 25 as part of the Spring Recital Series.
Their performance included music from their recent album "Meta-Musica," which topped the iTunes music charts last year. The band also played tracks from their first album "As of Lately."
Many of the band's members have worked with stars such as Beyoncé, Kanye West and Michael Bublé.
"We started playing at church together," bass player Wes Stephenson said of the band's origins. "Caleb McCampbell, Cedric Moore, and then afterwards we started adding people in."
Stephenson's resume includes performing with Erykah Badu, R&B singer Chrisette Michele and many more.
Evan Weiss, the bands trumpet player, use to hang out with the other guys at a local lounge before he got a chance to play with the group.
"Eventually I started sitting in more and more often, started playing regularly, touring and recording stuff," he said.
Weiss can also be found touring with indie choral symphonic band Polyphonic Spree.
Music major Joh-Shun Griffin praised the band for their music and his own personal ties.
"Funky Knuckles is a dope band, definitely," Griffin said. "I know some of the guys personally, and it was a real honor just to be able to hear them at [my] school."
The band plays weekly at the Free Man Café in Dallas.