Texas considers allowing guns at colleges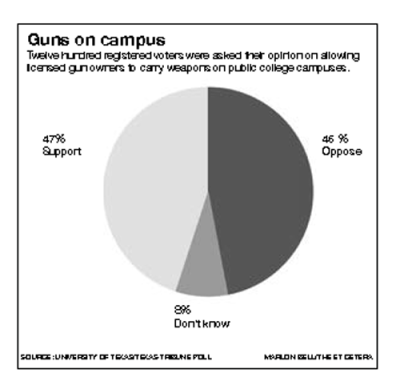 By Brandon Wagner
Public open-carry bill also clears first legislative hurdle of session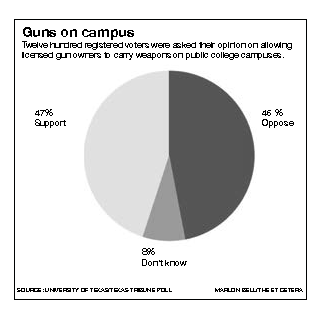 A bill passed by a state Senate committee would allow licensed gun owners to carry concealed weapons on public college campuses, including Eastfield.
Last month, the Senate State Affairs Committee also passed a bill that would allow the open carry of weapons in public. Both bills are now awaiting consideration by the full Senate.
"I don't think there should be guns on campus," Eastfield student Stephany Sam said. "Isn't that why there are police stationed on campus? It just doesn't feel right."
Bree Croxton disagreed.
"I think people with handgun licenses can conduct themselves the same while carrying on campus just the same as anywhere else," she said. "These are adults, and allowing them to bring a gun to campus will not change that. If people can responsibly own firearms at their home and in public, then there shouldn't be a problem at the schools."
Ann Hatch, director of media relations for the Dallas Community College District, said the district, like most Texas colleges and universities, opposes campus carry.
"We, as a district, want to be able to exert more local control if/when campus carry is passed," she said in a statement. "Campus police chiefs have started a study to determine what kinds of needs and costs would be involved if campus carry passes, but the study isn't finished."
In 2013, the Legislature passed a law that allows licensed gun owners to keep weapons in their vehicles on college campuses. In recent months, open carry advocates have demonstrated by carrying weapons in public places and stores.
All 50 states allow citizens to carry concealed weapons if they meet certain state requirements. In 20 states, concealed carry is banned on college campuses. In 23 states, the decision is left up to the campus. Due to recent state legislation and court rulings, seven states now have provisions allowing the carrying of concealed weapons on public college campuses.
More Texas voters support allowing concealed guns on campuses than open carry in public, according to a University of Texas/Texas Tribune poll. Only 32 percent of Texans would allow licensed or unlicensed open carry, the poll said.
But voters are split on the campus carry issue with 47 percent saying faculty, staff and students should be allowed to carry weapons on campuses and 45 percent saying they should not.
An informal Et Cetera poll of 28 students found stronger opposition. Eighteen said no, six said yes and four were undecided. The same students were asked whether they would feel safer knowing that concealed carry in colleges would be legal: 20 said they would not, two said that they would feel the same and six said they would feel safer.
If the bill passes, Gov. Greg Abbott seems likely to sign it. As a candidate, he proposed allowing universities to opt out potential campus carry laws. But he indicated a shift of position at a press conference last month.
"I will sign whatever legislation that reaches my desk that expands Second Amendment rights in Texas," he said.
Many Texans believe that owning and carrying a firearm is a constitutionally protected freedom unchanged by being on a college campus.
Texas A&M University System Chancellor John Sharp has voiced support for the bill.
"Having licensed gun owners in possession of legal weapons on our campuses does not raise safety concerns for me personally," he wrote in a letter to Lt. Gov. Dan Patrick. "Do I trust my students, faculty and staff to work and live responsibly under the same laws at the university as they do at home? Of course I do."
Others fear that having easier access to firearms within a school invites more violence than it would stop. Colin Goddard, a survivor of the Virginia Tech shooting, testified at the Senate affairs hearing to criticize the bill.
"We survivors do not think that it is a good idea to have guns on campus," he said. "There is no evidence that a bill like SB 11 would do anything to stop a mass shooting, but SB 11 would make the average day on campus more dangerous in an environment where students are dealing with failing grades, alcohol abuse, relationship problems."
University of Texas Chancellor and retired Admiral William H. McRaven sent a letter to Gov. Abbott discouraging him from signing a campus carry bill.
"There is great concern that the presence of handguns, even if limited to licensed individuals age 21 or older, will lead to an increase in both accidental shootings and self-inflicted wounds," he wrote.