Braddy emphasizes female leadership in the workplace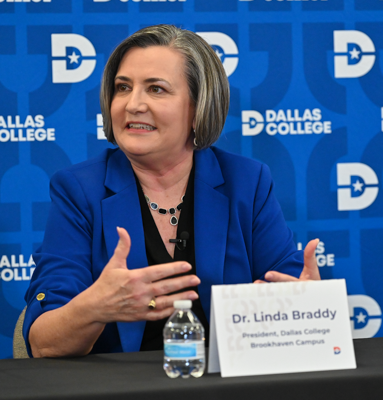 Linda Braddy looked around at her classmates in the master's level applied mathematics class and wondered, "Where are all the women?"
Eight years after graduating with a bachelor's degree in math, Braddy made the decision to follow the advice of her father and, "Get all the school she can." During her graduate studies, she became aware of the under representation of women in STEM.
When Braddy became president of Dallas College Brookhaven campus, she set her sights on making math accessible to all students.
"Generally speaking, we really suck at teaching math," Braddy said at Eastfield's International Women's Day celebration. "We guard it like a secret club."
Braddy along with Joli Robinson and Victoria Neave Criado participated in the March 8 "Walking in Her Shoes" event. They each shared advice for women who haven't yet found their path and talked about the obstacles they've overcome to arrive at their current positions of leadership.
For Braddy, one of those obstacles was trying to break into a male-dominated field.
After spending eight years away from school, and mathematics in general, Braddy went into her first semester of graduate school feeling unprepared and in need of additional help. After one of her first classes, she approached her professor and asked him for clarification but was turned away and told she shouldn't even be in his class.
"So, I went and dropped it and got into something else," Braddy said.
The new professor was a stark contrast from the first. After Braddy failed her first exam, the professor opened his office to her for an hour every day to give her one-on-one instruction.
"When you feel like you're not capable, you need somebody who will say, 'Yeah, you are,'" Braddy said.
As Braddy reflected on both the good and bad experiences with professors, she realized changes in how math is taught need to begin with administration. That's when she decided she wanted to become a college president.
"Sometimes it's seen as a bad thing that you want to be an administrator," Braddy said. "Sometimes women are criticized for being ambitious."
Even though women work 52% of the nation's jobs, Braddy said only 15% of the top leadership roles are held by women.
"And that's not because we're not capable," Braddy said. "There are gender issues that women face that are obstacles, and we haven't yet broken the glass ceiling."
During Braddy's time as a professor of mathematics she molded her own curriculum to help her students be more successful in their learning.
"I'm not smarter than you. I've just had more practice at math," she would tell her students.
Making the transition from teaching to administration was a natural step. Braddy realized if she were a department chair or a dean she could influence the educational experiences of other students and have a greater impact.
Braddy became president of Brookhaven in 2019.
When talking about making decisions about the future, she encouraged women to pay attention to both what excites them and what makes them angry.
"I tried to focus on higher education and the inequities that exist there," Braddy said. "And to help make sure that students get the education they need so they can better themselves."