Enrollment declines as omicron surges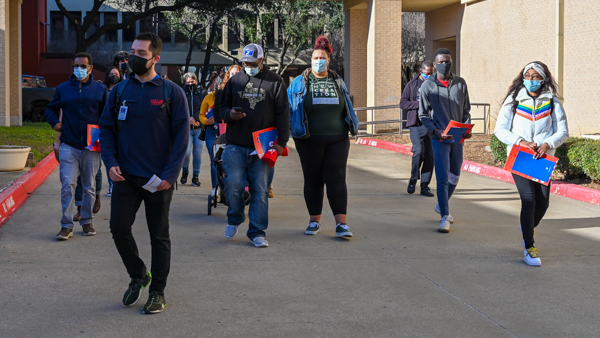 More Dallas College students opted for online classes than face-to-face for the spring semester.
According to data provided by Senior Vice Provost of Academic Services Greg Morris, 46,555 students are enrolled in online classes this
spring as opposed to 30,194 enrolled in face-to-face courses.
"With omicron, [at the] last minute people decided 'I would rather just go online,'" Morris said.
Morris said the best indicator of trends is to compare term to term, or spring to spring and fall to fall. The caveat with that practice is for spring 2021 there were limited face-to-face options due to COVID-19.
"COVID has just upended every type of legitimate predictive ability that we have in looking what the trends are," Morris said.
In addition to the trend toward online classes, overall Dallas College enrollment is at 65,873, down 5.84% from spring 2021, according to data from Dallas College's Data Depot.
This drop in enrollment mirrors a national trend. According to the 2020 Census, college enrollment is at its lowest since 2007. The majority of the decline took place in community colleges, which had the lowest levels in 20 years.
Texas community colleges saw an 11% drop in enrollment between fall 2019 and fall 2021.
Associate Vice Chancellor of Enrollment Management Marisa Pierce said COVID-19 has a lot to do with the drop in enrollment.
"It's really about … what's happening environmentally," Pierce said. "School closures, parents having to pivot again, work-related issues, financial issues. But it's really contingent, I think, at this point in time with the omicron variant and having that consistent uncertainty."
In an interview last semester Pierce said she and other officials at Dallas College are working to boost enrollment by using various types of targeted campaigns, such as ZIP code recruitment, reaching out to women, current students and first-time college students. Morris said administrators had
to cancel about 19% of face-to-face classes during the spring registration period as compared to about 6% of online classes. Classes are typically canceled when they don't meet a certain enrollment number.
Morris said hybrid classes are up this spring. Last spring there were 2,443 students enrolled in hybrid classes, meaning a mix of face-to-face and online, and this spring there are 7,698 students enrolled in hybrid classes.
In spite of the majority moving toward online classes, some students say face-to-face is still the best option for them.
Nursing major Chiamaka Okafor said she does not retain information if she is not in the classroom.
"Last semester I took anatomy and physiology and the teacher didn't teach because it was online," Okafor said. "I don't really remember anything for that class….It will be harder for me when I get to nursing school."
Elizabeth Zavala, who is in her first semester at Dallas College and working toward her Associate of Arts degree, said she prefers face-to-face learning because of distractions at home.
"I learn better in that way," she said. "Sometimes I feel like if I'm in an environment that forces me to be focused, I can actually do the work better."
Morris acknowledged some students learn differently than others, but he said the trend toward online also shows that some students who would never have considered online classes prior to COVID-19 decided they actually preferred that method of learning.
"I think we are seeing some more students saying 'Yeah, I can do this. I can do online and it really does fit better with my lifestyle," Morris said.
— Riley Cook contributed to this report