Transfer leads Harvesters to No. 8 national ranking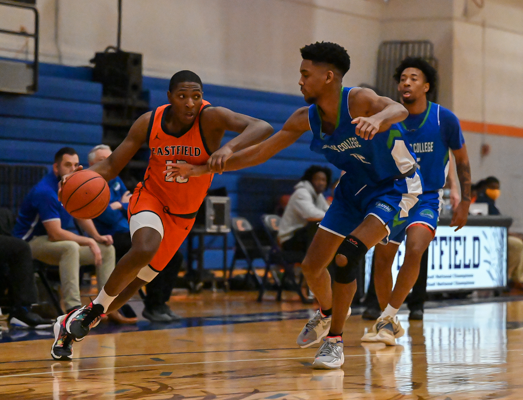 The first year of college is a difficult transition for many students.
For Spencer Simes, it meant a new home five hours away from his family, a new team and a new leadership role. Before attending Eastfield, Simes played one season at Arkansas State University Mid-South, but things didn't work out there.
"I was just kind of almost going to stop playing basketball," he said. "It's just I didn't have anything to
lean on."
Eastfield assistant coach Delano Wilson, who played for the Harvesters in the 2007-2008 season, coached Simes' AAU team in Arkansas and persuaded him to transfer to Eastfield.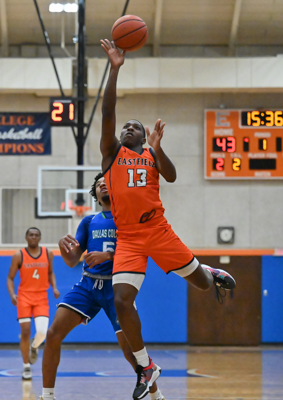 Wilson said he's impressed by the commitment Simes has demonstrated over the years.
"He's always going to do whatever it takes to get it done," Wilson said. "He's the type of kid that would run through a brick wall if that's what it
takes. He's just laying it all out there and has no regrets."
Simes viewed this season as a second chance to prove himself. And so far, he has been dominant.
With just a few games left in the regular season, Simes leads the Division III national rankings in points scored and field goals (244). He also
ranks third in offensive rebounds (79) and total rebounds (197), fifth in blocked shots (37), sixth in points per game (26.6) and eighth in assists
(108).
"Spencer has been doing a really great job for us," Eastfield coach Anthony Fletcher said. "He fills the stat sheets with everything he does
on the floor. He can also score at a very high level and has just been doing awesome."
Since joining Eastfield, Simes has collected nine double-doubles, helping lead the Harvesters to a 19-5 record and a No. 8 national ranking.
Simes is one of the captains on the team and focuses on picking up teammates when they are down and helps them learn from their mistakes.
"Man, I've literally established a relationship with all these guys," Simes said. "They're genuine, funny guys, and winning helps. It helps a
lot."
Fletcher said Simes' strengths include being able to score from all levels, the 3-point line, mid-range and at the basket but he also rebounds and plays strong defense.
[READ MORE: Basketball star gives back to community]
Simes' biggest game of the season came on Nov. 4 when he scored 51 points, had 13 rebounds and two assists to finish off the night. He was 20-for-26 on his field goal attempts, 4-for-4 from three-point range and 7-for-7 from the free-throw line.
"I've just got great teammates, man. They just kept feeding me and giving me the ball, and they saw that I was hot," Simes said. "It just ended with a great night, and what was crazy is that I didn't even know I had 50."
The performance was the third-highest scoring total by an Eastfield player in school history. And it could have been higher.
Simes had 51 points that night. During his two free throw attempts he made both, but one point was taken away due to a lane violation.
Sitting on the sideline that night due to a foot injury was Simes' best friend, Jacore Williams, who has been teammates with Simes since
their sophomore season in high school.
"It was a quiet 51 points," Williams said. "Nobody else saw him but I was noticing. I was keeping up with him because you know, that's my guy. He was doing everything. He shoots threes, he was making floaters, and he missed no free throws, which is tough. He went out and was locked in and made sure we got the W."
Williams said he wanted Simes to hit 60 that night.
"Damian Lillard has this thing called Dame time, where he just takes over the game," Williams said. "Spencer came down, shot a transition three with no pass coming down and made it cash. He comes down again, they go under the screen and cash. After that, he just went on a roll. It was his time, and he just took off. I'll compare that to Damian Lillard."
Simes' mother Jackie Hale was one of the first people to hear about the 51 points her son scored that night.
"I thought he made it up," she said. "I thought he really exaggerated that night, but he sent pictures and everything to prove he did."
[READ MORE: Change in position brings hardships, rewards to Jones]
Simes grew up in north Little Rock, Arkansas, with his mother. His interest in basketball began at age 3. He tried out football, but it was too physical.
Sports ran in the family. Hale ran in competitive track and field when she was involved in her AAU summer track and field team. In high school, Simes played on a traveling team called the Arkansas Magic that played a very fast-paced style of physical basketball.
Simes said Eastfield plays the same way.
"I had adapted to that playing style already," said Simes. "It's been in me, and I think that's why I fit so well here."
His goals are to play Division I basketball and hopefully join a team in the NBA.
"He's here on a mission," Fletcher said. "He's not just here to play basketball. He's here to graduate and get his degree and then get to the four-year level and play on TV one day."
Simes played alongside Moses Moody, a first-round draft pick of the Golden State Warriors, as a student at Horace Mann Middle School in Arkansas. They won two championships together.
The last time the Harvesters won a national championship was 1997.
However, this isn't stopping Simes. He wants to win a national championship and bring another banner to the gym wall.
"Through losses you learn," Simes said. "But a lot of my goals I have to understand that even not accomplishing certain things you still learn. So, I take everything one step at a time."
Eastfield is now 4-1 in conference play, beating Richland (80-69), Brookhaven (90-67), Cedar Valley (100-66) and Mountain View (90-84). The Harvesters' only loss was a 94-91 loss to North Lake, which is now ranked No. 1 in the latest Division III national poll.
Simes is on a mission to lead Eastfield back to the national tournament. But he also wants to prove something to everyone who doubted him, especially the ones who put him to the side last season.
"It's just like in a relationship when you break up with a girl or they break up with you," he said. "It might have been for the best, though, you know. And that's kind of how it was. It was like a breakup. It just hurt because I love basketball."