Information Central a 'one-stop shop' for students, employees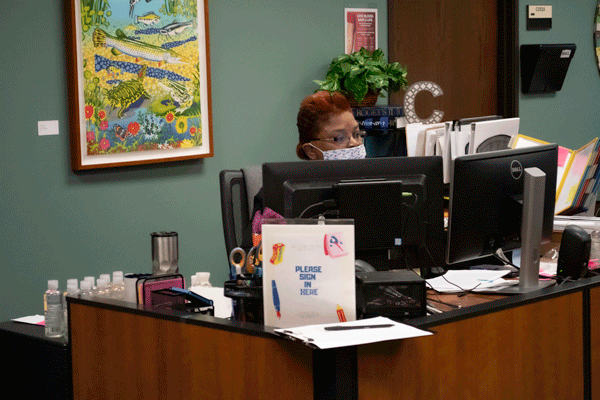 In a move to consolidate information and resources for students and employees, Dallas College has opened an Information Central on all seven campuses.
The center, which opened at the beginning of this semester and is housed in the former STEM division office in C-202, serves as a spot where students can ask for directions and get help with their schedules and employees can find classroom and office supplies.
"We are now the one-stop shop for all of the personnel on campus," Ashley Holt, Eastfield's Information Central manager, said.
According to Holt, Information Central's primary role is providing resources for faculty to assist them in managing their classes. Faculty members can use Information Central to reserve specific classrooms, print materials, receive their mail or even host events. The intent is to ensure employees have the resources they need to help their students succeed.
"For right now, our focus is faculty," Holt said. "We're here to support them, we want to make sure that our students are being served the way that they should be."
English faculty Derec Moore expressed his appreciation for Information Central.
"They've been really helpful," Moore said. "They've been supportive of instructors and students."
Holt said every day is different. With the decline in COVID-19 signaling a return to in-person classes, she describes each day as offering new sets of questions from students and faculty, especially those who are stepping onto campus for the first time since the pandemic. She said part of her job is redirecting people to where they need to be for classes.
With spring registration approaching, Holt said she expects to see more students coming into Information Central for help, and during peak registration Information Central staff will go out into the hallways and assist students who need to get registered and ready for classes.
According to Corine Burnett, Information Central's receptionist, the department also handles some maintenance requests. Burnett said she's on standby for when someone needs assistance.
"I call in work orders," Burnett said. "They may need us to put in a work order for them in case their computer isn't working or if the lights are out."
Staff have also found Information Central's services helpful. Eastfield's food pantry coordinator, Wendy Garner, said she goes by Information Central three or four times a week.
"They are very friendly," Garner said. "And it's nice to be able to come into one central location to get the supplies I need."
Each campus has an Information Central department, and Holt said that all departments offer the same services for students and employees at all locations.
Information Central currently operates between 8 a.m. and 5 p.m. Monday through Friday. Holt said the departments will eventually extend their hours from 8 a.m. to 7 p.m. Monday through Friday, and from 9 a.m. to 1 p.m. on Saturdays.
"We want [the Eastfield community] to know that we're here to serve them," Holt said. "That's our top priority."