Players wreak havoc in 'Grand Theft Auto V'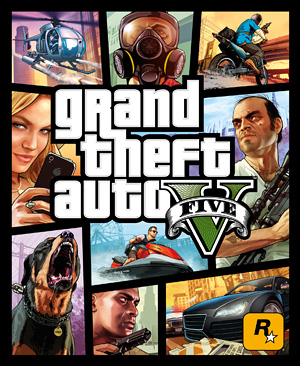 BY CAITLIN PIPER, OPINION EDITOR
Released on Sept. 17 for the PlayStation 3 and Xbox 360, Rockstar's "Grand Theft Auto V" is the latest entry in their controversial "Grand Theft Auto" series.
Like its predecessors, "V" is a fun, often chaotic adventure with a heavy dose of pitch-black humor. However, the changes made to the classic GTA formula are not without their problems.
Set in present-day Los Santos, a fictional city that will be familiar to fans of "Grand Theft Auto: San Andreas," the game follows the intersecting stories of three men.
The characters include Michael, a middle-aged thief living in Los Santos with his family; Trevor, Michael's former accomplice; and Franklin, a young, ambitious repo man struggling to escape his past as a street thug. After meeting, they attempt to pull off a number of escalating heists.
Despite the increased emphasis on plot and character development, "Grand Theft Auto V" is still cut from the same cloth as the other entries in the series.
Players are free to wreak havoc on the streets with minimal repercussions or complete a wide variety of side missions, and they are rewarded for various acts of violence throughout the game.
However, Rockstar's attempts to alter the series formula present a few problems. Unlike previous games, where both the violence and characters were over the top and borderline cartoonish, "V" seems to be trying out a more realistic approach to storytelling, which clashes with the mood of the average gameplay session.
It's difficult to feel for the protagonists when they are lamenting their lives as criminals in a cutscene only to fire a missile at a busy intersection or stab a stripper to death moments later when gameplay resumes.
There are also a few questionable and sometimes frustrating changes made to the gameplay itself.
Despite having an open world as one of its main selling points, "V" does not allow players to fire weapons in certain areas, and it restricts certain actions and abilities to each of the three playable characters, such as buying certain pieces of property.
On top of this, the framerate has a nasty habit of dropping when there is too much action on the screen, particularly in the Xbox 360 version. This is a major problem in a game where chaos reigns supreme and there is so much to see and explore.
Regardless, "Grand Theft Auto V" still lives up to the hype. Despite their mistakes, the developers at Rockstar know how to make a game with lasting appeal, and their attention to detail and twisted sense of humor will keep gamers entertained for years to come.
Their attempt to mix up the stagnating formula is certainly admirable, even though they failed. Despite this, their missteps are regularly overshadowed by gameplay that is both consistently hilarious and, more importantly, fun.