Older students overcome challenges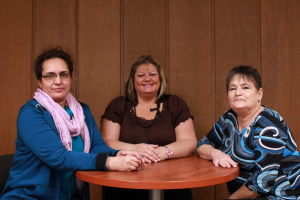 By Kametra Nickerson-Loud
Janette Cobb never had a childhood. It was stolen from her by the people she trusted most.
Her uncle began molesting her at the tender age of 3 years old. Then she was raped by another family member at age 12.
Cobb never told anyone about either incident until she was 13.
She was afraid, confused and felt alone. Desperately needing something to ease her pain, Cobb began stealing alcohol from her stepfather and getting drugs from a neighborhood friend.
"I started doing drugs when I was 12 years old," she said. "[I used] methamphetamine, acid, speed, cocaine, marijuana, a lot of alcohol."
She dropped out of high school in the ninth grade. After getting her GED, she tried attending college but gave it up. She worked a variety of jobs, but could never keep one.
She dreamed of returning to college one day and helping others, but her drug and alcohol addictions held her back for 28 years.
Now, at age 40, Cobb is one of many older Eastfield students who have decided to return to college and give education a second chance.
"The addictions that I had were so heavy," she said. "They're a dark cloud, a vicious cycle. You name it and I [tried] it."
Cobb became pregnant with her first child at age 17 and had two more children by 25. Even as she raised her children — now ages 15, 17 and 23 — she continued to abuse drugs.
She explained that when someone is an addict, it only gets worse until the addict takes control of his or her own life.
Cobb said she went to multiple rehabilitation centers from 1999 to 2002, but she could not stay clean. She even checked into rehab centers with her children.
"I didn't know what else to do," she said. "Without knowledge, people perish. That's how I was."
During those years, Cobb said her children's father began calling Child Protective Services about her addictions. After speaking with the agency, she admitted to them that she had a problem and needed help.
Eventually, she decided to give her mother full custody of her children.
"Those were my babies," Cobb said. "It was very hard."
In March 2002, shortly after giving up her children, Cobb finally stop using drugs after watching a Christian program on TV. The message she heard changed her life forever.
"I was 30 years old," she said. "It was 2 o'clock in the morning. They asked me to invite Jesus into my life, and I did it. [It] totally transformed [me] into a new person."
Cobb has been clean since that day. Now she wants to better herself and do what she was called to do.
"God changed my life," she said. I want to help people the way God helped me — through my addictions."
Ken Griffis, the pastor at Cobb's current church, recalls his first impression of her when she began attending services back in 2000.
"She would come and visit [church] on occasion, but she wasn't interested in spiritual things," he said. "Her life was kind of about herself and what she enjoyed doing."
Griffis said Cobb's life is dramatically different today.
"She is now content," he said. "She has become a good mother, and she is able to contribute to the ministry."
Once her life was back on track, Cobb said her family told her she should return to school and become what she always wanted to be.
She returned to college in 2010 with plans to become a licensed chemical dependency counselor.
Finally, she believes her dreams are coming true.
"I love [college]," Cobb said. "It is wonderful to come and learn, and finally do what I was supposed to do a long time ago. Every day I wake up, I'm excited."
Cobb is proud of herself and believes she can finally be a role model for her children.
"My kids need to know that no matter how old you are, you can start all over again," Cobb said.
Fellow Eastfield student Surinder Kaur Sudan's rebirth began when she turned 50. Feeling that she had missed out on what life had to offer, she decided to pursue an associates degree in science.
"I just want to restart everything again," she said.
Kaur Sudan was born and raised in India, where she held a variety of sales jobs at local retail stores.
While visiting family in Canada, she decided to move to Dallas. She knew no one in the city but simply wanted a change.
After moving, she decided to enroll at Eastfield and then move on to a university in hopes of becoming a pharmacist.
She admits that the return to college has been a challenge. She had to start from the beginning with developmental courses, but she now knows her weaknesses.
"If I feel I cannot keep up with the studies, I go to the learning centers [to be tutored]," Sudan said.
Kaur Sudan believes the decision to return to college was the right one.
"After five years I will be satisfied with what I am doing," she predicts. "I feel myself on the top. I know I am going to be a happy person."
Psychology major Tammy Walcher said she returned to college at age 54 not only because she wanted a career change, but also because she wanted to impact her family.
"I wanted to be a good role model for my grandchildren as well as my children," she said.
Previously, Walcher worked in a doctor's office. After graduating next year, she wants to begin a new career in social work.
"I've always had really, really good jobs," she said. "It's just about enriching my life."
Whether it was family, finances, addictions or other issues that prevented them from earning their college degrees when they were younger, these older women have discovered that it's never too late to pursue their dreams.
"No matter how old you are — 40, 50, 60 years old — do what God has called you to do," Cobb said.