By Sidney Murillo
Walking into the lobby of the Sheraton hotel in Dallas for AnimeFest was like walking through the set of a sci-fi fantasy movie. Big eyes, magical girls, wildly colored hair and high-pitched kawaii-desu voices are all staples among the Japanimation anime genre.
Ask anyone who is a fan of Naruto, Inuyasha and the kid favorite Pokemon and they'll usually say this fantasy aspect is what attracts them. However, that just scratches the surface at A-Fest, a four-day convention devoted to everything anime, which was the place to be for any anime fan on Aug. 31-Sept. 4.
From those who follow light-hearted series like "Acchi Kocchi" to the darker, violent animations such as "Mirai Nikki" and cult favorites like "Akira," anime fans are as diverse as the genres.
"I grew up with original Japanese animation like Dragon Ball in dub." said Cristopher Slouth, who works at a Six Flags.
"Believe it or not, this is my second time [at an anime convention]. I worked A-Kon in May and fell in love."
The difference between AnimeFest and A-Kon, which was held in the same location on May 31-June 2 is this event is more welcoming to lesser known artists and vendors.
The Purple Pumpkin, a Texas-based vendor that sells via click and mortar on the website Etsy, put out a spread of novelty phone cases, bento boxes and hand crafted-stuffed animals.
It was their first time selling at AnimeFest
Oscar Amador and his girlfriend, Theresa Vanburg, came dressed up as Rapunzel and Eugene from Tangled Ever After. Thanks to an anime convention in Houston, they found their happily ever after. She wore a wedding dress and he wore a white suit, all similar to the mini-film.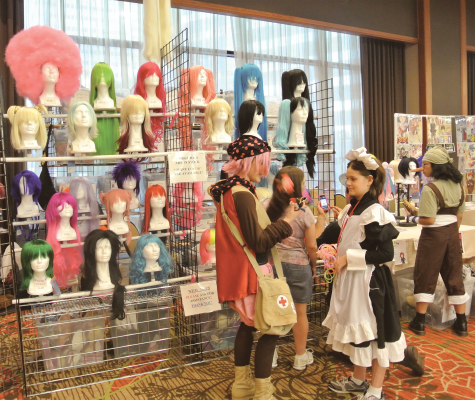 "We both met at A-Kon about two years ago," Vanburg said. "We were dressed up as characters, and strangely enough we were each other's love interest from the show."
Cosplay, derived from the words costume and play, is the act of dressing up as a fictional character, and is very popular among anime and video game fans.
To those who are not familiar with geek culture, it may be awkward, but to others, it is a favorite image.
Adam Devin, a cross dresser and amateur fashion designer from rural Oklahoma, came to A-Fest dressed in a ball gown. He admitted feeling alienated in his small town.
"You actually feel normal for once in your life at these places," he said. "When I was young, I loved Halloween because that gave me an excuse to wear my Renaissance costumes. Being a part of a group of people that is just like you makes you feel not as crazy."
There are thousands like Devin. People come from all over to cosplay and to find their niche, meet people and have a good time.
This community, this "fandom," is an example of how culture is created and used to help build lives.
"I'm the perfect example of how someone finds themselves a new home," said Michelle Miller, a cosmetology student at Tint School of Makeup and Cosmetology said. "I moved here in February from Ohio and the first thing I tried to do is find my people. You know, the geek culture. It's a really great chance to connect with people. When you are new to the area, you know it's a natural grouping.