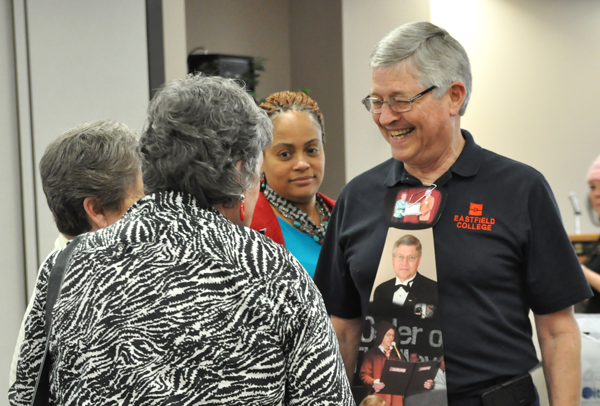 By Parker Ward
With high kicks and a feather boa, Don Baynham bid farewell to his 45-year career with the Dallas Community College District.
At a retirement party last month, faculty and staff members dressed as orphans from the Broadway musical "Annie" and serenaded Baynham with a parody of the song "Tomorrow." Baynham, wearing a home made tie, joined the dancers to close the performance.
Baynham's career had a humble start at El Centro College.
"In 1970, I got out of the Air Force and went to work at El Centro as a clerk in the business office," he said.
From there, he would eventually make his way to Eastfield in the summer of 1970.
"Eastfield was about to open so they asked me to run the bookstore," he said.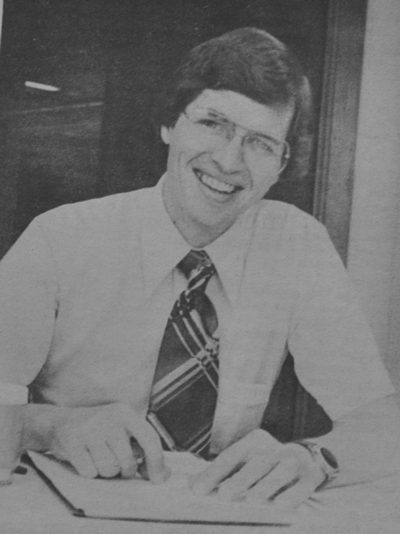 He managed the bookstore for about eight or nine years while earning a master's degree. He applied for a management position at Brookhaven and moved campuses again.
"I was a dean for about 22 years in various departments," he said. "I started with business. I did mathematics and the arts, so just a number of permutations over the years."
Baynham eventually moved back to Eastfield.
"About the end of 22 years, the president [of Eastfield] at the time wanted me to do some other things," he said.
"So I was promoted to associate vice president. I would take over a department for a year or two until I got it the way they wanted it.
"The end of my career has been doing whatever needs to be done."
On Jan. 28, a celebration was held to commemorate his retirement. The "Annie" performance honored Baynham's love for the stage and performing arts.
Baynham's co-workers, especially Ann Johnson who has spent 43 years working with him, remembers the performances he put on during his career, including some parodies and lighthearted songs. At the fall 2014 convocation, he emceed a parody of "The Price is Right."
"He would write things for convocation in the fall," said Johnson. "He would put on programs with the faculty and the staff."
Beside his love for the stage, Baynham was recognized at Eastfield for his impressive tie collection.
"I became famous for ties. I have a collection of a little over 500 ties," Baynham said. "I've worn them since I've been a faculty member and eventually came to realize that I'd have to wear a tie anyway, so it might as well be interesting.
"The only time I've regretted the ties is now. What am I supposed to do with 500 ties?"
Many members of the faculty and staff are sad to see him leave.
"Dons been a pleasure to work with; he has a great knowledge of district and college policies," said Interim Vice President Larry Wilson. "He's got a great sense of humor. In spite of his stern look, he's a lot of fun.
"After 45 years, he'll leave a long, long legacy. I think he epitomizes the type of administrator who cares."
Beyond just interacting with students and co-workers, Baynham was also in charge of making sure the campus looked nice.
"He's going to leave [the] legacy of a better looking campus," Johnson said. "It's brighter and with new furniture. He has lightened up the campus and provided a lot of study areas."
With the college thriving, he decided now would be a good time to exit the stage.
"Everything is headed in the right direction, which leads me to believe that it is time to head out," Baynham said.
"I told someone a while ago one of the things I'm going to learn to do is weld. It is something I've always wanted to do, so I'm going to take the Saturday welding class."