A fresh taste of coffee, tea, lifestyle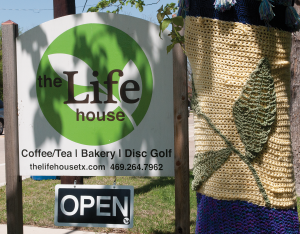 By Anjulie Van Sickle
The Life House is a 1928 Rockwall house remodeled to provide a clean, organic coffee shop where people can eat, drink and visit with friends.
Too often, owner Chris Kelley said, people just grab a quick bite to eat without considering what other options are available.
To encourage people to live a cleaner, healthier lifestyle, the shop is completely organic, purchasing all its produce from local farmers.
Chris and his co-owners, Jeremy Standifer and his wife Katy, make and store their own coffee in the back. There's even a disc golf course behind the coffee shop where people can stay active while having fun.
If you need gear, there is a shop in the back room of the house. If not, you can head straight to the backyard and get your game on.
On the side of the house, there is a small, recently dug garden meant to show how much people can do with a small area of dirt. Looking at it made me want to go home and dig a garden in my own yard.
On the front porch, there are benches, chairs and tables that look perfect for an evening filled with learning or simply contemplating life.
Inside, there are people writing, visiting, studying, playing guitar and taking advantage of the free Wi-Fi while drinking hot or cold beverages and eating freshly made pastries. The scones are scrumptious, and there are also croissants and danishes
There are often spontaneous jam sessions in the front room where a guitar is available for anyone who would like to play.
When I first walked in, there was a young man playing guitar with two or three young ladies singing along with him.
This made me want to put down my notebook and pen and join in with them.
There are comfy leather armchairs, couches and bar stools throughout the house.
Each moderately sized room is perfect for sipping coffee or tea and visiting with friends.
I took a moment to enjoy the warm light streaming through the long window in the center room. It was the perfect atmosphere for writing poetry.
Customers order in the next room over a large, cement bar that curves from one wall to the other.
The recycled windowpane menus are filled with freshly made coffees, organic teas and baked goods made daily in the back by Jeremy.
Paintings cover the walls down the long hallway connecting each of the house's nine rooms.
The pieces are available for purchase from local artists and definitely  add a colorful touch of originality to the place.
As I passed by each section of wall, I wanted to buy each and every painting for my own room.
While most cliché cafés are full of hipster chicks, cups of coffee and ambient jazz music, the Life House provides an individuality that is rare in the coffee world.
The entire house provides a feeling of warmth brought on by the inviting staff, customers who are always ready to make a new friend, fun and upbeat music and an all-around feeling of home.