'Tattoo hunter' collects images, body art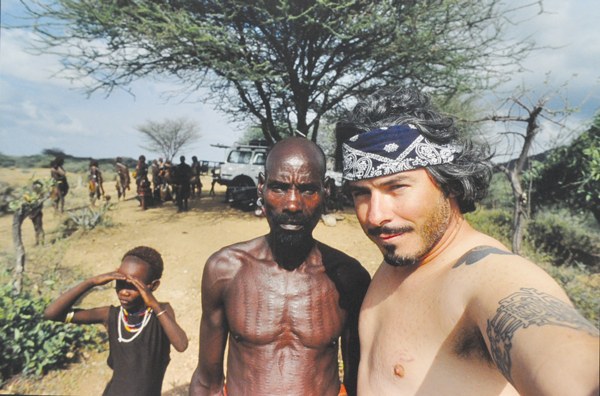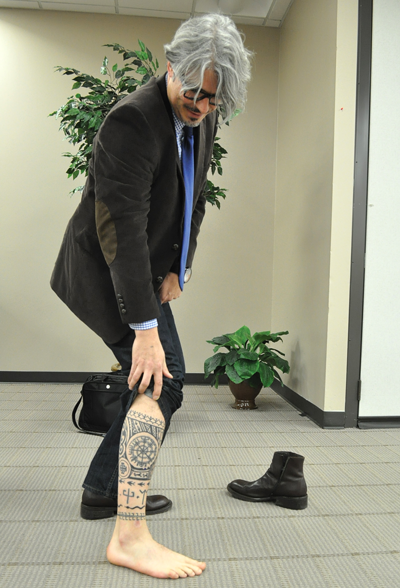 By J. Gomez
Tattoo anthropologist Lars Krutak has ventured across the globe studying tribal cultures and collecting experiences in the form of sacred tattoos.
Krutak, who spends weeks at a time coexisting with different tribal peoples and experiencing cultures, has been able to obtain an accurate study of their lives and the significance of their body art.
Krutak spoke Nov. 20 at Eastfield about the cultures from which he has learned.
Krutak primarily works for the Smithsonian repatriating human remains and funeral objects back to tribes in Alaska and the Southwest. He said he considers his tattoo anthropology a labor of love.
When Krutak visits villages and tribe, he brings photos of tattoos, hoping to encourage others to share their own.


"I have been really lucky," he said. "Two or three times I have brought back a photograph someone took a hundred years ago and it happens to be someone's great-grandfather when he was a boy or something and they had never even seen a photograph of that relative. But I will leave it there, then you go back and the next year it's pinned up on the wall as a family heirloom and when it happens those are really magical moments."
Krutak has been writing for tattoo magazines since the late 90s. He has worked as an anthropological consultant for various National Geographic documentaries as well as staring in the show "Tattoo Hunter" for the Discovery Channel. Krutak has also written four books and lectures at schools as well as tattoo conventions.
"You always have a limited amount of time, so you want to be as productive as possible," he said. "But when you only have a couple weeks maybe a month or whatever, you just want to interview as many people as possible and do a lot of homework."
Krutak has portions of his body covered in tattoos, which he has received from tribes throughout the world.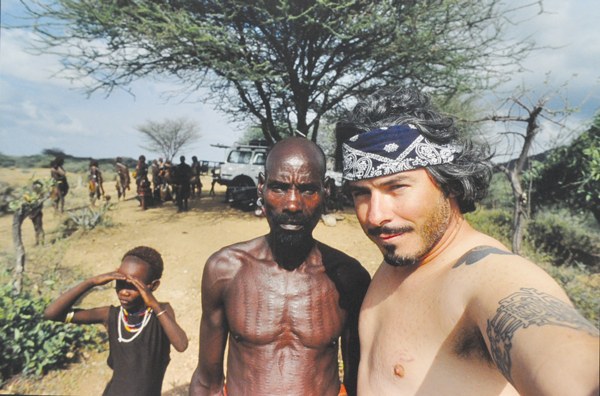 "I didn't get my first tattoo until pretty late in life, I was about 27," he said. "It's an armband inspired by my research in the Arctic. It was done with a machine by one of my good friends that was learning to become a tattooist at the time. I didn't receive my first traditional hand-tap tattoo until 2002, a rosette on my shoulder I received in Borneo."
Unlike American culture, most indigenous tribes have rites of passage solidified in their societies, many involving tattoos.
"You're basically honoring your ancestors and these traditions that have been a part of their identities and their cultures since they have been on earth," he said. "It makes you who we are as a people vis-a-vis other people around us."
Krutak's visit was part of a yearlong study of Eastfield's common book, "The Illustrated Man" by Ray Bradbury. In it, tattoos on the body of a nomadic character narrate eighteen different stories.
"I hope students realize the value of studying tattoos, the historical and anthropological value they reveal about cultures throughout history," said English professor Amber Pagel.
Marcos Ramirez, a student working on his core curriculum, attended Krutak's lecture for a final project in history.
"He has gone into every nook and cranny of tattooing, even though it's so different in each area of the world," he said. "It's because it's so different that it makes it fun for him to explore."
Krutak donated a copy of his recently published book, "Tattoo Traditions of Native North America: Ancient and Contemporary Expressions of Identity," to the Eastfield Library. His photos will be on display in the library through Jan. 30.