The Et Cetera sets unprecedented pace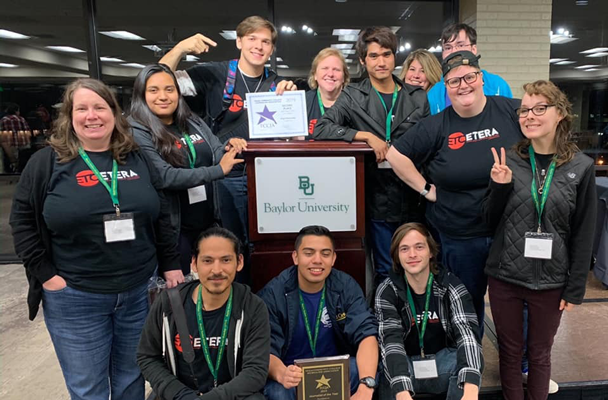 By JORDAN LACKEY
For the first time in its 50-year history, The Et Cetera has won two national Pacemaker Awards from the Associated Collegiate Press in a single year: one for its newspaper and another for its website as well as placing in two individual categories plus six honorable mentions.
The Et Cetera also placed in five categories and earned four honorable mentions for the College Media Association's Pinnacle Awards. There were 19 total awards given for previously published work and three Best of Show Awards. All were announced at the virtual National College Media Convention.
This marks the fourth Pacemaker The Et Cetera has received for print editions and the second it's won for online content in the past nine years.
The Pacemaker is considered the Pulitzer Prize of student journalism and has been awarded annually since 1927. According to the ACP website, only an estimated 10 percent of entries throughout the country end up winning a Pacemaker.
Skye Seipp, previous editor in chief, said this was a collective effort from all the volunteers, staff and advisers at The Et Cetera, especially when faced with the challenge of publishing while the campus was shut down due to COVID-19 during the spring and summer.
"Everyone came together, and we were putting out consistently good work," he said. "It wasn't just me."
Seipp said The Et Cetera's ability to consistently win national and state awards is a testament to the paper's aptitude and the quality of the journalism program at Eastfield. He credits the program for giving him and his predecessors the foundation they needed in order to prosper.
He said that The Et Cetera would not have been as successful under his leadership were it not for the opportunity to learn in a classroom environment with the instruction, aid and guidance of teachers and advisers. If Eastfield did not offer these courses, he said that he never would have gone into journalism and probably wouldn't be attending the University of Texas at Austin now.
He was disappointed to learn that printing of the newspaper had been halted until further notice by college administrators.
"All of this is cyclical," Seipp said. "It's dependent on the fact that The Et Cetera is able to print a paper product and that the classes offered at Eastfield allow for more personalized training to become a better journalist."
Sarah Sheldon, student media manager for the Et Cetera, said it was exciting to just be nominated for a Pacemaker. She called the double win a "knockout" and a testament to all the hard work that goes into making each publication possible.
"I feel like a ridiculous parent," Sheldon said. "Bursting with joy and pride."
Sheldon said The Et Cetera doesn't do what it does for the awards, but she takes great pride in the ACP's recognition of all the late nights and stress that have gone into making the student media outlet what it is today.
"I think we just have a really strong program here," she said. "And the award is simply a tangible product of all that we do year-round. It's kind of that moment that we get to brag on ourselves."
On top of winning two Pacemakers, The Et Cetera won eight other awards from the ACP. Ariel Evans and Gabriella Evans won third place for Best Comic Panel Strip. Skye Seipp, Anthony Lazon and Erik Krouskop won fourth place for Newspaper Special Section Advertising. Skye Seipp, Brianna Harmon, Anthony Lazon, Jessica Martinez and Erik Krouskop all received honorable mentions.
The Et Cetera won nine additional awards from the CMA. The paper won first place in Best Newspaper Nameplate. Anthony Lazon took second place in Best Advertisement and Ariel Evans and Gabriella Evans finished second in Best Comic Strip. Sazoun Grayer was third in Best Sports Game Story. The entire staff received four additional honorable mentions.
The ACP also judged current publications for its Best of Show category, where The Et Cetera won fifth place for its current print edition and sixth for its website. Chantilette Franklin and Jordan Lackey received eighth place for COVID-19 coverage.