Dallas businesses prepare for post-election violence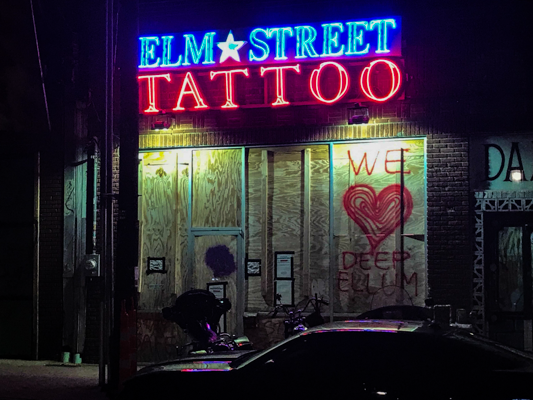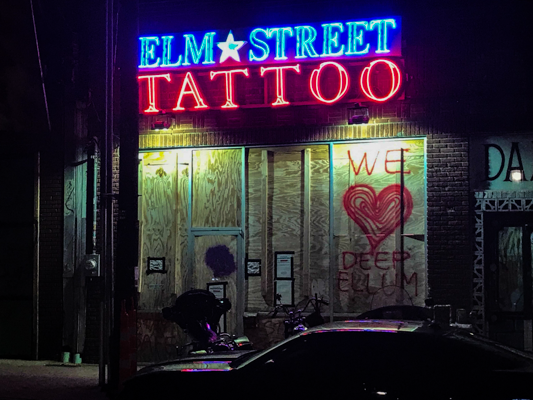 By CAMILLE SCHUH
Italian immigrant Dino Santonicola achieved the American dream by opening his own restaurant in downtown Dallas last fall. Now, amid one of the most contentious presidential elections in history and record voter turnout across the nation, he is concerned that post-election unrest could put his dream restaurant, Partenope, in danger.
Santonicola and his wife, Megan, are bracing for the next few days, but they chose not to board up their storefront.
"The city is taking extra precautions and the Dallas Police Department has done a lot of outreach to downtown businesses since the protests earlier this year," said Santonicola, who moved from Naples in 2011 to work at a Dallas institution, Cane Rosso, before opening his restaurant. "We had only been open about six months when the protests hit Dallas. Being on the corner of Main Street just down from Neiman Marcus makes us vulnerable, but I think proper police patrolling this time will protect our business."
Others aren't so sure. Many business owners still recovering from property damage after the George Floyd protests over the summer have taken precautions in case things turn violent again after the election.
It was an unfamiliar sight in downtown Dallas on Tuesday. Storefronts were boarded up with wooden planks, from restaurants to corner stores. Election night has always been an anxiety-filled night, but this election has brought new fears.
A downtown 7-Eleven store was completely boarded up yet still open. A look inside makes it seems like business as usual, but a clerk said the wooden planks were added as an extra layer of security for any possible riots after election results are announced.
The front of the Press Box Grill, a sports bar on Main Street, was also secured with plywood Tuesday. It will remain open but with shortened business hours.
"We started boarding up our windows yesterday," said the restaurant's manager, Chris, who asked not to print his last name. "We were hit hard last time. Our owner just doesn't want to risk taking another hit from our insurance company."
Gov. Greg Abbott made a statement on Oct. 28 that he may deploy the National Guard to address potential protests. Two days later, the Joe Biden-Kamala Harris campaign bus was swarmed by a group of trucks flying Donald Trump flags on Interstate 35 in Texas. Supporters of both presidential candidates seem to expect their opposition will be the one to light the fuse.
Concerns about the possibility of civil unrest left Deep Ellum looking like a ghost town Tuesday night. Many businesses were boarded up.
"The whole town has concerns," said a Reno's bartender, Dolly, who would not give her last name. "A lot of businesses aren't even open."
Reno's was one of the few bars in the Deep Ellum area with boarded-up windows that remained open. However, there was hardly anyone inside. They decided to block off their windows around noon in preparation for election night.
"We weren't prepared last time [when protesters] came through here," Dolly said. "We are tonight. … Everyone's just waiting to see what happens."
Voters in line at Dallas College campuses Tuesday also expressed concern. At the El Centro campus, Kayleigh O'Connor was voting in her second presidential election, but she said this one was felt much different. The 30-year-old lives in a downtown Dallas high-rise and said she has become increasingly worried about her safety while living and working downtown.
"It has been a crazy year, and I feel like this election is super important," she said. "I hope everyone keeps a level head no matter the outcome. It is creepy and makes me sad to see all the buildings boarded up again."
Gregory Lener, a 26-year-old IT professional, said he was excited to be voting for the Democratic ticket in both the presidential and local elections. Lener, who lives and works downtown, said he isn't overly concerned about protests.
"I feel like the city and the police are more prepared than they were during the last protests," he said. "This time they know what might be coming. It is a shame all the business owners have to worry and go to the extra trouble of protecting their stores and restaurants, though."
At the Eastfield campus, there was some apprehension but also some commitment to change from voters like Belinda Hernandez, 35, of Garland.
"It's made me more determined to vote," she said, "because four years ago when I didn't vote and Trump won. It opened my eyes, and I realized that my vote does count."
—Jordan Lackey, Hector Tarango and Bryan Gomez contributed to this report.