Living Canvas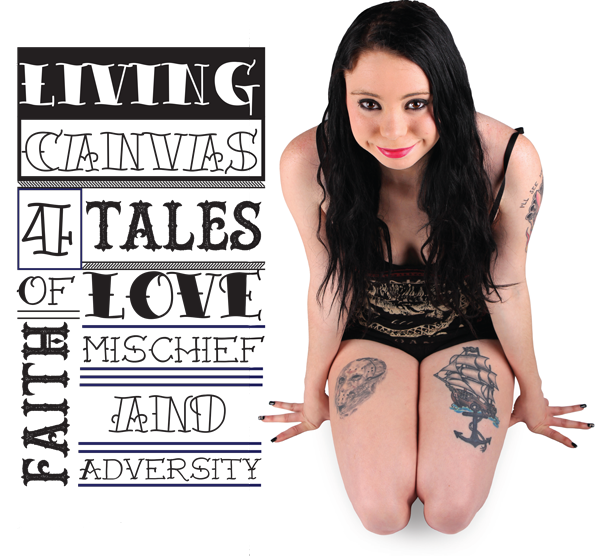 By Alexandria DiMellio
As we get older, the memories of our past fade as we get wrapped up in the present. I've experienced so many things in my lifetime that have shaped me into the woman I am today, and for me, tattoos are a constant reminder of that journey.
Titanium Rib

When I was born, my biological mother put me up for adoption and I was adopted into a family where I was the youngest child. Up until I was 17, I felt completely alone in the world. I finally got the chance to meet my biological mother and it turned out that I had three beautiful little sisters. The youngest of the three is named Dacey, who was born with scoliosis so severe that she is unable to stand straight, grow normally or breathe without help. She goes in for back surgery twice a year. On her rib cage, doctors have installed titanium rods that they adjust and replace to match her body as she grows. She will endure this surgery twice a year until sometime between the ages of 16 and 24. I chose to get the image of a rib cage with a metal rod tattooed on my body as a way to raise awareness for what Dacey goes through. She is 7 years old now and has many years of surgery ahead of her. Yet she is a strong little girl and a fighter. She knows she can win this battle.
The Pirate Ship
For five years, I fought a huge battle with drug addiction. My life went from that of a normal American teenager to someone fighting for everything, including her life. When I hit rock bottom, I decided it was time to get clean. After I completed rehab, I got a new tattoo. I wanted something to remind me of the battle I won. I chose a pirate ship with a giant anchor at its base. The anchor reminds me daily that I have cast my life where I want it to and will not let anything move me. It is a beautiful reminder to never stop fighting for the treasures in life. Never stop fighting for success. Never stop fighting for self-love. And most importantly, never stop fighting for sobriety.
Jason Voorhees
I love scary movies and slasher films. Since I was a little girl, I would gather around the TV with my family on Halloween and watch all sorts of different horror movies. I got Jason Voorhees to remind me of these moments. I plan on having a horror film theme tattooed on my entire leg. I started with Jason because "Friday the 13th" was the first slasher film I ever saw. To this day, my family still gathers around and watches these movies, and for some reason, this tattoo has made me appreciate those little moments even more.
Everything about who I am, what I have done, what I have seen and where I have been is all wrapped up into beautiful images that embrace my body.
Photos by Jonathan Wences