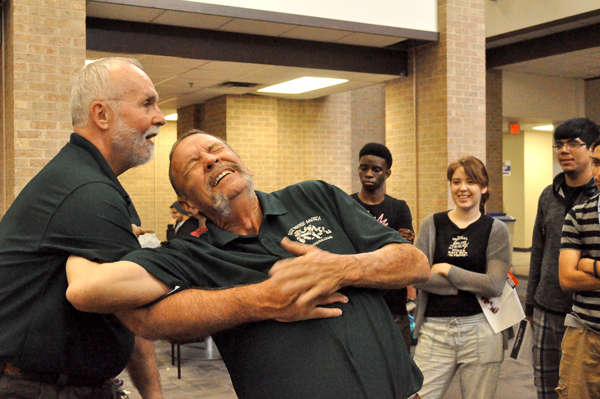 By Clay Gibson
Representatives of domestic violence and rape prevention groups visited Eastfield on Oct. 23 to launch the college's participation in the national "It's on Us" initiative.
The public service campaign aims to curb sexual violence on college campuses. President Barack Obama announced the initiative as a response to national concern about how colleges handle rape accusations last month.
The message: Create an environment in which sexual assault is unacceptable and survivors are supported.
"It is on all of us to reject the quiet tolerance of sexual assault and to refuse to accept what's unacceptable," Obama said.
At the Eastfield event, police Cpl. Nona Titus explained strategies to help a friend who is a victim of domestic violence.
"I want to help anybody who is verbally or physically abused," she said. "That's what I'm here for."Cara Leman of Brighter Tomorrows, a domestic violence and sexual assault shelter, said that one in three female homicide victims are killed by intimate partners.
"Sometimes people think that it doesn't happen," she said. "It's not just people getting mad or angry."
Katie Hoody, a volunteer for the Dallas Area Rape Crisis Center, is on-call twice a month to visit victims in emergency rooms.
"I go to the ER and I'm just there for emotional support and let them know their rights as victims are protected," she said.
Representatives of Self Defense America of Mesquite taught participants how to turn potentially victimizing events into escapes.
Cutout figures representing victims of domestic violence are spread across campus to remind passersby of the deadly consequences. For information on the national "It's on Us" campaign, visit itsonus.org. For Eastfield's page, visit eastfieldcollege.edu/SSI/Police/ and click the "It's on Us" tab.