Gyllenhaal plays sociopath in 'Nightcrawler'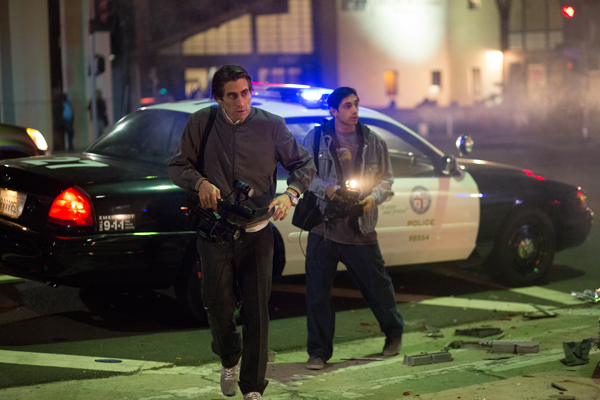 By Tony Neese
How far would you go to do what you love, make a lot of money and become well known?
That question is raised by "Nightcrawler," a film by Dan Gilroy starring Jake Gyllenhaal, Rene Russo, Bill Paxton and Riz Ahmed.
Writer and director Gilroy's inspiration for "Nightcrawler" was a crime photographer from the 1930s named Weegee, the first journalist to put a police scanner in his car.
Gyllenhaal plays Lou Bloom, a nocturnal eccentric searching for a job, his niche, something that pays his bills and makes him happy.
From the beginning of the movie, Lou seems to be willing to do about whatever it takes to make this happen. Lou starts out as a smooth talking thief. One night, he happens upon a shocking automobile accident and a freelance film crew. Lou learns that he can make money by following a police scanner, recording crimes and violent accidents as they happen and selling the footage to news stations.
Caught up in the seedy world of underground crime journalism, Lou engages in increasingly unethical and manipulative behavior to get the perfect footage. He builds a business relationship with news director Nina (Russo), who describes the kind of footage she needs for broadcast.
"Picture a bloody woman running down the street with her throat cut," she says.
Nina is needy and lonely. She seems to yearns for acceptance at this later career stage She appears to find what she needs in Lou.
Meanwhile, Lou competes with Joe Loder (Paxton) to gather the best footage and is willing to resort to sabotage to get what he wants.
There is much talk and innuendo about sex between Nina and Lou, but the audience sees only sexual tension. This is refreshing. Great dialogue and viewer assumption always trumps a token sex scene.
The film was a bit of a family affair for Gilroy. His brothers, Tony and John Gilroy, produced and edited, respectively, and his wife, Russo, starred.
Of the 28 days it took to film "Nightcrawler," 23 of them were shot at night. The night scenes dazzle. Director of photography Robert Elswit, best known for his Oscar-winning videography in "There Will Be Blood," also employs luminous extreme close-ups.
Lou is a nocturnal sociopathic Batman without the batsuit. He has no morals, misgivings or qualms regarding what he feels he must do to get the story. Lou is a dark knight in his own right.
Despite all of his faults, do not be surprised if you find yourself rooting for this strange and deranged individual.