'The Evil Within' sacrifices fun for scares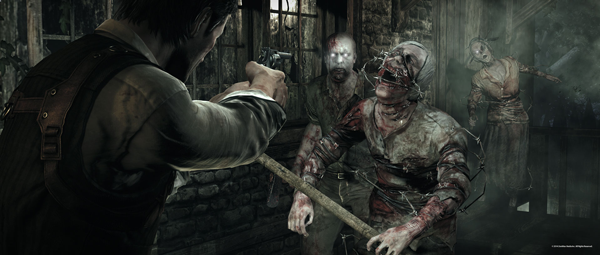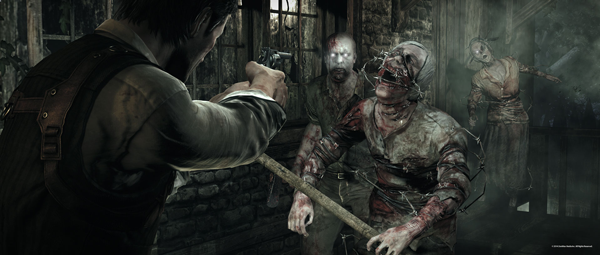 By Caitlin Piper
Just when I thought I had Shinji Mikami figured out, he went and made a game like "The Evil Within."
Creator of the wildly popular "Resident Evil" series, Mikami has gifted the world with several deliciously over-the-top horror and action titles since his directorial debut in 1996. Gory, goofy and unabashedly campy, his games are often filled with more ham and cheese than a corner deli, and the fans eat it up every single time.
While it still has plenty of gore, "The Evil Within" takes itself a bit more seriously than Mikami's older games and relies far more on atmospheric tension and scene-setting than raw jump scares. Fans of classic "Resident Evil" will be happy to hear that the game forces the player to ration ammo and sneak around enemies in order to survive, game mechanics that have steadily faded out of the survival horror genre over the past decade or so.
But its atmosphere makes it feel more like a spiritual successor to old school "Silent Hill," theoretically bringing the best of both worlds together. Simply put, "The Evil Within" has all the elements of a great horror game, including many I feel the genre has been sorely neglecting lately, and will doubtlessly find a devoted fanbase. So why don't I enjoy it nearly as much as I feel I should?
The game opens with an emergency call from an old mental hospital. A grisly massacre has recently taken place within its walls, and no one can seem to find a clear reason behind it. Detective Sebastian "Seb" Castellanos arrives on the scene with his small investigative team, and things predictably go downhill from there.
After losing consciousness in the ensuing struggle, Seb awakens in a dimly lit, bloodspattered room, hanging from his ankles as a gore-caked madman hacks at a twitching mass of flesh in the next room. Armed with nothing but his wits and a small pistol, he manages to escape intact but quickly finds that things aren't much better outside.
"The Evil Within" places extra emphasis on the "survival" aspect of survival horror, though it certainly isn't lacking in the horror department. Seb is forced through a series of increasingly nightmarish scenarios over the course of the game, and he often has to forgo violence and escape his hellish adversaries by moving quickly and silently due to a scarcity of ammunition.
When combat is necessary, Seb will fire his gun through a fixed, over-the-shoulder camera system rather shamelessly similar to the one seen in "Resident Evil 4." While this makes battle feel slightly dated when compared to the fast-paced, constantly moving gameplay expected of modern horror titles, it is still based on a game celebrated for its combat system, and I see absolutely nothing objectionable with that.
The stealth aspect, however, feels very undeveloped. Seb moves rather awkwardly, and will often get caught on a poorly placed invisible barrier at the worst possible times. It's pretty difficult to flee from a chainsaw-wielding giant when you're constantly tripping over a pre-rendered severed hand or running into walls.
Other mechanics, such as throwing objects some distance away to distract enemies, rarely work as intended, and often end with either Seb dying horribly or the enemy running in circles as its glitchy AI struggles to put the pieces together. While you will need to learn how to hide behind objects effectively in order to progress, Seb's hiding animations often leave him exposed, leading to even more frustration.
"The Evil Within" also relies far too much on trial and error. In-game stress has the potential to make a horror game more tense or exciting, but it is taken way too far here. Death traps are scattered throughout the game, and players rarely have any indication they exist until they are already dead.
Additionally, "The Evil Within" does a poor job of relaying important game mechanics to the player. Several notable enemies are invulnerable in certain pre-determined battles, but the player will probably not realize this until they have wasted valuable ammunition and time that could be spent running away.
A lot of these problems could have been resolved with a little more developmental polish, and this is a real shame because the game truly excels in just about every other area.
While the gore, out of date visuals and somewhat unoriginal plot will not please every survival horror fan, the tense atmosphere and creative, varied enemy design is more than enough to make it stand out.
However, I just could not find the gameplay enjoyable. I really wanted to like this game more than I did. It's clear that a lot of thought went into the atmosphere and level design, and as an old-school survival horror fan, I found it refreshing to play a modern, big budget horror game where you can't just shoot every enemy in sight.
"The Evil Within" has a few genuinely good ideas that are bogged down by several poor ones, and the creativity on display is just not enough to warrant a glowing review from me.