Abbott beats Davis

By Braulio Tellez, Sidney Murillo and Juanita Hernandez
Republicans across the country swept to victory, taking every statewide office in Texas and wresting control of the U.S. Senate from Democrats.
Fort Worth native Carol Edgeworth left the Democratic watch party in tears after her candidate Wendy Davis conceded from the governor's race.
"I hope she runs again in another four years because Texas really needs her," Edgeworth said.


At the Greg Abbott's party in Austin, the mood was significantly lighter.
"As your governor, I will put Texas first," Abbott said to supporters gathered at the Moody Theater. "You voted for hope over fear, unity over division, for the majesty of what Texas is and can be."
Supporters expressed their pleasure on Twitter.
John Wilson wrote: "Looks like #GregAbbott did the cleaning out this time." Harrison Wilkinson tweeted: "Good news in Texas: #WendyDavis LOST!!! Congratulations #GregAbbott."
At the Dallas County Republican watch party at the Dallas Arboretum, attendee David Gu predicted that Texas will not be turning blue any time soon before the results were announced.
"I think they are both great candidates, but I certainly think [Greg] Abbott and [Don] Huffines can make this city better," Gu said.
State Rep. Angie Chen Button, re-elected in a landslide Tuesday, said that women's issues don't belong to Democrats alone.
"Wendy, back off!" Button said. "You don't speak for women in Texas."
Don Huffines, the newly elected Republican state senator of Dallas, said his priorities as senator are to secure the southern border, abolish the margins tax and build more highways.
"I'm excited to take our conservative philosophy to Austin," he said. "I'm not a politician. I'm a businessman. I've never run for office before. I will work hard."
The Republican Party won a majority in the U.S. Senate, winning one more state than the needed six. Texas was among the 21 states that overwhelmingly voted for Republican candidates. For the first time since 2006, Republicans will take charge of both chambers of Congress.
In Dallas County, a traditionally blue constituency, Republican Susan Hawk defeated District Attorney Craig Watkins.
After trailing to Republican candidate Greg Abbott by almost 20 percent, Davis, a former Texas senator and Fort Worth councilwoman, gave a speech to dozens of Democrats at a local watch party, thanking them for their support.
"Thank you for allowing me the honor of serving as the nominee for governor in the greatest state in the greatest country in the world," she said. "You have my eternal gratitude. This has always been, and will always be, about you, the people of Texas."
Many who voted for Davis realized early on that the race was going to Abbott after several updates on TV screens around the venue displayed the projected outcome of the race.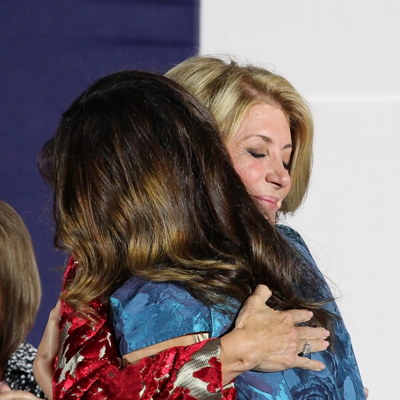 "It was pretty obvious that Abbott had it in the bag," said Davis supporter Laney Yarber. "It's unfortunate, but living in Texas, you would have to be really naive to think that Republicans weren't going to give up a good fight."
Burleson native Jeff Pollock believes that although Texas is a dominantly red state, it will eventually turn blue, thanks to efforts like Davis'.
"If we have more candidates like her who work hard to change the old ways of thinking in Texas, eventually we'll see a blue Texas," Pollock said. "It will take some time, but it was a victory just getting this far."
Davis gave credit to the numerous people along her campaign trail who kept her going, like Maria, a woman she met in Mission.
"She sold her truck to buy a shaved ice machine and she opened this wonderful little stand to sell snow cones in a gas station," Davis said. "She had so many Wendy Davis for governor signs in the doors and on the countertops. She had been fighting for and supporting me, and that's who I was fighting for. She wanted to make sure that her children and grandchildren didn't have to struggle like she once did. I will never forget Maria because I was so inspired by her. It's people like her that kept me going throughout this race."
Davis then wiped tears from her eyes and ended her speech to a cheering crowd with a quote from 20th century muckraker Jacob Reese about a stonecutter hammering away at a rock.
"At the hundredth and first blow, that rock will split in two," she said. "And I know that it was not that blow that did it, but all that had gone before. Keep fighting with me, Texas."
Texans also overwhelming approved spending billions from the state's Rainy Day Fund for road improvements.