Two officers slashed by campus intruder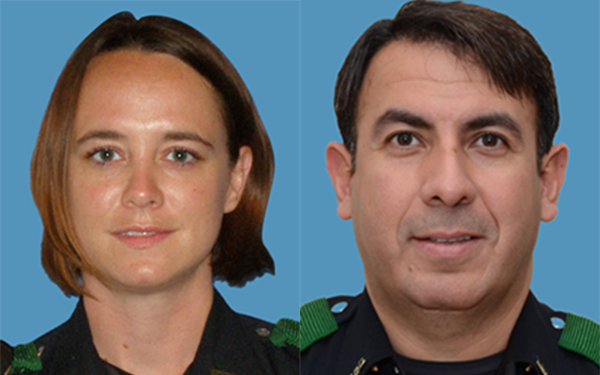 By Braulio Tellez
Two Eastfield police officers were stabbed in an altercation with a 22 year-old-man in the C building Monday night.
Officer Elias Reymundo and Sgt. Melissa Jacobs suffered multiple lacerations and were taken to Baylor University Medical Center. Both officers were hospitalized with serious, but non-life threatening injuries. College spokeswoman Sharon Cook said both officers were released Tuesday and are recuperating at home.
Miguel Sarinana was arrested on two charges of aggravated assault on a public servant. He was booked in the Mesquite Jail after receiving treatment at Parkland Memorial Hospital for cuts on his hands.
Cook is concerned that this incident, coupled with the stabbing of a student on the DART bus stop outside of G building last week, is an indication that crime is becoming more prevalent around Mesquite.
"I feel personally that there seems to be more criminal activity in general around us and the surrounding neighborhoods of the campus," Cook said.
However, she believes the campus has an outstanding police force protecting the college.
"I feel very safe here," she said. "We have trained and licensed police officers who know and protect us and have emergency precautions in place. It's unfortunate and it's a singled-out situation, but we are very grateful to our officers, especially knowing how they handled themselves and the way they protected and had concern for students."
Police said the events unfolded in the following manner: The incident began when Reymundo noticed a non-student trying to break into a classroom in C building. After the officer approached the stranger for questioning, the suspect began attacking him with a knife, causing several lacerations around the neck area.
Jacobs showed up moments later to assist Reymundo and received cuts on her face. The suspect fled the scene and was pursued by Reymundo on foot. Police lost sight of the assailant in a neighborhood near Motley Drive and called the Mesquite Police Department for assistance.
At 11:20 p.m., a homeowner who said his dog had been barking at something suspicious in the alley contacted officers. Police arrived at the location, found the suspect hiding and arrested him.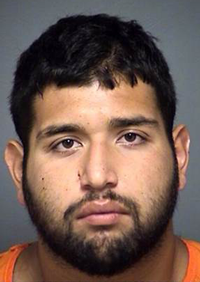 Lt. Brian Parrish of the Mesquite Police Department praised the two officers for their bravery and willingness to fight back after injury.
"It's my understanding that even though they were receiving blows and cuts, both officers kept fighting," Parrish told WFAA-TV. "They kept in the fight, and when you're in law enforcement that's the important part. You don't ever give up. Stay in the fight. It appears that's what both officers did."
Eastfield President Dr. Jean Conway also commended the officers for their devotion to keeping the college secure while stressing that the campus remains safe in the wake of the attack.
"Please know that this event is an isolated incident that was resolved quickly," she said in an email sent out districtwide on Tuesday afternoon. "Such events are highly unlikely on campus, but they can happen, as you have seen. Every college campus is a smaller version of the larger world, but I believe that our Eastfield College officers are well-trained and experienced. They are ready to defend every student and employee if a threat occurs."
Conway visited Reymundo and Jacobs in the hospital Tuesday with DCCCD Chancellor Dr. Joe May.
"We thank these officers — and all officers in our college police departments — for everything they do to protect us each day," May wrote in an email sent to district faculty on Tuesday. "Our thoughts are with them."
Some students expressed alarm about two such violent incidents on campus within a week.
"After all of that, maybe I need to bring something to protect me, like a Taser," Janice Grimaldo said. "We have rules where we can't bring weapons on campus for obvious reasons, and the fact that they brought them on campus is scary."
But others said the random nature of the events lessens their worry.
"I would be a little more concerned if something happened to somebody in a parking lot," said international business major Aaron Brown.
The Arts and Communications Division is collecting well wished for the officers in the division office, G-138.