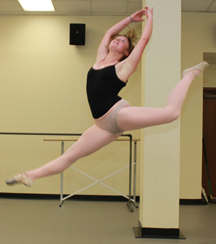 By Sidney Murillo
The dance studio in M-206 is no place for frilly tutus, prima donnas and dancing queens.
Rehearsals for the May 9 spring dance concert are not your typical ballet recital rehearsals.
Since 90 percent of the concert's choreography is student-produced, blood, sweat and tears is more than just an expression.
As dance major Abby Jenkins bourrees across the wooden floor of the humid rehearsal room, a patch of blood between her ankle and knee soaks through her pale pink tights. But there's no time to stop. The concert she's been rehearsing for since January is just days away.
"Dance is tough," Jenkins said. "So you've got be even tougher."
This is the first time the dance department is including more modern dancing, and dance instructor Danielle Georgiou said avant-garde styled dance can be more difficult to perform.
"I've been dancing for about 12 years," Jenkins said. "But I got into dance here thanks to the musical I was in last year. I was trained in ballet and more traditional dances. Practicing avant-garde styled dancing is pretty fun."
Georgiou has big plans for her students in this concert, which is called "Aimez Votre Danse. Love Your Dance."
"This performance is a milestone not only for the students in the concert but for the whole dance department, maybe even Eastfield," Georgiou said. "I'm trying to expose the dancers to a more modern style of dance. Avant-garde style is more of the style the world is doing. These dancers need that."
Also for the first time, Georgiou has invited a professional guest artist to perform in the show.
Whitney Boomer and her company, Big Rig Dance Collective, are also helping with the choreography in the performance.
"[Boomer] is very talented," Georgiou said. "I'm very excited for the dancers to be learning firsthand from a professional dancer."
Marketing major Roxy Carpenter has been dancing since she was 4 years old. She said she has grown significantly as a dancer under Boomer's direction.
"I think I've learned to push myself more," Carpenter said. "Not only as a better dance but as a better person."
"Aimez Votre Danse. Love Your Dance" will start at 7 p.m. in the performance hall.