Zombies invade campus for common book tie-in game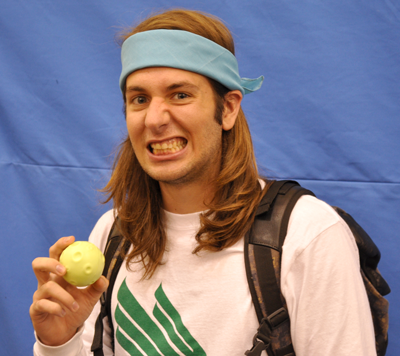 By Robert Burns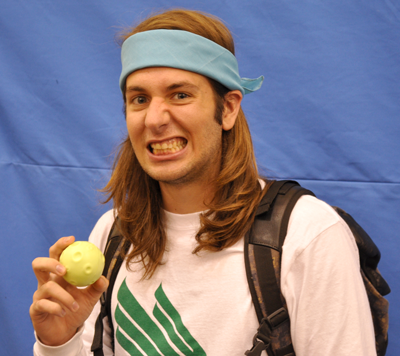 You're on your way to class. Suddenly footsteps fall behind you. You reach into your pocket and fumble for some ammo before turning. You see the flash of orange around your stalker's head. It's a zombie! You throw a stress ball at your opponents as you evade their grasping hands. The ammo hits its target and the zombie freezes.
That's a possible scenario for students, faculty and staff participating in the Eastfield Alien
Invasion – a modified version of the tag game Humans vs. Zombies that has become popular on college campuses nationwide since it debuted at Goucher College in Baltimore in 2005. It ties in with the theme of the sci-fi based common book, "The Illustrated Man" by Ray Bradbury.
"The interesting thing about the Humans vs. Zombies game is that it allows us to play with science, play with learning, and play with the concepts that are serious concepts in a fun way and still let people know that even though this is fun, you are still learn something that way," said Gretchen Riehl, dean of the Science, Technology, Engineering and Mathematics Division.
The game will begin with an "alien invasion" on Oct. 27, during which appointed "original aliens" will tag registered players to turn into zombies. Each player is given an orange bandana to wear. Zombies will wear them around their heads, while human players will wear them around their arms or legs. Humans will also carry around ammo – small stress balls – to defend against zombie attacks. Once hit, a zombie must freeze for five minutes and cannot tag any humans during this time.
If a zombie tags a human, then the human becomes a zombie by tying his bandana around his head and giving up his registration card to the zombie. The card is then turned over to a moderator who oversees the game and organizes the missions that will happen throughout Halloween week.
Players will be tasked with completing a mission challenging them in a variety of subjects.
"There are going to be three missions," said librarian Jean Baker, who is coordinating the event and is acting as a moderator for the game. "The missions are kind of secret. Students will find out about the missions via email and two of the missions will have a briefing that will be the week before. Students should watch the workshop posters that are outside of the library."
The library and STEM will be sponsoring these missions. While the missions are secret they will test players' knowledge of engineering and biology and the library. Each STEM missions was designed by Murry Gans, lab coordinator for Eastfield's scanning magnetic microscope lab, and Joseph Malaer, biology professor. Gans said the engineering mission will involve students building an object based on instructions announced at a briefing the week before.
The biology mission, Malaer said, was inspired by what he thought emergency healthcare workers would face during a zombie apocalypse and how they and scientists might respond. The biology mission will also have a briefing the week before the game starts.
Riehl said the common book allows professors to share a theme in multiple classes and invites students to engage with course material outside of the classroom.
"The goal of the common book game is to show students that their classes are not silos," she said. "What you learn in say, biology, it doesn't necessarily have to stay in biology. It relates to other disciplines and even to your whole life. Especially in disciplines like speech or math. Those are skills that we try to give people that we give so they can use them in other disciplines."
For more information about the game, visit eastfieldcollege.edu/commonbookproject.