Cattanach campaign enters final stretch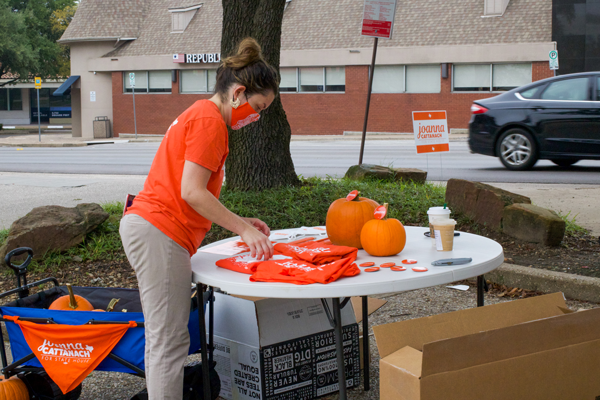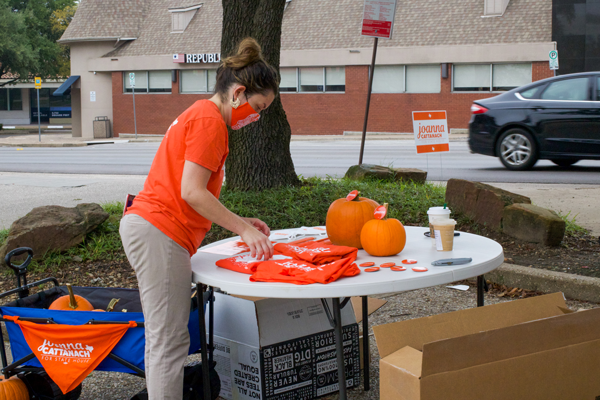 By HARRIET RAMOS
It was 9:40 on a recent Saturday morning, and Joanna Cattanach was already hard at work getting ready for a pop-up shop campaign event in the parking lot outside the building that serves as her headquarters in Dallas.
Cattanach, dressed in an orange campaign T-shirt emblazoned with Joanna Cattanach for State House in white letters, unloaded boxes of campaign signs from her van. A round table adorned with pumpkins and loaded with more Joanna Cattanach T-shirts, stickers, buttons, pencils and face masks completed the set up.
The goal was to attract interested passersby to stop at the table and learn more about Cattanach's campaign or register to vote.
"Now is the time to … get our message out," Cattanach said. "I think just the overall desire to make sure that real change happens and finish this, that's really a motivating factor."
Cattanach, an adjunct journalism professor at Eastfield, is making her second bid for the Texas State House of Representatives District #108. In 2018 she lost to incumbent Republican Morgan Meyer by 220 votes.
In spite of COVID-19 and a slow start with fundraising, she said she is getting more financial support this time around.
"We have a larger reach this time [and] we're spending more everywhere," Cattanach said. "And that means in terms of thousands of pieces of mail, thousands of digital ads. … [When] people believe in you more, you get the resources you need."
Her events are outdoors, like this Saturday morning pop-up shop. Volunteers, all wearing face masks, arrived shortly after 10 to canvas the area with campaign literature.
Juan Breciado, a political science major at Southern Methodist University, has volunteered with Cattanach's campaign since this summer. He said he believes in what Cattanach stands for, especially affordable health care for all Texans. When he heard about her close race in 2018, he wanted to be involved.
"I could knock on 200 doors," he said. "I could write 200 postcards. I could talk to 200 people in the district and make a difference in trying to change the Texas House."
Cattanach said the issue she is most passionate about right now is public school funding. One of her sons is enrolled in Kindergarten in the Dallas Independent School District.
"Because of COVID-19, it's chaotic right now," she said. "We need some security."
More volunteers arrived, and Cattanach briefed them on what to do and how to safely interact with the people they would meet. After a group photo, she sent them on their way.
Cattanach said she has great staff and volunteers and a supportive spouse. This allows her to juggle her responsibilities as a wife, parent, professor and political candidate.
"The time is now," she said. "[I want to] finish this and finish it strong."