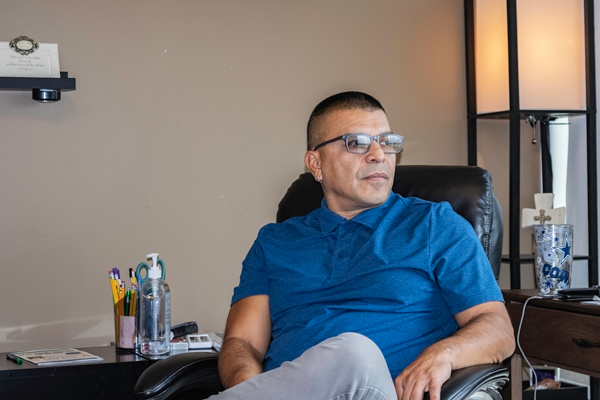 By JORDAN LACKEY
Daniel Ramirez was a senior in high school when he nearly lost his life. He was riding with some friends and throwing eggs at freshmen when suddenly a brick crashed into the windshield of the moving vehicle. Retaliation.
In that moment the driver floored the gas pedal and sent the car across four lanes of highway traffic. They avoided other motorists but slammed into a pole.
The car emptied quickly once the unmistakable scent of smoke told the teenage passengers a fire had started. Everyone got out except for Ramirez. He'd broken his ankle at a Slayer concert a few weeks prior. He was in a cast, trapped and panicking.
A few moments later a friend remembered Ramirez was there, ran back to the car, broke the window and dragged him out. They watched from 50 yards away as the car burst into flames and engulfed the backseat Ramirez had just escaped.
"I remember watching that car in flames, thinking 'we almost died,'" Ramirez said.
Moments like this gave Ramirez a deeper appreciation for life. He's lost close friends to suicide and accidents. He's seen how fragile life can be.
This intimate understanding of the fragility of life is exactly what has led Ramirez down the path of counseling. He's the proud owner of Real Solutions Counseling and has been a professor of social work and substance abuse counseling at Eastfield since 2016.
He hopes his appreciation for life can infect patients and students and embolden them to pull their own lives from the wreckage. When he sees those trapped and panicking due to their mistakes, he knows how they feel. As a counselor and an educator, he breaks the metaphorical windows that keep people trapped and helps drag them to safety.
[READ MORE: 'I just wanted to like a door handle': Students cope with mental health affects of COVID-19]
Ramirez didn't always have this mentality. On occasion, he had to be reminded what direction he wanted his life to move in.
He remembers his best friend's little brother, Michael, who died from cancer just a few days before his fifteenth birthday. One day he looked at Ramirez and asked, "Why are you so stupid?" Ramirez didn't understand and asked what he was talking about. Michael explained that he was fighting for his life while he watched Ramirez and his older brother recklessly risk their own.
"I'm trying to live, dude, and survive," Michael said. "And you guys are trying to kill yourselves. You guys want to switch spots at any moment man, I'm freakin' game."
Ramirez said he'll never forget those words. He didn't know what to say to a dying kid, but years later those words were a wake-up call for him. Tragedies and near-death experiences like this are what he credits for moving him toward a career in counseling. However, he thinks there were signs even earlier in life.
He remembers a motivational program in his middle school gymnasium. All the kids were gathered and waiting for the event to start. They had no idea what to expect. Then they heard chains rattling on the ground.
Ramirez looked up and saw five men in orange jumpsuits, chained together. They were prisoners there to talk with students about the importance of education and what their lives might be like without it. His friends didn't think much of it, but Ramirez loved the whole experience. He envied the way the inmates were talking to everyone, telling their stories and trying to help.
"Can you imagine being down there?" he asked his friends. "'Dude, that'd be really cool.' … My friends looked at me like [I was] twisted."
His friends told him he was supposed to be afraid of ending up like these guys, not envy them. But it wasn't their lives he envied; it was what they were doing. He wanted to talk and help people too.
After Ramirez graduated with a bachelor's degree from the University of St. Thomas in Houston, one of his first jobs in the field of social work was doing exactly that: talking to middle school and high school students about drugs for a third-party outreach company.
His work caught the attention of Plano Independent School District, where he was offered an official counseling position. Instead of talking to a handful of students at a time, now Ramirez was addressing entire crowds of teenagers at every high school in the district. He was doing exactly what inspired him so many years ago, but with one important distinction.
"Without the shackles," Ramirez said while laughing. "It was awesome."
This experience early in his career helped feed the natural showman within Ramirez. Throughout high school and college, he'd been the front man for multiple rock bands. He loved it, but the experience left him wanting more.
There were times when he'd play shows and sign autographs as a musician. One morning, while grocery shopping, he ran into someone that had seen his show the night before. He didn't even remember Ramirez, despite having his autograph on his shoulder.
"I was just entertainment man," he said. "And I didn't want to be just entertainment. I wanted to be impactful. I wanted to leave a mark."
[READ MORE: Beyond the playbook: Former Harvester point guard, distinguished alumnus teaches excellence on and off the court]
As a motivational speaker, Ramirez got the same adrenaline rush that came from being a performer, and he was able to channel that energy in a more impactful way. While working for Plano ISD, he was able to make connections with several other counselors and even public figures like district judges who would eventually help provide clients for his own practice.
Ramirez left Plano ISD a little over 10 years ago. Since that time, with the help of his wife of 20 years, Pamela, he has opened Real Solutions Counseling.
He offers a wide variety of services, from individual counseling for adults and children to therapy for couples, families and groups. He draws from several therapeutic disciplines and chooses what he believes will be the most effective approach for each client.
In 2016, Ramirez became a faculty member at Eastfield, where he teaches individual and group counseling theories to students and advises the Human Services Club. He has done a lot of work for the campus community to help students learn how to deal with stressful situations.
"He's the example of what a great professor should be," social work major Mike Lara said.
Lara said that Ramirez has been a great inspiration for him during his time at Eastfield. He admires that instead of simply giving advice, Ramirez teaches from his own experiences as well.
Lara said there's a big difference between telling someone what you think and telling someone what you feel. He believes that Ramirez pulls from his emotions in order to teach students how to deal with emotional situations in a therapeutic environment.
"Usually people will give advice on things they know nothing about," Lara said. "Professor Ramirez will share his experience with the situation and his solution. It's more relatable."
During his time at Eastfield, Ramirez has also made connections with the Dallas Independent School District community. One of those connections is Eastfield mental health counselor Jaime Torres.
"He was one of the first people I met when I started at Eastfield," said Torres. "He really cares a lot about the students."
Torres said that Ramirez is always very welcoming of the counseling staff. He collaborates with them on any project he can and allows them to go into classes and discuss careers in counseling with students. While working together, he's noticed that Ramirez is very dedicated to preparing his students for careers in the real world.
Today, Ramirez continues to teach and run his business virtually due to COVID-19. Making the switch to online has been a transition, but Ramirez has no complaints. He enjoys getting extra time with his family. He's grateful for everything he has and the experiences that brought him where he is. He wouldn't change a thing.
"I always said I was going to be a college professor, teach some classes and have a small practice," Ramirez said. "I made it."