Entering the home stretch: Biden, Trump begin final sprint in race to the White House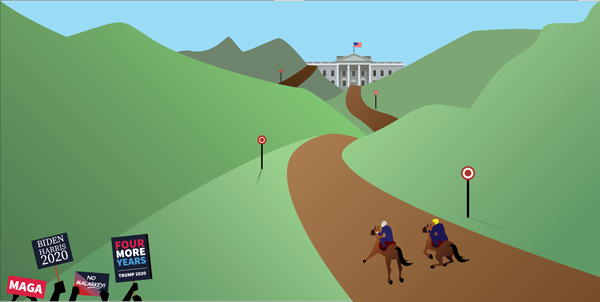 By HARRIET RAMOS
President Donald Trump returned to the White House Monday evening after three days at Walter Reed National Military Medical Center, where he received treatment for COVID-19.
Trump announced on Oct. 2 he had tested positive for the coronavirus, upending the presidential election now less than a month away.
Sean Conley, Trump's physician, said in a memo on Tuesday the president "continues to do extremely well."
Trump's diagnosis is the latest in the series of unexpected events that have defined 2020. COVID-19, demands for racial justice after the police killing of George Floyd and record-breaking natural disasters in the form of wildfires and hurricanes have set the stage for a presidential election like no other in recent memory.
History professor Matt Hinckley compared this election to previous ones that were preceded or followed by out-of-the-ordinary events.
The 1860 election took place right before the issue of slavery led 11 states to secede from the Union and triggered the Civil War. The 1932 election took place during the Great Depression and the collapse of the banking system. The 1968 election came in the aftermath of antiwar protests and the assassinations of Martin Luther King Jr. and Robert F. Kennedy.
"This election is right up there," Hinckley said
Another wild card this year was the death of Supreme Court Justice Ruth Bader Ginsburg on Sept. 18.
At the time of her death, Ginsburg was the leading liberal voice on the Supreme Court. On Sept. 26 Trump nominated conservative judge Amy Coney Barrett as her replacement.
Even though the Republican controlled Senate refused to consider Barack Obama's appointment of Merrick Garland in 2016, insisting on waiting until the next president took office, they have said they will move swiftly to confirm Barrett. Over the past few days three Republican senators have tested positive for COVID-19, but the Senate Judiciary Committee is moving ahead with plans for the confirmation and has set Barrett's first hearing for Oct. 12-15.
[READ MORE: 'Change has to happen': Protests to end police brutality erupt in America following the death of George Floyd]
After the Sept. 29 debate, where Trump told Democratic nominee Joe Biden "there's nothing smart about you," and Biden called Trump "the worst president America has ever had," a Wall Street Journal/NBC News poll showed Biden with a 14-point lead nationwide over Trump.
A recent poll by Texas Politics Project shows Trump leads Biden by four points in Texas, a state that hasn't voted for a Democratic presidential candidate since 1976. In 2016 Trump took Texas by nine points and Mitt Romney won by 16 points four years earlier.
Noel Larusso, a substance abuse counseling major, said he voted for Trump in 2016, but this year he doesn't like either of the options.
"We have a president who [has] done some things for our country, [but] he's a compulsive liar," Larusso said. "And then Creepy Uncle Joe Biden is no better. He was in politics for over 50 years and he didn't do anything, so that just makes me doubt that he'll do anything as president. … It's very disheartening."
Larusso said he will vote in the Nov. 3 general election because he believes all Americans should exercise that right, but he's still undecided which candidate he'll vote for.
Larusso served in the Army from 1993-2000. He said he loves this country, but in today's political climate people automatically think if you're a patriot you're also a Trump supporter.
"You can't voice your opinion anymore," he said. "Somebody's going to get so … hurt that they're going to want to come after you and they're going to want to do you harm as a result of it."
Dolores Huerta, labor activist and co-founder of the United Farm Workers Association, said at the Sept. 17 Dallas College Virtual Voter Registration Rally that our nation is in a critical time and we need to fight for our democracy.
"If we don't vote, we're saying to all of those people that are against immigration, that are for discrimination — we give them the right to decide what is going to happen to us," she said.
Another issue voters are facing in this election is safety at the polls due to COVID-19.
Some states have laws that allow for mail-in voting for virtually everyone, but Texas does not. Texas mail-in voters must be at least 65 years of age or have a disability to vote by mail.
Gov. Greg Abbott, a Republican, has opposed efforts to expand mail-in voting. On Oct. 1 Abbott limited the number of mail-in ballot drop-off locations to one per county, citing concerns over election security.
[READ MORE: Early voting begins at Eastfield]
Barbara Larkin with the League of Women Voters of Dallas said one thing Texas has done to make voting more accessible during the pandemic is expand the time allotted for early voting by one week. Counties have also moved polling locations to larger areas so there will be more room to social distance.
"They've got plexiglass, they've got hand sanitizer, they've got bleach wipes," Larkin said. "They've added a lot of processes to make it COVID safe to vote at the polls."
Early voting runs from Oct. 13-30. All Dallas College campuses are polling locations and will be open for early voting.
Trump has repeatedly said his administration has done a "phenomenal job" getting COVID-19 under control, and points to the money that has been spent in researching a vaccine.
"We're weeks away from a vaccine," Trump said at the Sept. 29 debate. "We're doing therapeutics already. Fewer people are dying when they get sick. … We've done a great job."
The United States has had over 7 million confirmed cases of COVID-19 and more than 200,000 deaths, according to Johns Hopkins University.
"I think the [president's COVID-19] diagnosis exposes, yet again, the callous treachery of Donald Trump personally and the moral bankruptcy and hypocrisy of the Republican Party," Hinckley said.
Biden, who had to deal with the H1N1 swine flu pandemic in 2009 as vice president under Barack Obama, said he doesn't think a vaccine will be available that soon.
He believes the focus should be providing money for businesses so they can stay open and for schools so they can keep students and teachers safe.
"The 2020 election gives the nation's voters perhaps the starkest ever choice to make," Hinckley said. "We are choosing between at least a nominal return to decency, fairness and the rule of law, or an ongoing descent into fascism."