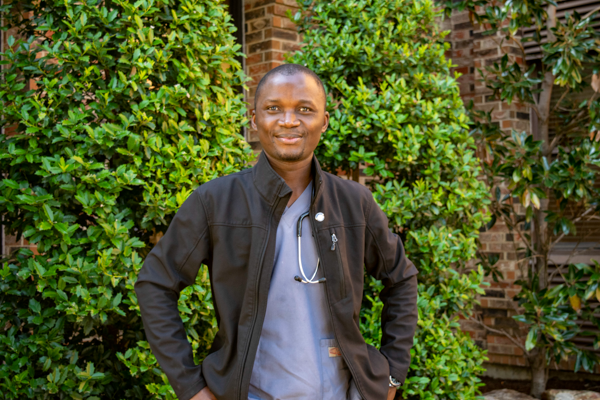 By JORDAN LACKEY
In 2014 Bruno Kouame flew nearly six thousand miles from the Ivory Coast in West Africa to the United States. He landed with his wife, the clothes on his back and $15 in his pocket.
"In Africa, of course we have some jobs," he said. "We have some opportunities. But not as much as we have in America. America is giving more opportunities to people for them to succeed."
Kouame is now a licensed practical nurse in the COVID-19 unit of the Traymore Nursing Center in Dallas and is working to become a registered nurse through Eastfield's RN program.
Once he was licensed and start working that allowed for his wife, Koffi, to attend an LVN program of her own. She now works at Presbyterian Village North retirement center.
In Kouame's home country, $1 is equal to almost 560 African Financial Community francs. On top of caring for his two children in the U.S., Daniel, 3, and Ruth, 1, he's also been able to almost singlehandedly support seven people with regular money transfers back home that allow several of his family members to go to school without having to work.
Kouame is determined to give back for all he's been able to accomplish in such a short period of time.
"When somebody helps you, tomorrow, do the same thing for them," Kouame said.
[READ MORE: Mesquite gives aid to Hurricane Laura evacuees]
Before making their journey, Kouame found an online community of West African immigrants that help support newcomers to the United States. Kouame and Koffi now open their door to other immigrants that they've never met and have helped five different families transition to American life.
"In Africa, we live in community," Koffi said. "You can help somebody you don't know. Take that person into your house, feed that person, that person uses your water, your electricity, … and you become like family."
Kouame and Koffi lived in separate homes for the first six months because Kouame worked two jobs, one as a dishwasher and the other as a night stocker for a grocery store in Dallas. Koffi lived in Fort Worth and worked as a hair braider.
They only saw each other once or twice a month.
"Every day when I'd wake up in the morning, I'd call him," Koffi said. "To achieve a goal, we have to make sacrifices. So, we also sacrificed [our time together] to be able to pay our bills."
Within three months, Kouame decided it was time to go to school and work for a better life for his family.
Even though he'd worked in journalism and as a high school English teacher in his home country, Kouame had to start his academic journey from scratch.
He quit his job as a dishwasher and enrolled in a licensed practical nurse program and began what he would soon discover to be a rigorous schedule.
Kouame would work from 4 p.m. to 12 a.m. as a Walmart night stocker, then go to class from 8 a.m. to 3 p.m.
He didn't have Wi-Fi access, so he'd park outside of a friend's house in the middle of the night after work to complete his homework assignments and often wouldn't go to sleep till past 3 a.m.
Sometimes, he had to complete assignments in the Walmart bathroom just so he could have internet access.
"It was very difficult," Kouame said. "When I'd see the police coming, immediately I'd leave the place because I didn't want them to come and see me in front of somebody's house and say, 'what are you doing here at one o'clock in the morning?'"
Koffi remembers how exhausted her husband was during those months. She had concerns, but she knew it would all be worth it.
"It wasn't easy," she said. "At the time I was pregnant and working and we had to support each other. I had to tell him, 'You have to be strong,' because to achieve a goal you have to make a lot of sacrifices."
Kouame is determined to use his position as a licensed practical nurse to help anyone he can.
Both he and his wife agree that their current career choice requires empathy and passion.
"We started this field because it's like a calling," Koffi said. "Because this field, if you don't do it with your heart you cannot do it."
Kouame said he prays for every resident and patient he sees and this mentality spreads into almost every aspect of his life.
Even working in a COVID-19 unit, he maintains an ungrudging attitude.
"This is very scary, and we can be very angry for this situation, angry because you don't see the country taking action," he said. "But for me, I am a Christian. The only thing I can do is pray for the country, pray for my residents, pray for the patient, and even to pray for … the president."
[READ MORE: 'I just wanted to lick a door handle': Students cope with mental health affects of COVID-19]
During the month of March, one patient brought COVID-19 to his facility and it quickly spread.
Shortly after, Traymore Nursing Center had to devote an entire unit to COVID-19 infected residents.
At its worst, almost 30 people were infected at the same time.
Two patients died, but Koumae maintains that these deaths were due to underlying health issues that were present before the patients were infected.
Kouame said it took a while, but things are finally calming down and as of Sep. 24 there are only seven patients in the unit.
Kouame is humbled by his success but says that he has no intention of stopping his growth anytime soon. He plans to take his education all the way and become a doctor.
He said after becoming a doctor, he plans on continuing to work in the United States so he can give back to the country that gave him so many opportunities.
"This is a way I can give back to my county," he said. "My desire is to go back 10 or 15 years later and help my community to have those opportunities. … I always prefer for this country to be very strong because they've really helped me. But what can I do for my country? That's why I [considered], for example, [going] into politics. And why not? Maybe [in the future] I can work as a minister for medicine to help my community have good insurance and good health coverage."
Between raising a family in the U.S., helping immigrant strangers and supporting his loved ones back home, Kouame doesn't bat an eyelash. He simply sees it as the Christian thing to do.
"When you give back, all doors will always be open to you," Kouame said. "If you keep everything for yourself, then tomorrow nobody will help you. Even God will not help you."