Looney-Evans remembered as advocate for students and staff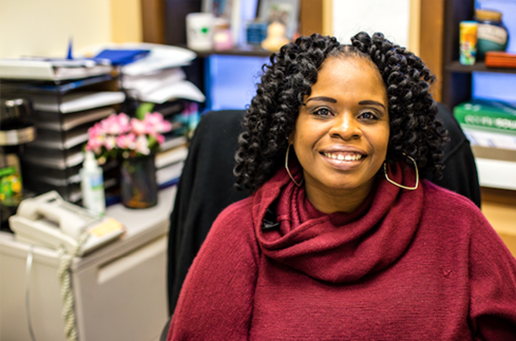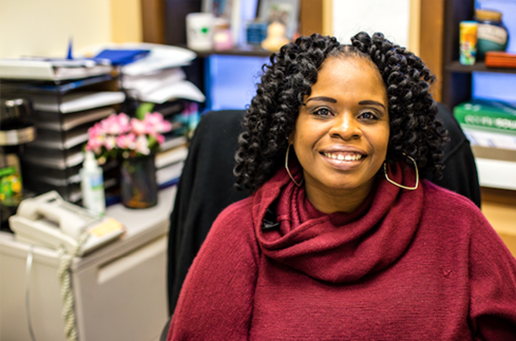 LaConna Looney-Evans, Senior Academic Adviser, will be remembered for her straightforward attitude, her love for the Dallas Cowboys and her unwavering fight for better conditions for students and coworkers. She died on Aug. 31 after an extended battle with cancer. She was 51.
Looney-Evans was diagnosed with stage 4 colon cancer last fall, but she didn't stop working until she contracted COVID-19 in June. She survived the virus, only to have cancer take her life a short time later.
She began her advising career at Eastfield in January 1996.
Duane Evans, Senior Academic Adviser and friend of Looney-Evans for more than 20 years, said the advising office won't be the same without her. He will miss her infectious laugh.
"I'm going to miss my friend," Evans said. "So many times [she made me laugh]. … I have a new appreciation for life. I have a new appreciation for waking up every day."
The death of Looney-Evans hit him especially hard for multiple reasons. Not just because he lost a dear friend but also because of his own battles with thyroid and prostate cancer since 2013. Evans is currently in complete remission, but upon receiving the news of the passing of Looney-Evans he was still waiting for his results. The day he found out about her death he went into a period of self-reflection.
"I couldn't do anything for the rest of the day," Evans said. "That day I must have walked 3.5, almost 4 miles, just trying to clear my head. … I started worrying about [her family]. I started worrying about me. Thinking, 'how long am I going to be here?'"
Evans said it hasn't hit him yet. He keeps catching himself expecting to see her at the office when everyone is allowed to return to campus.
Evans said he reached out to her two sons.
"I'm going to try and keep in touch with the boys. They're going to miss her motherly wisdom. … She was the rock that held the family together. She was all about family."
Brynndah Hicks-Turnbo, program retention coordinator, said Looney-Evans was "always celebrating," and remembered how she would go above and beyond to acknowledge someone's achievements or milestones.
"[Advising] had these lavish breakfasts," she said. "It would look like a restaurant in [the advising department break room]. And she was behind that. They celebrated everyone's birthdays. … Getting your master's, getting married, getting engaged, having a baby. She was that person to the advising team."
However, Hicks-Turnbo said the students were always Looney-Evans' top priority.
"She was about the students," Hicks-Turnbo said. "She pretty much stayed in that lane, that's where she was comfortable. … It was about student contact."
Brooke Ryan, senior manager of advising, worked alongside Looney-Evans since 2017. Ryan said Looney-Evans was never afraid to speak her mind and fight for students and fellow advisers. She would act as the lightning rod that channeled the thoughts of a room and would say what everyone else was thinking but too afraid to say.
"She was an advocate for us," Ryan said. "Not just for the students, but for the staff too. It was like she just found a way to really advocate for everybody that she touched."
After Looney-Evans was diagnosed with cancer, she wanted to leave an even more significant mark on those around her. According to Ryan, Looney-Evans continued to work for so long because she knew what she meant to the Eastfield community.
"It was just something that was so natural to her," Ryan said. "I think if she would have pulled out any sooner or taken off any sooner, it wouldn't have felt right to her. … I hope I'm able to leave that sort of imprint on somebody."
After her death, the advising office was able to raise $750 for the Looney-Evans family on top of commissioning two memorial plaques in her honor. One went to her family and the other will be displayed in the advising office next to a professionally framed photo of her.
Looney-Evans' funeral was held on Sept. 5 at Eternal Rest Funeral Home with more than 80 people in attendance. Eastfield President Eddie Tealer wrote a proclamation that was read aloud by Timothy McDuffie, Eastfield director of completion and transfer, who also sang at the service.
Looney-Evans is survived by her husband, Tommy Evans; sons LeTrenton and LeDarion Evans; Mother, Betty Looney; brothers, Marcus, Cedric and Marquis Looney and Calvin, Melvin and Montrelle Clark; sisters, CaSandra Looney and Bonita, Renita and Sylvia Clark; 14 grandchildren and a host of nieces, nephews, aunts, uncles, cousins and other relatives.
---