Q&A: Librarian reflects on challenges, successes of Eastfield career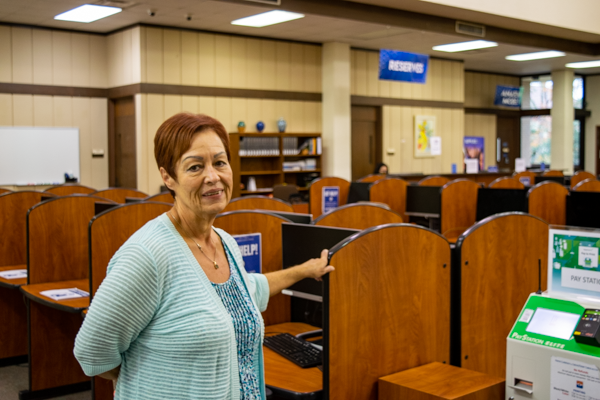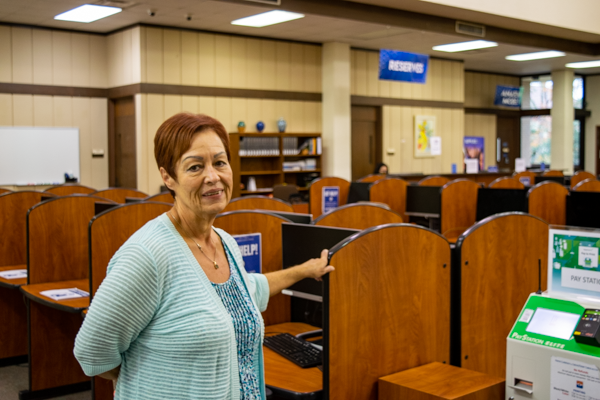 Karla Greer, Executive Dean of library services, first came to Eastfield as a student five years after the school opened. In a 2019 interview with Et Cetera editor in chief Harriet Ramos, Greer shares her memories of Eastfield's early days and the changes she has seen over the past 45 years.
Q. How many years have you worked for Eastfield?
A. I always tell everybody that I was 3 years old when I started here. I started here in 1975, but I [wasn't working full-time], and my years really don't count until 1983.
Q. OK, now I understand that you were a student at Eastfield in the first year it existed, or one of the first years?
A. In 1975, that's when I started as a student and working as a student assistant [in the library].
Q. So, tell me about your first years here at Eastfield.
A. It was a little different, and of course I was very young. I am a first-generation graduate, a first-generation student here. Things were a little different. Eastfield was smaller. Smaller in terms of enrollment, smaller in terms of buildings. North building didn't exist. The K, the T, and the W building didn't exist, so it was a little smaller. But it was scary, you know, coming out of a high school, having parents that did not go to college, didn't have that experience. It was a little scary, but it was good. I didn't have an interest in libraries and working in libraries, but I wanted to work and so the library was the first or second place where I came in and said "Hey, as a student, as an employee, what would I do?" So they hired me, and I started working here and decided I really liked it.
Q. What did your first job at Eastfield entail?
A. I did a lot of shelving books, making sure the shelves were straight and those type things. So, I did that for eight months or so, and at that point an evening position opened up in our circulation area. So I took that position, and I was here in the evenings.
Q. Did you picture that you would be here 30, 40 plus years later?
A. No, I never did. But I enjoyed it, and I think it's a great place to work.
Q. What was it that drew you to stay?
A. I liked the work. It was very intriguing. And we did a lot of reference. A lot of students would come ask questions and we would have to go find the answers. I think part of being a librarian is having a great deal of curiosity, almost to the point of being nosy. And so, when students would come in and ask questions, it would also help me educate myself. It was a learning experience. I kind of knew the resources and where to go look, but when I found the information then I would read it and try to digest it. So there were a lot of factors that drew me to the field.
Q. So, what's been the biggest challenge that you've had in working here?
A. We all go through periods of change, no matter what we do. Sometimes they're major, sometimes they're not. I think some of those changes—changes in technology, changes in the way we do business in terms of moving from print to moving to electronic tools and data—that's been a challenge because it's not simply buying a computer and hooking it up, right? You have to work with different platforms. You have to work with different producers, software, tools, and that's difficult to do. When there's a change in leadership [at the college], each leader has a different idea, and sometimes that can be challenging.
Q. What helped you keep going even during the changes?
A. I know this sounds very trite, but the students. Because it doesn't matter how stressed I get, the students walking in here and getting what they need is what makes me happy. And I can always leave my computer, what I'm working on, and go out and wander among the students. And it always makes me smile.
Q. What do you consider to be your greatest success?
A. I think this job is probably one of my greatest successes personally because it brings me a lot of joy and happiness. I don't have children. I don't have a husband. I have nieces and nephews that I love dearly and that we've spent a lot of time together, but my career has been my greatest success, I think.
Q. So, who is the person that's inspired you the most?
A. Probably my father. He's a very kind man, but he's very logical. I think he taught me how to process things and think through things so that I consider all of the consequences. I consider all of the pros and cons, I look at decisions and different aspects from every side before I make a decision, and that was one of the things that my dad taught me. So he's been very influential and continues to be very influential.
Q. Did you graduate from Eastfield with an associate degree?
A. I did not. When I left here, I had 45ish hours, and I left here to go to Texas Woman's University. I did obtain a bachelor's and a master's degree from Texas Woman's whileIworked here.I won't tell you that it was easy. It was not, especially when I was going to graduate school and working here full time. That was very difficult, and there were no online courses at that point.
Q. So, what gave you the motivation to keep going?
A. I wanted to get my degree. In the library field the professional degree is the master's degree, and I wanted to be a professional in my field.
Q. Could you picture yourself at that time using that degree to help the library here at Eastfield?
A. Not necessarily here at Eastfield. I just pictured myself in a library using that degree in some form or fashion.
Q. When was the moment that you knew that you would stay here and keep working?
A. I think it's just the daily routine: You come in every day, you go to work, and it's something you find pleasurable. I will tell you I have looked at other positions. Not lately. I have been offered a couple of other positions, but those offers just weren't at the time a good move for me to make.
Q. So, being a librarian, what's your favorite book?
A. That's a loaded question. I don't think I have a favorite. I don't read much these days. I have in the past, but I don't have a favorite because there's such a variety. I love true crime. I have read a lot of true crime, non-fiction true crime. The Harry Potter series brings a lot of joy, but I also like the old Steinbeck books. The old classics are always still really intriguing and still highly readable and pleasurable.
Q. What's something that you like to do in your free time?
A. I work out. It's not necessarily something I like to do. It's something that I do six or seven hours a week. I have a friend that lives very close and we like to hang out together. We play games together to entertain ourselves. I like to walk, specifically, I like the track here. Of course, I like to travel. I just got back from a cruise, and I like to go two or three times a year on a vacation
Q. If you could give one piece of advice to Eastfield students who are just starting their studies, just starting to pursue their careers, what would that be?
A. Take advantage of every resource you have available to you. Take advantage of all the services there are here. Be persistent. I know that it's difficult, and when you look at the road ahead, you can't see the end. There's a struggle. And I guarantee you, every single semester you're going to get worn out. Every single semester you're going to wonder if it's worth it. In the long run, it is worth it. Hang in there, and just work through every single semester. Take every course that you can manage during that time, and you will benefit. And you will graduate.
---