By Sidney Murillo
You know it's fall in Texas when the State Fair kicks off. Our inner child jumps around in anticipation as the ferris wheel begins to spin, knowing we'll get to eat a candied apple before dinner. The fair is a highlight of childhood memories in the Lone Star State. Now that you're older, you're craving something more than just the classic corn dog. You want something you can tell all your friends about when you get home. You want something that's worth the seven bucks you spent for food stuck on a stick. These are the tastiest, sweetest and weirdest deep-fried fair foods I tried this year, and I have one suggestion. Bring some Tums.
Funnel Cake Ale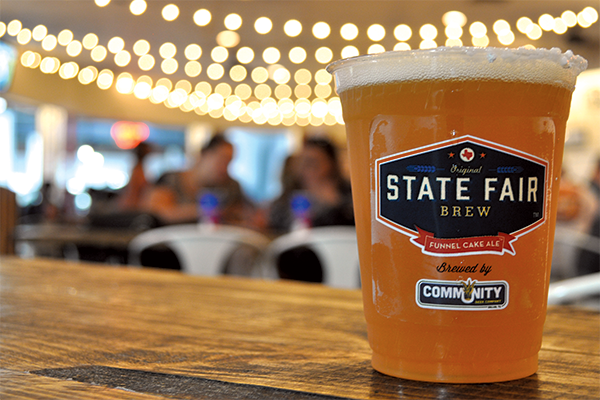 Say cheers with the crisp and festive Funnel Cake Ale brewed by the Community Beer Company in Dallas. The Funnel Cake Ale won Most Creative in the Big Tex Choice Awards for 2014. I'm not a big beer-drinker, but I loved this drink. The beer was crisp, and finished with a hint of sweet vanilla. I love sweet drinks, so I'm glad the beer came with powdered sugar on the rim.
Deep-Fried Shrimp Boil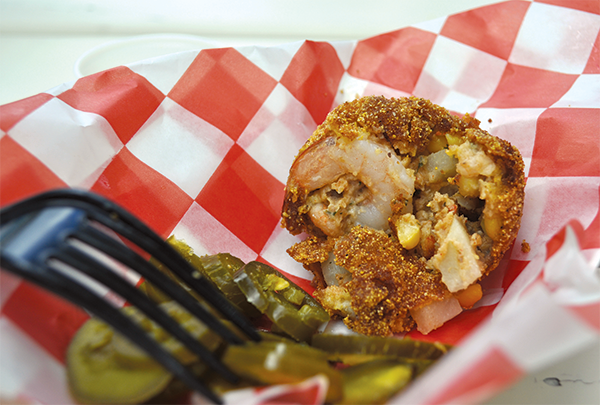 The winner of the best-tasting Big Tex Choice Award went to Deep fried Gulf Shrimp Boil. I'm not a fan of shrimp, but when I took a bite of this ball of Cajun goodness, I was hooked. It's filled with vegetables like corn and potatoes and tasted more like an entrée than a treat.
Chicken-Fried Baked Potato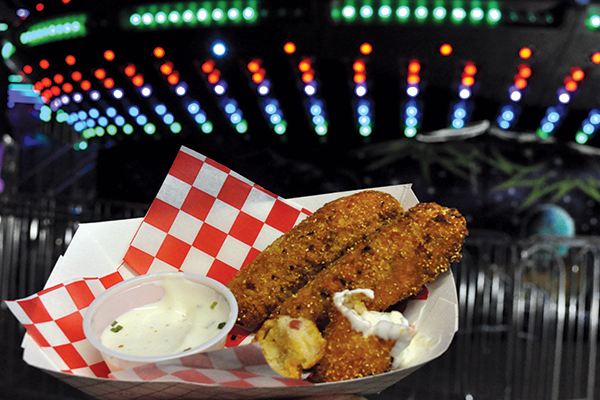 The Chicken-Fried Loaded Baked Potato is basically a puree of potato, cheese and bacon bits rolled into fingers and deep-fried in jalapeno batter. It was mediocre at best. Ranch dipping sauce was included, but I've never eaten a baked potato with ranch before. I've heard a lot of fair-goers say this was their favorite out of the finalists, but I was not a fan.
Deep-Fried Texas Bluebonnet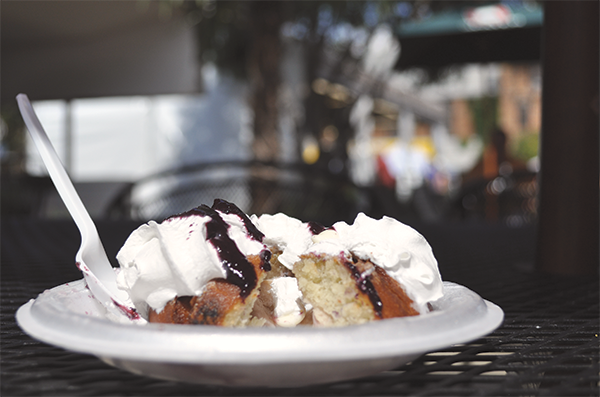 For your sweet tooth, try the Deep-Fried Texas Bluebonnet, a cream cheese-filled blueberry muffin that's deep-fried and topped with whipped cream, white chocolate chips and fresh blueberries. The blueberry muffin didn't lose its fluffiness when it was fried and the cream cheese melted and soaked the inside. It was just the right amount of sweetness.
Deep-Fried Sweet Tea

If you go to the fair every year only for the weird fried foods, try the Deep-Fried Sweet Tea topped with even more sweet tea syrup. It was sweet tea batter deep fried, and I loved it. Visually, it's not too appealing, but it tastes like crispy pie filling. Personally, I think it should have been chosen to be a finalist.