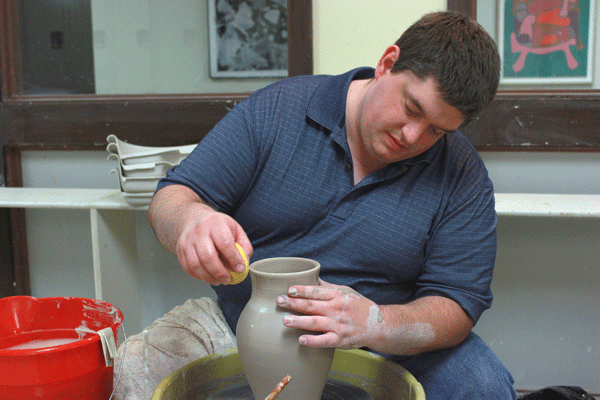 By Robert Burns
Nathan Williams glides his hands over the smooth, wet clay. The pottery wheel thrums as it spins the amorphous lump into something recognizable – a vase takes shape.
"I love making things pretty and fixing things. I enjoy putting things together," he said. "I love to take something and make it into something that magnifies its potential."
Williams, an instructional support assistant for the Eastfield Visual Arts Department, along with other faculty and staff will open a show Oct. 9 in the college's Gallery 219.
Williams contributed a vase, but it's not your normal flower pot. This vase is big and intricately decorated with a pattern resembling worn brick, which Nathan stamped before the clay dried. The vase oscillates in color between an earthy gold and blue highlights.
Williams worked for a month and a half to get the shape right. He employed a coil method, which, unlike the small vase he throws on a pottery wheel, uses long strips of clay to form the basic shape of the vessel.
The artists in the show work in a variety of mediums.
"We are a very interesting group of artists who teach here," said Kathy Windrow, an art faculty member in the show.
Windrow usually paints landscapes on paper or canvas, but she also enjoys using found objects for art installations. Nature and mythology inspire her work.
"Our work is diverse. We come from different generations, different backgrounds; we practice in different mediums," she said. "We have different interests, so it really is a wide ranging show.
Iris Bechtol, director of Eastfield's galleries and an art professor, will also have a piece in the exhibit.
"I am primarily looking at how we experience the everyday, " she said. "My work comments on that or heightens our awareness of things that are happening in our everyday lives."
One of the purposes of the exhibit is to inspire students by showing them the work of their professors.
"They can see what possibilities are out there," Williams said. "A student may not be interested in all the pieces on display. However, it is good to be well-rounded and to see things that maybe aren't your first interest, but to appreciate that art, to see the craftsmanship and time that it represents to develop those abilities."
Bechtol said she wants students to see that their professors are professional artists in their fields.
"We have art practices and we work in our studios outside of what we do in our classrooms or art department," she said.
Art students should see how the different staff members and professors use different materials to make art as well as the dialogue the artists are having with the viewers in terms of the content and ideas in the work.
"What we are teaching them is based on practice and our education and experience," Windrow said. "It might not tie directly to how we teach them, but they should know that we are professionals and we are actively engaged in the art world."
It's not just for students. Anyone can enjoy the exhibit, Williams said.
"You don't have to be a chef to appreciate a well cooked meal," she said. "You don't have to be an artist to appreciate art."
The exhibit is open Oct. 9 through Nov. 14 in F-219. A reception will be held noon to 1 p.m. opening day.