Whitt haunts gallery with new exhibit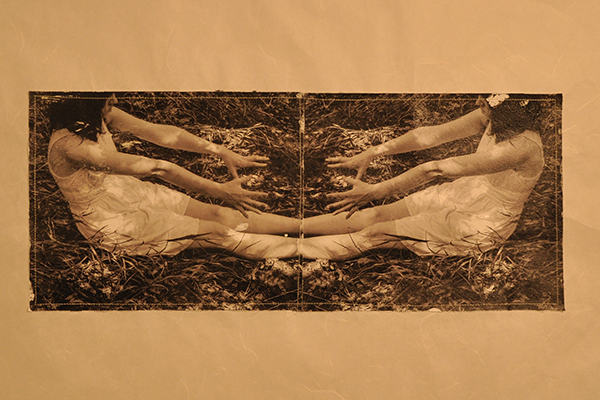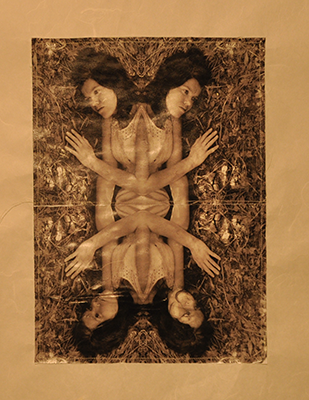 By Andy Carrizales
Contrasting colors and harmonious chants fill "The Haunted Mind" exhibit, on display in gallery F-217 until Sept. 26.
Ashley Whitt's black and white photographs are created through digital manipulation, which allows for reflection and distortion. The images are then transferred onto Dass paper, which in turn is sewn into white Stonehenge paper.
Whitt found some inspiration for her work in classic literature and film noir, but also in an event that changed her life forever.
Whitt's artwork pays a quiet homage to her mother, who died in 2008.
"There was a point right after she passed away where I thought I wasn't going to continue," she said. "But one of my professors encouraged me to actually use the pain that I was going through to make work."
Although Whitt's pain was hard to deal with, she did not go through it alone. Her father, Roger Whitt, who attended the opening reception, said it affected the family as a whole.
"My wife, my mother-in-law and my mother all passed away within three months," he said. "2008 was not a good year for the family."
Once a student at Eastfield, Whitt has now returned as a photography professor.
Whitt herself modeled for the photographs in the exhibit. Her face is deliberately obscured in many of the photos. Such is the case with "Veiled Memory," which is currently retailed at $300.
The woods that serve as the background for the photos are located near Denton County, where Whitt grew up. She said they are almost dream-like.
"It's about being in between dream and awakeness," Whitt said. "It's about the unconscious self versus the conscious self. It's about the divided self, the different personas we all have within us."
Whitt said she transmitted her feelings of unresolved anxiety into the work, and that it has helped her find a path toward a new beginning.
"I think of the sewing," she said, "as a way of mending myself and mending the past."
This is a feeling Whitt seeks to share with students through her artwork.
"The most important thing I want students and viewers to take from my work is that if you are struggling with depression, there is hope," she said. "You can work through that pain and become a stronger person because of it."
The exhibition captured the attention of many students around campus.
"It wasn't what I was expecting," student Raevyn Jackson said. "It doesn't make me happy when I look at the pictures. It's kind of scary, mysterious I would say."
"I love it," Jaime Krenek, a friend of Whitt, said. "It's so unique and very thought-provoking."
Iris Bechtol, curator of the show, chose Whitt for her originality.
"I invited Ashley based on her expansive body of work, based on the technique she uses to make work as well as the things that she's done in the past," Bechtol said.
Bechtol did not choose "The Haunted Mind" herself, but allowed Whitt to decide which of her collections she wanted to show.
"I kind of gave her the option, and that happens a lot whenever I choose an artist to have a show that I trust," she said. "I trust her to put together a really good show. So it was mostly her choice to put in that body of work."
Bechtol said she was "pleasantly surprised" with how the exhibition turned out, and was glad the galleries at Eastfield showcased it.
"They serve as an extended classroom," she said of the galleries. "They're there for the students to experience new kinds of work, to experience new techniques."
New contemporary works can also be seen in gallery H, where Bechtol collaborated with artists Natalie Macellaio and Lesli Robertson.
"Things That are Now Visible" features sculptures, photographs, prints and video. The exhibit will remain open until Oct. 2.
"Things like art and music and dance and so on are very important to us as humans because they allow us to see different viewpoints," Bechtol said. "They allow us into another person's world.