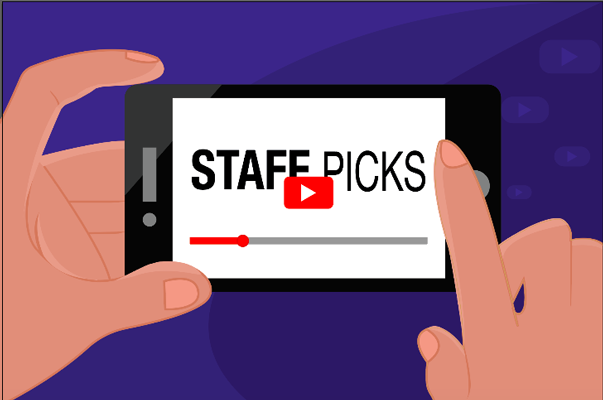 Editor's note: Staff picks is a new series that provides readers with suggested shows, movies and other forms of entertainment staff of The Et Cetera recommends people check out while sheltering in place. 
Running out of shows to binge? Take a break from streaming services and jump into a YouTube wormhole with these channels I've provided for you that are bound to keep you entertained for hours.
— Lindsey Craft
David Dobrik
What better way to start off with none other than YouTube's sweetheart, David Dobrik. The Viner turned vlogger is known for his boyish charm, pranking his friends, and surprising people with outrageous gifts. This is a good channel to follow if you are in the mood for a laugh or cry since most of his videos are comedic, but some are also sentimental. If you get through all the videos and just can't get enough, hop over to his second channel, David Dobrik Too, for additional content and main channel bloopers.
Cut
Cut is described as the channel for everyone. It has hundreds of videos. Some videos break down stereotypes, phobias and others are of people playing various games. The goal of this channel is to spread fun and important stories with the public to better understand each other as humans. My favorite episodes to watch are the lineups. The videos vary from teachers guessing who in the room is high, people having to match kids with a set of parents, and people having to guess each other's nationality and sexuality.
Bella Fiori
This channel will give you all you need when it comes to suspenseful content. Bella Fiori's mystery Monday which covers solved and unsolved murder mysteries will keep you on the edge of your seat. There are many videos to choose from, but some must-see cases covered by Fiori are the Oklahoma Girl Scout murders, the disappearance of Jennifer Kesse and the murder of Suzanne Jovin.
First We Feast
This channel is for the foodies. Check out First We Feast's Hot One's playlist to watch show host Sean Evans interview celebrities while eating some of the hottest wings. As said by Evans in the intro of every video "it's the show with hot questions and even hotter wings." For every question, there is a wing that has to be eaten. Each wing gets hotter as they make their way up the Scoville scale which is the heat scale for hot sauce. One of the most iconic episodes stars DJ Khaled. I recommend watching Khalid's episode followed by comedian Chris D'Elia's episode for some good laughs.
Molly Burke
Molly Burke is a blind Youtuber who makes videos trying things people wouldn't normally think are possible for someone without sight to do. She does her own makeup, learns to drive, goes skiing and plays baseball. A must-see of hers is when she took two of her friends skydiving blindfolded. She also makes "A Day In My Life" style videos and answers questions about how she lost her sight and what it is like to live blind.
NPR Music
If you are doing work from home or cleaning around the house this is the perfect channel to have on in the background. NPR Music's tiny desk concerts will make you feel like you're at an intimate and exclusive concert played by your favorite musicians. All performances are played at Bob Boilen's desk in the NPR music office which makes this channel even more interesting to watch. Some of my favorites to watch have been Harry Styles, Rex Orange County and Raveena.
Staff picks: Quarantine and chill with this selection of movies, shows