Graduation becomes a family affair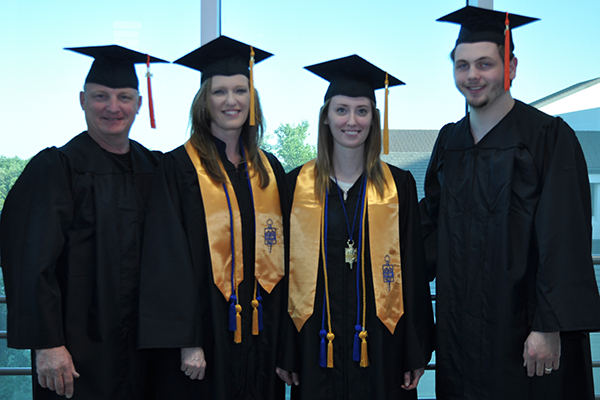 By KEVIN CUSHINGBERRY JR.
They didn't intend for it to happen. They didn't look at each other's degree plans and try to take just the right amount of classes to time it perfectly. They didn't even set a family goal.
It happened simply by chance.
Ben Woodruff, his wife Sheri, their daughter Jessica and her fiancé Caleb Streeter will all receive diplomas from Eastfield College during Saturday's commencement ceremony.
"They told us at the beginning of this semester that it could happen," Streeter said. "We thought it was really cool."
Although the Woodruffs and Streeter will graduate together, their journeys have been quite different.
At age 17, Sheri Woodruff was a high school dropout with an infant daughter and no sense of direction. In the fall of 1989, Sheri signed up for her first classes at Eastfield as prerequisites for the El Centro nursing program.
Woodruff earned her associate degree in applied science in nursing and soon began working at Baylor University Medical Center at Dallas. Eight years later, she married Ben, who was a police officer at the hospital.
By 2006, the Woodruffs already had seven children between them: Mindy (now 31 years old), Josh (28), Chris (26), Jessie (23), Ryan (23), Jessica (19) and Davey (14). That year, they decided to adopt three more children: Ben Jr. (now 8), Leilah (7) and Olivia (7).
"We had tried to have another child, but it didn't work out," Sheri said. "Ben was adopted too, so it just worked. It was just a God thing."
That same year, Ben enrolled at Eastfield. He had been taking classes off and on at El Centro since 2004. He had over 170 credit hours, but no degree to show for it. Sheri pushed him, saying, "You need to finish your degree."
He decided on criminal justice, finished in December and will walk on Saturday. Ben is already taking online classes at Columbia Southern and hopes to earn his bachelor's degree in criminal justice in October. Sheri is pursuing her nursing bachelor's at the University of Texas at Arlington.
The Woodruffs have managed to reach their educational goals despite a hectic life.  Five of their children still live at home, and a typical day starts at the crack of dawn.
"I wake up at about 6 a.m.," Ben said. "I get the kids up by 6:50 and feed them breakfast. Sheri gets the girls' clothes and I'll get [Ben Jr.'s] clothes. Once they're ready, I drop them all off at school across the street. From there, I head to my job as a school resource officer."
Ben's evening schedule is just as busy. He's the den leader for Ben Jr.'s Cub Scouts troop, attends Davey's Boy Scouts meetings and coaches both boys' basketball teams.
It's not easy, but Ben said he has had a lot of family support while balancing classes and a full-time job with his parental responsibilities.
"Sheri helped me a lot," he said. "I knew that I needed to get my degree. She's really the reason this is possible."
Sheri said she also has faced many challenges that come with being a mother and student.
"It's a juggle with all the kids' activities," She said. "I'm in three classes, and I still work at Baylor on the weekends."
Sometimes, she has to tough choice.
"With my online classes, it's a lot of busy work," Sheri said. "I felt like I didn't have time to let them have fun, so they started going to the Boys and Girls Club so they have a place to learn and have a good time."
Even though she's not always able to have fun time with her three youngest children, Sheri said she's trying to lead by example.
"Education was important to me, and even once I started having children, school was still a priority to me," Sheri said. "School is what we are."
Jessica, who started taking classes at Eastfield in 2011, said there are times when she comes home and sees her mom with a book open or her dad writing a research paper.
"They're always doing homework," Jessica said. "Since they go here and to a four-year university, it's kind of weird  because sometimes I'll get home and they'll have more homework than me."
Jessica is studying pre-med and hopes to go to the University of Texas this fall. She said her mom talked her into coming to Eastfield, and they even took the same class once.
"We had a chemistry class together, and we really enjoyed it," Sheri said.
Sheri and Jessica are also members of the Phi Theta Kappa Honor Society.
Sheri said she saw Jessica go into overdrive when she got to Eastfield.
"Once she decided what she wanted to be she has taken the max number of classes," Sheri said. "She even had to get permission to take so many hours this semester."
If Jessica had taken a full 12 hours per semester, she wouldn't have been able to walk this weekend. However, she pumped up her schedule this semester, taking 18 hours.
Caleb, an art major, also picked up the pace and joined the graduation group.
"We figured Jessica would graduate next fall, or maybe even next spring, but her and Caleb both went into overdrive and it all worked out," Sheri said. "It was another God thing."
Graduation is a special day for any family, but Saturday's ceremony will be even more memorable for the Woodruffs.
"This will be a story that we tell our kids one day," Jessica said.